Arts tech/Visual Media Concentration

Overview
Program Overview
Connect your arts tech skills in visual media with marketing and storytelling techniques. 
In the Visual Media concentration, students will use design software, business strategies, and creative-thinking techniques to make digital media projects in visual communication and design. Students will create a portfolio of work in design, animation, photography, web design and digital publishing. Throughout the program, students will work with real clients and provide solutions to their business problems. 
The BA/BS Arts Technology program is for the student who wants a broad knowledge of all aspects of digital media with a visual focus. This program is nimble and with proper planning can be combined with another major, concentration, or minor. 
Other Concentrations Include: Interactive Media | Video Production & Cinema | Audio Engineering & Production Students may earn more than one concentration.
Learn more about the Arts Technology Major.
See the Core Courses and Plan of Study
Visual Media Concentration (18 credits)
• AT 109 Techniques in Visual Narratives (3)
• AR 236 Beginning Digital Photography (3)
• AR 201 Computer Art & Design (3 )
• AR 327 Computer Art & Design: Creative Concepts (3)
And Choose 6 credits from the following:
• AT 365 Topics in Visual Media (3 or 6)
• EN 305 Web Publishing (3)
• AT 320 Motion Graphic Animation (3)
• AT 322 Commercial Photography (3)
• AT 319 Interface Design and Data Visualization (3)
    Or Elective As Approved By Chair
Common Topics Courses Include: Stop Motion Animation, Studio Photography Lighting, Visual Effects, Character Design and Animation, and Portrait Photography. There are many electives in Graphic Design, Marketing, and Video Production available.
Be sure to check out some of our student works in animation, design, and photography, view our past awards won and see our student run media firm Millikin Creates!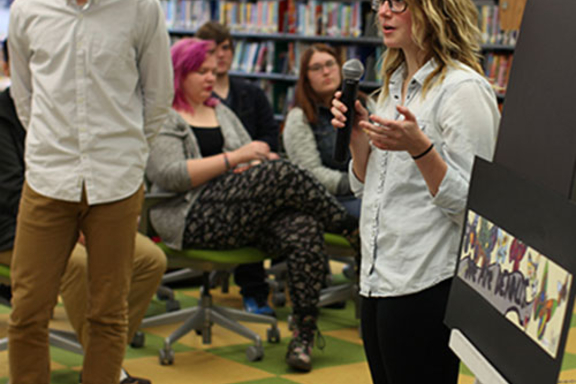 Required Courses
Visual Media Concentration (Credits)
AT109. Techniques in Visual Narratives.
In this course students will utilize sketching, thumbnails and storyboarding to work through the ideation and creation of visual narratives through individual and group projects. Students will use narratives of their own as well as those supplied by the teacher and work through the visual representation and style of the work ultimately culminating in a finished project. Emphasis will be placed on the relation of the narrative via a visual means of traditional and non-traditional materials and principles of design.
AR 236 Beginning Digital Photography (3)
This class is an introduction to digital photography. Both technical and aesthetic issues will be covered, including the understanding and use of digital cameras and their applications, such as using proper exposure techniques and lighting, depth of field, and shutter speed. Students will also review the principles of design and elements of composition to show how they apply to the craft of photography. Historical photographers, as they relate to the various assignments, will be discussed along with photographic history. Digital outputting and portfolio preparation will also be taught along with an introduction to Photoshop. Meets the Creative Arts general education requirement.
AR 201 Computer Art & Design: Orientation (3)
Designed to apply computer technology to solving visual problems in fine arts and graphic design. Emphasis is on individual expression and acquiring skills to effectively communicate through computer graphics. Students are introduced to fundamentals of computer graphics through lecture, presentation, discussion and hands-on experiences.
AR 327 Computer Art & Design: Creative Concepts (3)
Continuation of Art 201. Emphasis on using skills and knowledge previously gained to develop more personalized computer graphic imagery. Students will perform in-depth research in selected visual-subject areas ranging from 2-D drawing and paint programs and 3-D modeling applications, to multi-media presentations. Pre-requisite: AR201 and consent of instructor.
AR 328 Topics in Arts Technology: Web Publishing (3)
This course is an introduction to writing, editing and publishing web sites for a variety of rhetorical purposes. Students examine the history of publishing technology and the remediation of print media conventions into web publications. Major topics include the integration of visual and verbal elements including writing, graphics, photographs, video, audio elements into rhetorically effective new hypertext media. As a workshop students learn to use the latest professional web design technologies for campus and off-campus clients.
AT322. Commercial Photography.
In this course students will engage with material and discussions relating to the creation, understanding and application of the commercial photography. Students will examine historical and contemporary commercial photographic works. Students will create their own portfolio of work based on specific client/(professor) and photographic criteria. It is the purpose of this course to prepare students with the ability to create works of technical and aesthetical integrity while maintaining the criteria of the client, as it would be in real world situations. .
AT320. Motion Graphics Animation.
Intensive hands-on investigation of the tools, techniques, and processes for the development of digital motion projects. Elements such as type, photography, video, illustrations, and 3D objects will be integrated in time and space to communicate messages or tell a story. Software Focus: Adobe After Effects.
AT319. Interface Design and Data Visualization .
The class contains two units. The first unit, Interface Design, focuses on the theory and development of interactive applications. Students will be expected to use design thinking to propose innovative applications that will meet a need for a defined audience, design the graphics and content, and use professional interactive prototype making software to idealize solutions. The second unit, Data Visualization, will challenge students to create visual communication solutions such as Infographics that will help the viewer grasp difficult concepts, identify patterns, or tell a story. Solutions could include interactive or multimedia elements.
AT365. Topics in Visual Media
This course focuses on a theme in one of the following areas in arts technology: design, photography, or multimedia. Pre-requisites: AT110 and AT151 or AR201 or consent of instructor.
Careers
Potential Careers for an Arts Technology Major With A Visual Media Concentration
Graphic Designer
Commercial / Product Photographer
Motion-graphic Designer
Animator
Mobile App Designer
Art Director
Front-End Website Developer
Editorial Designer
Media/Communications Coordinator
Portrait Photographer
User Experience Designer
Corporate Media Specialist
Brand Management / Corporate Identity Specialist
Fine Arts Photographer
Design or Photography Firm Owner
Innovation Specialists
Digital and Social Media Marketer
Live Event Photographer
Studio Management/Photo Assistant
Retoucher
Web Designer
News/Sports Photographer/Photojournalism
Package Designer
Scientific/Medical Photographer