Office of Public Safety
The Office of Public Safety is located in Walker Hall, first floor, north end. The office operates 24 hours a day, seven days a week. It is a combination office comprised of both sworn police officers and non-sworn security officers and dispatchers. The Millikin University Police Department was established by the Board of Trustees in May 2013 in accordance with the Illinois Private College Campus Police Act (110 ILCS/1020). As outlined by that act1, Millikin University Police Officers have full peace officer authority and arrest powers, including the ability to enforce city ordinances, county ordinances, traffic laws (on public ways contiguous to university property), and state statutes.
A dispatcher is always in the dispatch center and can be reached by calling 217-464-8888 (8888 campus phone), or through one of the "blue light" phones located about campus. The dispatch center is also the after-hours switchboard for the University. The dispatcher monitors a variety of campus alarm systems, the access control system, and local/national media for weather and crisis information.
The Public Safety Office is responsible for a wide variety of functions on campus, including both foot and motorized patrols, access control, crisis response, parking enforcement, risk management, and various life safety checks. During patrols, both Police and Security Officers are establishing a presence to deter criminal activity, conducting life safety checks, and proactively engaging our community members. Public Safety staff members attend regular training on procedures, investigations, report writing, crisis management, first aid and CPR/AED.
 
Click the image below to learn more about pedestrian safety.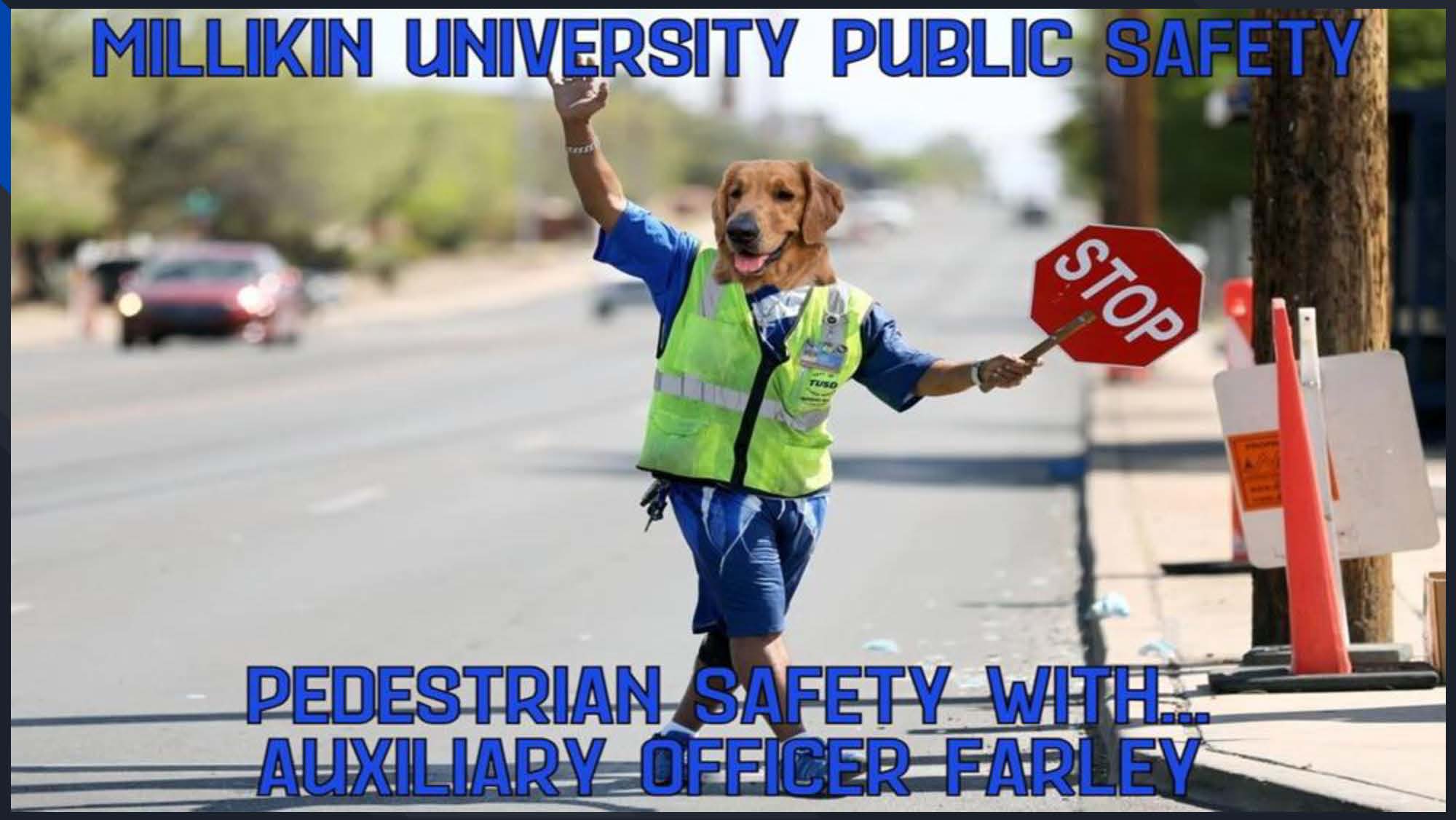 Contact us
Millikin University
Office of Public Safety
217.464.8888
"Members of the campus police department shall have the powers of municipal peace officers and county sheriffs, including the power to make arrests under the circumstances prescribed in Section 107-2 of the Code of Criminal Procedure of 1963, as amended, for violations of state statutes or municipal or county ordinances, including the ability to regulate and control traffic on the public way contiguous to the college or university property, for the protection of students, employees, visitors and their property, and the property branches, and interests of the college or university, in the county where the college or university is located."
Annual Security Report
Download a copy of Millikin University's Annual Security Report, which complies with the Jeanne Clery Disclosure of Campus Security Policy and Campus Crime Statistics Act. This report includes information about crime and the policies in place to deal with crime at Millikin University. To receive a paper copy of this report, please contact: Millikin University, Office of Safety & Security, 1184 West Main Street, Decatur, IL, 62522.