Arts Admin/ Theatre Concentration

Overview
Theatre Administration
The Theatre concentration allows students to engage in their theatre passion inviting them to explore all areas of the collaborative process including performance, design, production, and analysis. Students will have opportunities to gain hands-on experiences in theatre or film management through performances produced by our student-run ventures, Pipe Dreams Studio Theatre or 1901 Productions.
Be prepared to lead in Artistic Direction, Community Engagement, Production, Development and more as you dive into the world of theatre and live entertainment! See the list of the core classes in Arts Administration(link is external).
Want to Go Deeper in Theatre? Consider adding a second major in Theatre. Millikin University's School of Theatre and Dance allows anyone to audition for roles or apply for positions in their mainstage season. There are also minors in theatre and dance.
Lead and enlighten through theatre.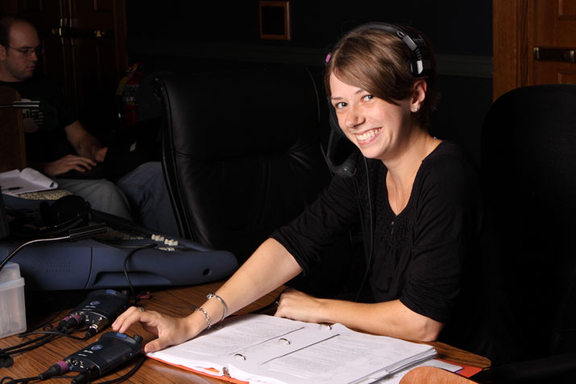 Required Courses
Theatre Concentration Courses
TH 131. Play Analysis (3)
Through the study of selected works, students learn techniques for analyzing play structure in a manner vital for performing artists, directors, and designers. Plays shall be selected from a variety of periods in theatrical history. The genres of tragedy and comedy and various stylistic approaches to interpreting theatrical works will be closely studied. Pre-requisites: Theatre majors or minors only, or consent of instructor.
TH 141. Acting 1 (3)
A study in basic concepts of acting developing the integration of the actor's mind and body through a variety of exercises with emphasis on professional preparation, the collaborative experience, and the development of the imagination. Majors and minors only.
TH102. Intro to Tech (3)
Through class lectures and hand-on participation, this course is designed to give the student an overview of the theories, practices and techniques involved in scenery and costume construction, stage lighting, theatrical sound and stage management. Hands-on learning and work on university production are required to reinforce skills and to promote collaborative efforts. Lab Fee.
TH135. Elements and Principles of Design (3)
This course is intended to introduce the student to basic design principles and explores the elements of design through a variety of abstract and conceptual projects that incorporate 2-D,3-D and Kinetic design. An emphasis on presentation and communication of ideas will be a focus of this class.
TH151. Fundamentals of Lighting (3)
This course is designed to introduce the student to the basic knowledge and practice of stage lighting techniques in both technical and artistic projects, and to USITT national standards in stage lighting technology and design. The student will develop hands-on skills in the area of stage electrics with an emphasis on industry-wide safety standards for stage electricians. Course fee.
TH152. Costume Construction (3)
This course introduces students to the materials, tools, machinery and techniques required to construct a costume for the theatre, and apply their knowledge to the construction of a garment from a pattern to finish work. Students will also learn the roles and hierarchy of a working professional costume shop. Course fee.
TH154. Scenic Construction (3)
This class serves as an introduction to theatrical scenery construction. Through class lectures and hand-on participation. It is designed to give the student a detailed overview of the theories, practices and techniques involved in safely building, rigging, installing, operating and striking theatrical scenery. Course fee.
Careers
Possible Careers in Theatre Administration
Artistic Director
Associate Artistic Director
Artistic Administrative Assistant
Producer
Casting Director
Rehearsal Director
Executive Director
General Manager
Office Manager
Director of Communications and Marketing
Operations Manager
Developer
Founder
Grant Writer
Managing Director
.....and many more