Arts Admin/ Music Concentration

Overview
Music Administration
The Music concentration allows students to engage in their music passion inviting them to use their vocal or instrumental talents while also learning about the theory and practice of the music industry. Students will have opportunities to gain hands-on experiences as music managers of one of our music themed student-run business ventures such as: First Step Records (music business label), MARS (Millikin Audio Recording Services), WJMU Productions (audio communication), or Arts Cafe (live event performances). 
Be prepared to lead in event promotion, music product merchandising, personnel and operation management, talent promotion and more as you dive into the world of recording studios, theaters and concerts, and music organizations! See the list of the core classes in Arts Administration.
Want to Go Deeper in Music? Millikin University's School of Music allows any major to audition and perform in their orchestras, choirs, and jazz groups. Consider adding a second major as a BA in Music or one of the music minors or music certificates.
Become an industry leader. Entertain and enrich with music.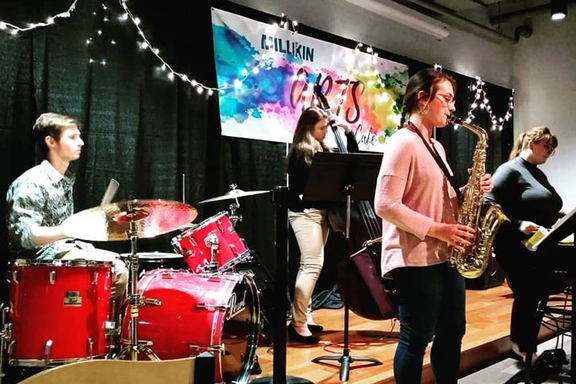 Required Courses
Music Concentration Courses
 
Must Take:
MT 100 Music Fundamentals (3)
MH 100 Understanding Classical Music (3)
MC 101 Intro to MusicIndustry (3)
And 6 additional Music Credits. These can be anything in the School of Music such as those labeled with music, music organization, music theory, music education, music history, music business, or commercial music.
MT100. Music Fundamentals (3)
Treble and bass clef reading; major and minor scales; spelling major, minor, diminished, and augmented triads; basic solfege skills, rhythmic, harmonic, and melodic recognition and dictation in various musical styles. Prepares music or musical theatre majors for MT111/113 and satisfies Creative Arts Requirement for non-majors.
MH100. Understanding Classical Music (3)
An introduction to the elements of music and their developments as illustrated in western art music, emphasizing the development of critical listening skills. No credit for music majors.
MC101. Intro to Music Industry (3)
An overview of the music business industry as it relates to career opportunities. A survey of music in the marketplace, songwriting, publishing, copyright, business affairs and the recording industry. Additional focus on the media elements of the music industry.
Careers
Possible Careers in Music Administration
Director of Operations
Production And Hall Rental Manager
Artistic Administrator
Record Producer
Concert Director
Orchestra Personnel Manager
Casting Director
Developer
Rehearsal Director
Executive Director
General Manager
Office Manager
Founder
Artistic Operations Coordinator
Operations Manager
Managing Director
Grant Writer
Publisher
Talent Agent 
Manager of Choral Activities
Education Programs Coordinator
Event Manager
.....and many more