Overview
** Video produced by Gum Photography **
Advancing Your Career, Honing Your Skills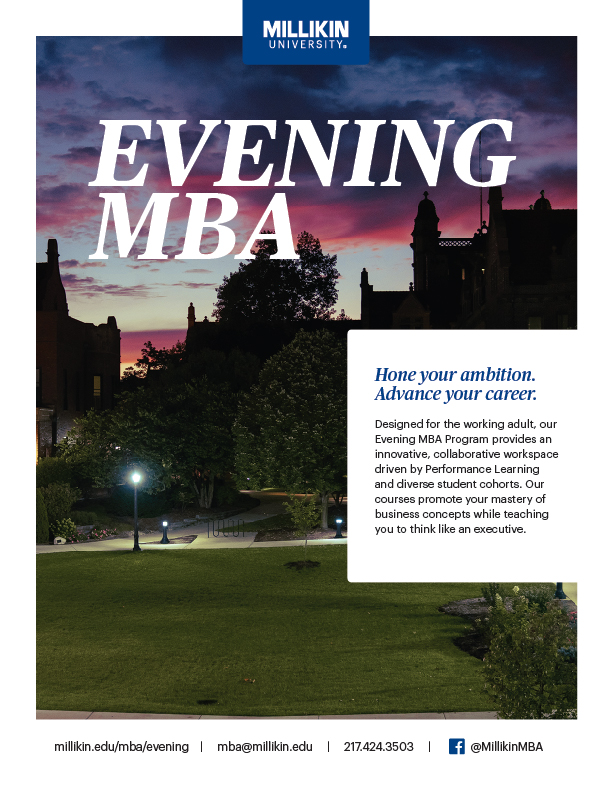 Download the Millikin Evening MBA flier here.
The Evening MBA Program Experience
Designed for the working adult, our Evening MBA Program provides an innovative, collaborative workspace driven by Performance Learning and diverse student cohorts.  Our curriculum promotes your mastery of business concepts while teaching you to think like an executive. The program provides a competitive advantage in todays' challenging business economy, where competition is fierce and performance is crucial.  
We seek to admit driven individuals who will contribute to the learning experiences of others, and integrate theory with practice. Academic and professional successes are important criteria for selection into this program.
Learn from our world-class faculty.  Collaborate as part of a diverse student cohort.  Develop a network of new contacts... all while advancing your career.
Students in the Evening MBA Program typically have several years of business experience and varying educational backgrounds. They work in all types of small and corporate businesses in such fields as accounting, healthcare, engineering, information systems, human resources, manufacturing, and entrepreneurship. 
17-month program
Starts every January 
Evening classes
Meets in-person, two times per week, from 6:00-9:30pm
40 credit program, in accelerated 8-weeks units, consisting of:

An intense Bootcamp component to start the program.  NO foundation courses are required; Bootcamp provides you with everything you need to know to get started! 
13 courses, including a 4-course sequence in Organizational Leadership, which earns you a Graduate Certificate! 
An international immersion trip as part of the curriculum

Average cohort size is 15 students 
Access to state-of-the-art technology in the MBA suite
Millikin alumni receive a scholarship
Curriculum
Millikin's MBA program begins with an intensive review of topics (also known as Bootcamp) before beginning six 8-week units containing two courses each. Students move through the units and courses in teams, start to finish. The MBA Program is 40 total credit hours.
Prior to starting:
MB501 - Bootcamp (1 credit) 
Unit 1: 
MB535 - Business Analytics (3 credits)
MB570 - Leading & Changing Organizations (3 credits)
Unit 2: 
MB580 - Strategic Resources Management (3 credits)
MB587 - Seminar in Business Topics (3 credits)
Unit 3: 
MB520 - Globalization & World Economics (3 credits)
MB540 - Financial Accounting (3 credits)
Unit 4:
MB510 - Personal Values & Business Ethics (3 credits)
MB530 - Financial Fundamentals (3 credits)
Unit 5: 
MB550 - Strategic Marketing Analysis (3 credits)
MB560 - Cases in Financial Decision Making (3 credits)
Unit 6: ​
MB590 - Business Strategy (3 credits)
MB600 - Capstone (3 credits)
MB610 - International Immersion (3 credits)​
International Immersion
Global Connections
Millikin believes that to truly understand the global economy in which we live and work, we must immerse ourselves into our international world. For that reason, MBA students, at the end of their MBA program, travel internationally to live and study in another country for one week, where they participate in lectures, group projects, company visits, and cultural tours.
In recent years, Millikin MBA students have traveled to The Fudan University (FSU) in Shanghai as well as to Peking University in Beijing. Most recently, MBA students have studied in Koblenz, Germany at the WHU-Otto Beisheim Graduate School of Management.  This trip is included in tuition.  
FAQS
When does the Evening MBA program start and how long is it?
The Evening MBA program begins in January of each year and ends 17 months later, in May of the following year.
What's the Evening program like?
The Evening MBA Program is designed for working adults from all majors and backgrounds.  
You will start the program with a review course (referred to as Bootcamp) of core business topics to ensure that all graduate students have the same knowledge base at the start of the program. The program is then divided into 6 units:​

Each unit is 8 weeks and consists of two classes.
Classes meet (in-person) two evenings a week, from 6:00-9:30pm.
Classes will not meet during holiday breaks. 

Students have the opportunity to travel internationally as part of the curriculum. 
The average cohort size is 15 students
What if I have to miss a class?
You can attend class remotely when "life happens!"  Our MBA classroom, designed with high-tech equipment, allows MBA students the flexibility to attend class virtually, as well as watch the recording of class.  **Please keep in mind this is not to be used as a permanent arrangement.** 
How many credit hours are required in the program?
How much does the program cost?
Click here and choose the "Graduate" tab for tuition information.
Is financial aid available?
What are the admission requirements?
When is the deadline to apply for the Evening program?
How do I apply?