Audio Engineering & Production Concentration

Overview
Program Overview
The Audio Engineering and Production concentration prepares students for careers in professional audio. They will gain hands-on experience in many ways, including music production in Millitrax, our own state-of-the-art recording studio, sound reinforcement in performance venues like Kirkland Fine Arts Center, location/mobile recording on and off campus, audio for video (both location and post-production), audio editing, and multi-media audio.
Learn on leading edge equipment in Millitrax including a Neve 5088!
Other Concentrations Include: Interactive Media | Visual Media | Video Production & Cinema. Students may earn more than one concentration.
Learn more about the Arts Technology Major.
See the Core Courses
Audio Engineering & Production Concentration (19 credits)
MC 101 Intro to Music Industry (3)
MC 104 Intro to Recording Studio (2)
MC 201 Recording Studio Techniques I (3)
MC 202 Recording Studio Techniques II (3)
MC 220 Studio Pressure Night (2)
AT 453 Audio Systems Design and Integration (3)
AT 330 Live Sound (3)
* Electives are available in live event technology, video production and cinema, music business marketing, event management, and touring. This concentration pairs nicely with a music minor or arts administration major.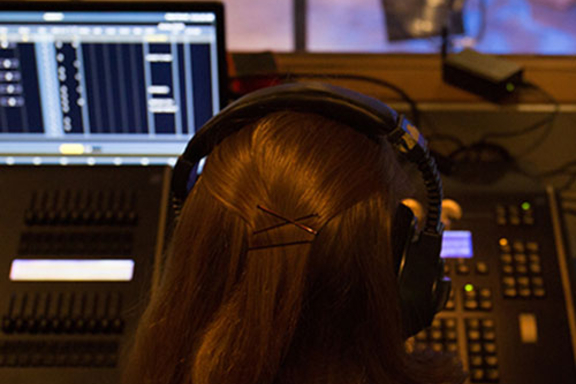 Required Courses
Key Courses
Audio Engineering & Production Concentration (Credits)
MC 101  Introduction to the Music Industry (3)
An overview of the music business industry as it relates to career opportunities. A survey of music in the marketplace, songwriting, publishing, copyright, business affairs and the recording industry. Additional focus on the media elements of the music industry.
MC 104  Introduction to Recording Studio (2)
A general introductory study of the multi-track recording studio and the signal path of sound during the different stages of the recording process. Emphasis is placed on the multi-track console operation and the patch bay.
MC 201  Recording Studio Techniques I (3)
A laboratory/general study approach to the operation of consoles, patch bays, microphones, and digital audio workstations, specifically Avid Pro Tools. This class provides the student with an opportunity to practice the theory learned in MC 104 through hand-on learning and demonstrations in the Millitrax recording studio and CAI lab. The course introduces the students to Avid Pro Tools, and the skills and knowledge needed to operate the software in a professional environment. Students will become familiar with the recording, editing and mixing capabilities of Pro Tools. In addition, students will learn about the basics of computer systems, digital audio theory and file management. The full Avid Pro Tools 101 course will be completed, as students take their first step towards Pro Tools User/Operator Certification. Pre-requisite: MC 104.
MC 202  Recording Studio Techniques II (3)
A continuing laboratory/general study of the multi-track recording studio in the Millitrax recording studio and CAI lab. Subject matter includes the application of signal processors and intermediate digital audio workstation operation. Students are required to complete up to twelve hours of supervised recording session engineering. Additionally, MC202 builds on the foundation laid in MC201, enhancing and deepening the student's understanding of Pro Tools editing workflows, navigation techniques, virtual instruments, real-time plug-ins, MIDI and automation. Successful completion of the Avid Pro Tools 110 coursework in MC202 will allow the student to take an Avid exam to receive a Pro Tools User Certification. Pre- requisite: MC201.
AT453 Audio Systems Design and Integration (3)
Students apply their skills and knowledge of recording studio signal flow, drafting, and design thinking to the advanced concepts of audio systems design. Topics include: executive audio, sound reinforcement (wide latitude of situations), location recording, project/personal studios, analog and digital connectors and digital communications protocols, electricity/power consumption, systems troubleshooting, system block diagrams /drafting, patch bays and other routing systems, and retail and technical support. Pre-requisites: MC 104, MC 201, MC 202, AT151, AT153.
AT 330. Live Sound (3)
This course will take an in-depth examination of the equipment, setup, programming, and control of live sound. The class will focus on skills used in venues for music and live theatre.
AT362. Topics in Audio Production (3)
This course focuses on a theme in arts technology: audio production and relating multimedia. Pre-requisites: AT153 or MC101 or consent of instructor.
Careers
Potential Careers for an Arts Technology Major With An Audio Engineering and Production Concentration
Audio Engineer
Sound reinforcement for performance venues
Film soundtrack production
Live Sound Engineer
Acoustic Consultant
Foley Editor/Mixer
Audio/video/podcast Producer
Studio Manager/Owner
Sound/video director or technician
Utility Sound Technician
Audio Developer
Record Company Staff
Audio production for video
Digital Remastering Engineer
Media/Communications Coordinator
Church/Non Profit Media Director
Digital and Social Media Marketer
Music Editor
Sound Designer
Interactive and Mixed Media Specialists