Overview
Program Highlights
The Millikin Difference
The Millikin international business major takes Performance Learning to a global level. Students collaborate with international professionals in industry and government consulting projects. Through these projects, students might help organizations enter the U.S. market or strengthen a local economy. A semester studying business abroad in locations like Chile, France, or Japan complements the global Performance Learning projects of international business students. International business graduates not only understand the intricacies of international trade and markets, but also have the business sense, relationships, and cultural savvy to succeed in global business.
Partner Institutions
Millikin University currently has partnerships with schools around the world. Some of these partners include:
Paris, France - Paris School of Business
Haarlem, The Netherlands - InHolland University
Ghent, Belgium - Artevelde University
Aarhus, Denmark - Aarhus Business Academy
Stuttgart, Germany - Duale Hochschule Baden-Wuttemberg
Tokyo, Japan - Rikkyo University
Wiener Neustadt, Austria - University of Applied Studies Wiener Nuestadt
Queensland, Australia - University of the Sunshine Coast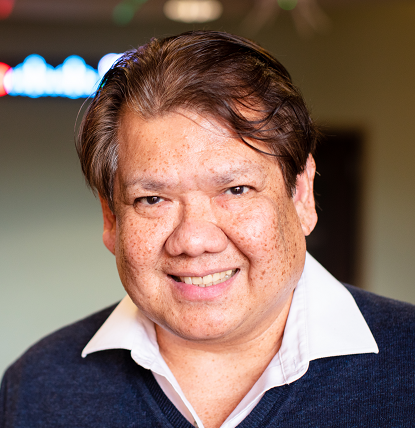 "All businesses nowadays are impacted by international networks, relationships, and events. An enterprise may have a foreign buyer, a supplier from another country, an investor from overseas... the list can go on and on. International Business is at the heart of all these activities. International Business students find the 'wings to fly' - the knowledge and skills to succeed in global business."
Dr. J. Mark Munoz, Professor of Management & International Business
Performance Learning
Performance Learning takes the shape of consulting projects, international competitions, and diplomatic conferences. For all these activities, students leave the classroom and campus to travel to board rooms or collaborative spaces. Students might travel as locally as Chicago, or as extensively as Ecuador.
Recently, International Business students created a development plan for the Italian multinational firm Barilla, which helped them expand business in the U.S. The students went beyond writing a report - they traveled to Italy and presented their research findings and recommendations to the CEO of Barilla.
Career Opportunities
Pack your skills in a bag and take them with you to meet the demands of global business. International business majors understand and celebrate the interconnections of business, politics, and law. These students excel at strengthening the relationships between partners and customers from disparate economies and cultures, which is critical for corporations establishing operational bases across the globe.
$53,107 Average starting salary for graduates
*National Association of Colleges and Employers, 2018
Contact us
Required Courses
Courses
International Business Course List
IB225. Study Abroad Experience
This course is intended to prepare Tabor International Business majors for study abroad and assist in their re-assimilation to campus up return from a semester abroad. Additionally, the course serves to facilitate the study abroad experience of the International students visiting Tabor and the Tabor International Business majors currently abroad. Pre-requisite: International Business major or consent of instructor. (1 credit)
IB330. International Business
Problems and possibilities of doing business in an international context: Possible forms of foreign business involvement, the international monetary system and foreign exchange markets; multinational firm strategies related to finance, marketing, personnel and production; the impact of cultural and political differences on the business environment. Pre-requisites: Junior standing, AC230, EC100. (3 credits)
IB410. International Business Consulting
Provides students with the opportunity to apply concepts learned to real-world situations. Operating in teams, students will provide consulting to small/medium-sized business enterprises under the direction of a faculty team. Students will explore potential markets in the U.S. for international businesses not presently importing to the United States. Pre-requisite: Senior standing and consent of instructor. (3 credits)
IB450. Study Abroad Practicum
This course examines the global issue of identity and adaptation in a study abroad experience. With an increasingly globalized economy, the exporting of capitalism and Western values is often exemplified as democratizing and equalizing while also vilified as 21st century colonialism. Millikin students who study abroad will bring with them their socialization in a democratic, capitalistic society all the while trying to adapt to and celebrate the culture of the host country they visit. Students will search for the balance of accepting and criticizing the culture around them, so they're sure they're behaving as ethical, democratic citizens. The challenge is for the study abroad experiences to allow for personal growth without the losing sight of core identities. Pre-requisite: concurrent enrollment in 12-15 credits at a Partner School. (3 credits)
IB471. International Business Internship
A cooperative course between the University and selected businesses to develop further the professional training of International business majors. Combination of work experience and written reports. Pre-requisite: consent of Internship coordinator. (1-3 credits)
Dual-Degree
Dual Degree Program for PSB Students
Students from Paris School of Business (PSB) in Paris, France who have completed their second year of coursework may transfer to the Tabor School of Business and take an additional 35 hours of academic credit. This additional course work fulfills the requirement for the Bachelor of Science degree in Management from Millikin University. The curriculum was developed by PSB and the Tabor faculty to fill gaps in the PSB program with Tabor's strong emphasis on the connections between theory and practice.
This dual degree program strengthens the value of these students' education in several ways:
An educational experience in the United States business environment is highly valued.
PSB students need the opportunity to improve their decision-making and application-based business skills. The Tabor School is particularly well equipped to help them develop these skills, as well as, team and presentation skills.
It provides the students with an opportunity to practice their English both in the classroom and in a business environment.
It allows the students to develop a broad-based understanding of U.S. culture and its implications for business decisions.
It enables the students to understand the connection of business theory to practice.
It provides students a better understanding of the integration of the various business functions.
Admission Procedures
A semester prior to entering the Tabor program a student must complete the following:
Submit an Official Transcript translated into English.
Submit the current grade point average in U.S. based scale. A student must have a 2.50 grade point average for admission. Exceptions may be granted upon the recommendation of the PSB program director.
Certify the number of credits that will have been completed by the date entering Millikin.
Submit a TOEFL score of 550 written or 213 on the computer-based exam, or 79 on the internet-based exam, or equivalent, or submit a letter from the PSB international director attesting to the appropriate language competency.
Submit to the Registrar an assessment of the courses completed and currently enrolled in which may fulfill the Millikin University general education requirements.
Note:
The Millikin University registrar will evaluate the student for acceptance and specify which courses, IF ANY, may be needed above and beyond the 35-credit degree program. The student must then either take the course(s) at Millikin or present evidence that the requirement has been fulfilled. Students should be aware that no Millikin University financial aid is available for the Paris Program.
Upon completion of the above steps, the student's application will be reviewed by the Office of Admissions through their international student admission process. At the end of the semester prior to attending Millikin, the student must present a transcript to verify acceptable completion of the semester's work and to indicate how any other credit or grade point average problems have been addressed.
Requirements of the Program
The Dual Degree program requires students to complete 124 credits counting both transfer credits and those earned at Millikin University. The Millikin University portion must include a minimum of 35 credits. Additional credits may be required if the student has not successfully completed the expected freshman/sophomore courses. See admissions requirements above.
Required Courses Fall Semester (18 credits)
BU230. Business Conversations (3)
ET260. Create, Lead & Own You (1)
MG275. Project Management Practicum (1)
MG345. Leading Organizational Change (3)
MG370. Operations Management (3)
MG377. Supply Chain and Logistics(3)
FI340. Introduction to Financial Management (3)
IB225. Study Abroad Experience (1)
Required Courses Spring Semester (18 credits)
IN250. U.S. Structures (3)
BU450. Business Strategy (4)
PH215. Business Ethics (3)
MG375. Project Management (3)
MG372. Process Improvement (3)
BU350. Managerial Forensics (1)
IB225. Study Abroad Experience (1)
The Arts Entrepreneurship Program
The 6-credit Arts Entrepreneurship (A.E.) program provides an integrated learning-based business opportunity art, music, theatre, and business students to practice and understand creativity and entrepreneurship through their own micro-venture experience and one of the University's student-run ventures in art, music, and theatre.
The Program's three major goals are:
To provide students the tools and experiences necessary to become self-sufficient
To provide students a framework to develop, expand, and apply their creativity to the problems of a business based in  the arts, and
To establish a climate where true collaboration occurs between the arts and business students.
The A.E. program focuses on understanding the process of creativity and provides experiential exercises designed to translate creative ideas into unique products or marketing venues. Students are charged with evaluating the products and venues in terms of their potential profitability for a micro-venture of their own creation and then in one of the University's student-run ventures.