Arts Admin/ Art Concentration

Overview
Program Highlights
The Art concentration allows students to engage in their passion in fine arts, inviting them to build basic skills in 2D or 3D arts, while also learning the theory and history of media, art, and/or antiques. Students will have opportunities to gain hands-on experience in arts management as gallery directors, curators, media relations, and entrepreneurs in the fine art student run gallery, Blue Connection, and the premier gallery on campus, Perkinson Gallery.
Be prepared to lead in museums, galleries, art studios, and arts councils, by managing personnel, recruiting artists, engaging communities, and more as you dive into the world of arts management! See the list of the core classes in Arts Administration.
Want to Go Deeper in Art? Consider adding a second major as a BA in Art or check out one the art certificates in graphic design, painting, photography, history, sculpture, or ceramics.
Bring art to the world. Educate and challenge people.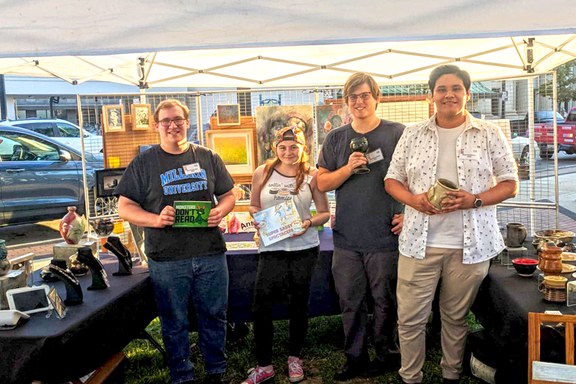 Required Courses
AR101. Discourses in Media & Design (3)
This course introduces student to ongoing conversations in the arts, media and design. It offers students an occasion to perform the visual, verbal and conceptual skill-sets essential to describing and analyzing aesthetic forms. Students will consider composition, color and texture (among others) as they apply to advertising, performance art, media and film among others). Lectures, discussions, readings and experiential assignments will draw from a variety of media, cultures and periods.
AR236. Beginning Digital Photography (3)
This class is an introduction to digital photography. Both technical and esthetic issues will be covered, including the understanding and use of digital cameras and their applications, such as using proper exposure techniques and lighting, depth of field, and shutter speed. Students will also review the principles of design and elements of composition to show how they apply to the craft of photography. Historical photographers, as they relate to the various assignments will be discussed along with photographic history. Digital outputting and portfolio preparation will also be taught, along with an introduction to Photoshop. Students will be expected to provide their own digital camera capable of manual settings i.e. to be able to manually change aperture, shutter speed, and ISO setting. Students will also be responsible for any printing and mounting costs.
AR105. 2D Design (3)
Comprehensive study of principles and elements of two-dimensional composition. Topics covered include line, shape, texture, value, space, rhythm, balance, unity, variety, repetition, movement, scale and proportion. Color projects are introduced to develop artistic awareness and solutions to color theory. Studio and lecture. Required of majors before admission to courses numbered above 100. .
AR106. 3D Design (3)
Comprehensive study of use of color in two and three-dimensional composition. Topics covered include relativity of color, its optical and expressive properties, its relationship to design elements and principles, color schemes and use of color in a variety of media. Studio and lecture. Required of major before admission to courses numbered above 100. Pre-requisite AR 105 or consent of instructor.
AR320. Aesthetics in Art & Antiques (3)
This course focuses on a theme in one of the following areas in art; graphic design, painting, printmaking, drawing, photography, art therapy, ceramics or sculpture. Pre-requisites: AR 103, 104 and AR 105, 106 or consent of instructor.
AR304. Contemporary Art History (3)
Survey of developments in American and European visual art from World War II to the present. Students examine critical issues along with style and meaning in contemporary art.
Careers
Possible Careers in Art Administration
Director of Operations
Mobile Art Gallery Administrator
Artistic Administrator
Art Director
Art Agent/Business Manager
Developer
Founder
Grant Writer
Museum Director
Art Gallery Dealer
Executive Director
General Manager
Office Manager
Artistic Operations Coordinator
Operations Manager
Managing Director
Gallery Sales Assistant
Education Programs Coordinator
Curator
.....and many more