Millikin's New Musicals Workshop takes a different path with voiceover "Boot Camp"
The early part of January can be a quiet time around Millikin University's campus, unless you're near the Perkinson Music Center's Kaeuper Hall where you might hear the singing talents of several Millikin undergraduates.
This was the case on Jan. 8 as 20 of Millikin University's musical theatre students were on stage rehearsing a classic from the film "Mary Poppins." Even though the 100-plus seats in Kaeuper Hall were empty, the students were putting on their best performance in preparation for a trip to Disney World in Orlando, Fla. The trip to Disney was the "second act" of Millikin's New Musicals Workshop immersion course.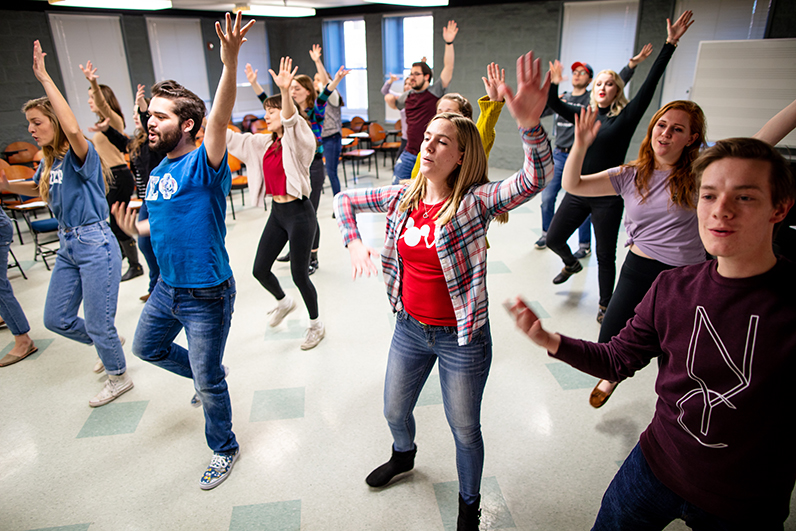 For over a decade, the New Musicals Workshop course has become an exciting, collaborative learning experience were students and faculty have teamed up with professional writing teams, for a few weeks, to develop new musicals intended for commercial production. This year, the students worked with the musical theatre writing team of Michael Kooman and Chris Dimond, who are no strangers to the workshop. However, there was no musical to develop this time around - this year's workshop went a different direction with students getting a chance to learn how to do voiceover animation work.
A New York-based writing team, Kooman and Dimond have produced several successful stage musicals with the most recent being "Romantics Anonymous," which debuted to rave reviews at Shakespeare's Globe this fall. But they've also become well-known for their work as songwriters for "Vampirina," an animated musical TV series for which they have written more than 100 songs. The show airs on the Disney Channel and Disney Junior, reaching over 49 million viewers in 115 countries.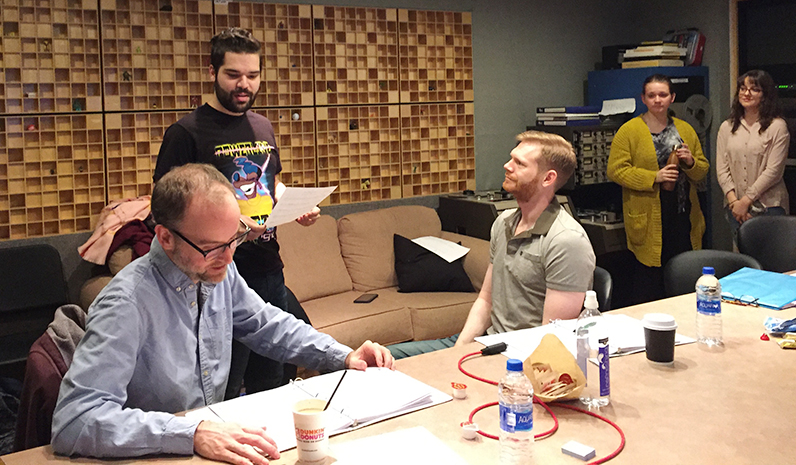 Kooman and Dimond's return trip to Millikin started two years ago when they came back to campus to celebrate the 10th anniversary of the New Musicals Workshop.
"They were the first writing team we ever worked with and did a full length musical piece for," said Lori Bales, associate professor of theatre and dance, and director of the New Musicals Workshop. "When they got the 'Vampirina' gig, they were in charge of composing the music and sending those tracks to an artist. We're always trying to work with Michael and Chris, and coupled with our students' growing interest in Disney, it took us two years working to get this put together."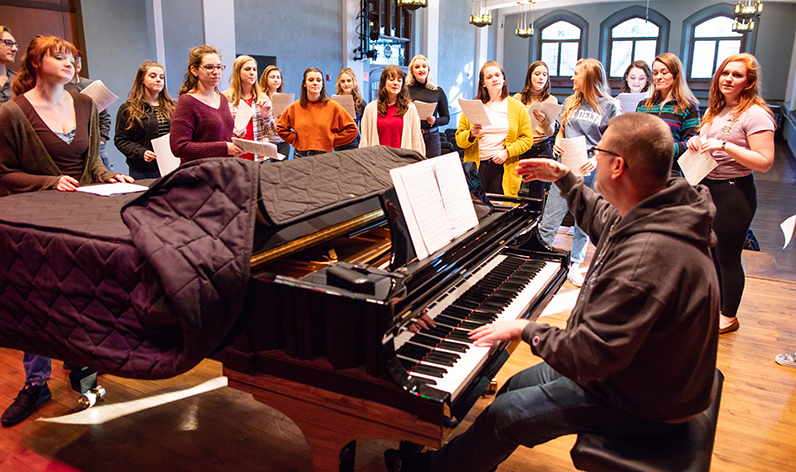 For the immersion course, Kooman and Dimond sent Lori Bales and Kevin Long, artist-in-residence at Millikin, existing "Vampirina" music materials for the students to learn. Upon their arrival to campus, Kooman and Dimond recorded the students in Millitrax Studios using a process called "comping" where they use the best parts of multiple takes and piece them together to make one perfect take.
"They gave us a lot of insight into how the recording process works at Disney. We got the Disney perspective on how to be a cartoon, essentially," said Millikin student Levi Ehrmantraut, a senior musical theatre major from Bismarck, N.D. "I think the coolest thing about the voiceover 'boot camp' was seeing how they were able to pick and choose which phrases from each take were the best and splice them together. I know I'm interested in voiceover work now, I always was, but this experience confirmed it for me."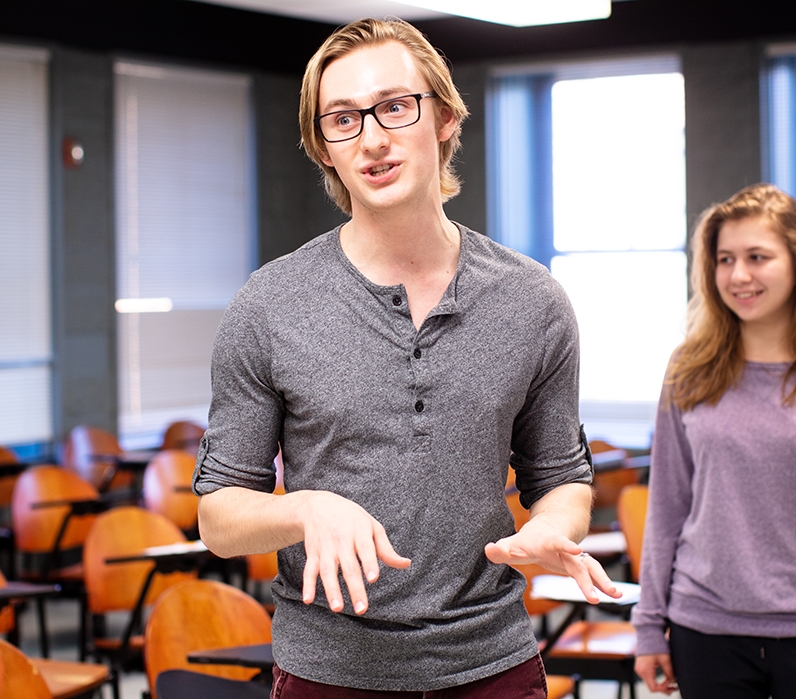 Student Kelly Cunningham, a senior musical theatre major from Cary, Ill., credits Millikin for being the only institution that offers this type of workshop where students can interact with professionals in the industry. "As a performer, it is so great to get training in voiceover work because it's such a big field. We were able to explore a different type of field and see if voiceover work may be an option going forward. It's something that can be added to your resume."
Michael Kooman says recording is a different process than live theater and it takes some work to get use to the process. "The positive side of things, you only have to really sing or record something well once, and certain takes can be pieced together to make an excellent sounding phrase, as opposed to live theater, where you only get one shot at a song, scene or dance," he said. "With voiceover work, which is what we focused on, almost all of the performance comes from voice alone, and it can take a lot of energy and focus from the performer to do things accurately and clearly."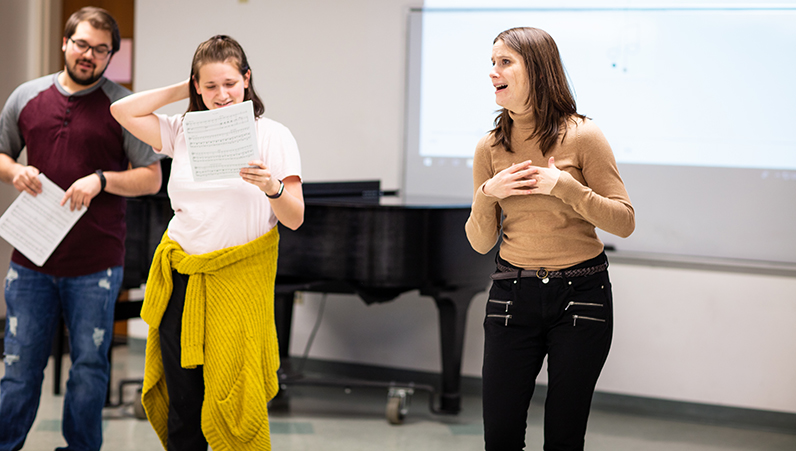 Shelby Barros, a senior musical theatre major from Raleigh, N.C., weighed in on the different techniques involved with voiceover work.
"It was great to be coached by Kooman and Dimond especially since most of us are wanting to do this in the 'real world.' We're always working on our voice, but in this case, we were working on diction and consonants which was so important and something we never thought about before," she said.
In addition to having a recording experience where they worked with people from Disney, the students also had the opportunity to travel to Disney where they recorded another song and took part in the Disney Broadway Magic Workshop. During the workshop, the students performed a scene from a Disney Broadway musical and learned about the elements that productions bring together—including music, staging, costuming and props.
While at Disney, students were able to practice their auditions and gain a better understanding of the Disney auditioning process from a casting director. They also met with Millikin graduates who work in the Orlando theatre scene and learned more about their personal experiences.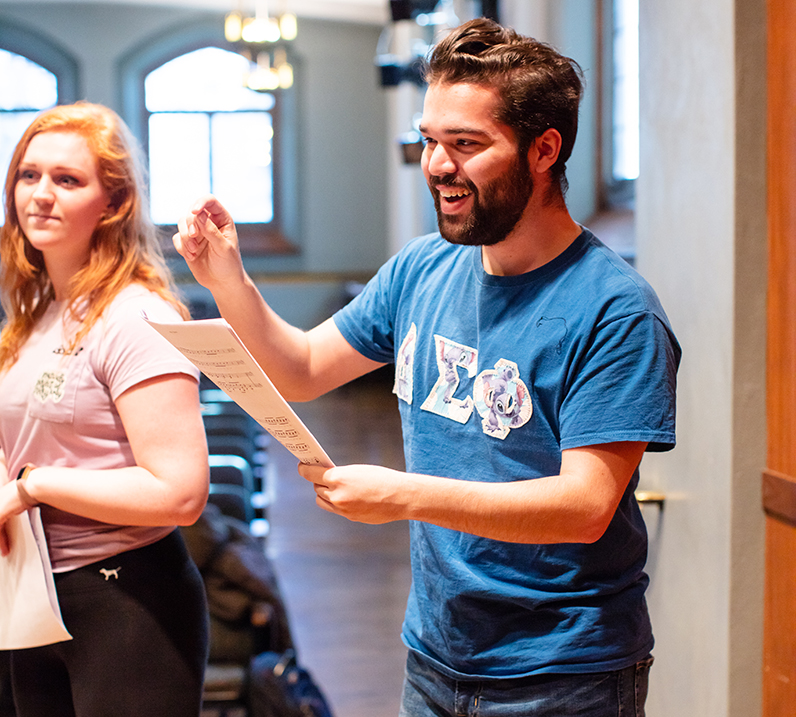 Bales believes many of the students from this year's New Musicals Workshop will end up working at Disney during some point in their careers. "With this year's class, I think the professional expectations were the same only they were under pressure more quickly. They had to learn their music quickly and they had to be responding immediately to the professionals in the room. I think it was eye-opening."
Kevin Long noted, "When we approached Michael and Chris about this we asked – how can we make this as beneficial to the students as possible? In this case, the students could hear how the producers were responding to their work and saw how they found something within the many takes."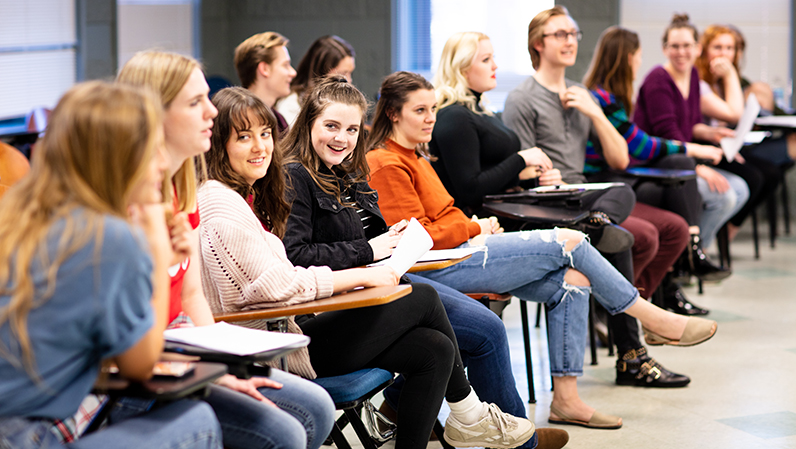 Kooman says it's important for aspiring artists to not wait for opportunities to happen but to "make your own album, or write and star in your own web series."
"I think it's always fun to open a new door to a young artist or creative person. Millikin has such vibrant, fun, open-minded students, and it's refreshing to teach and work with them," he said. "Make the things that you want to make, and by doing so, you're getting more experience, creating a portfolio of work for others to see, and you're getting your name and work out there. Those who wait to get cast might be waiting a while. Best to make the work that you're passionate about and you'll find an audience at some point."