Millikin School of Theatre & Dance and Kirkland Fine Arts Center Start The Holidays Early With The Musical
Featuring the Millikin-Decatur Symphony Orchestra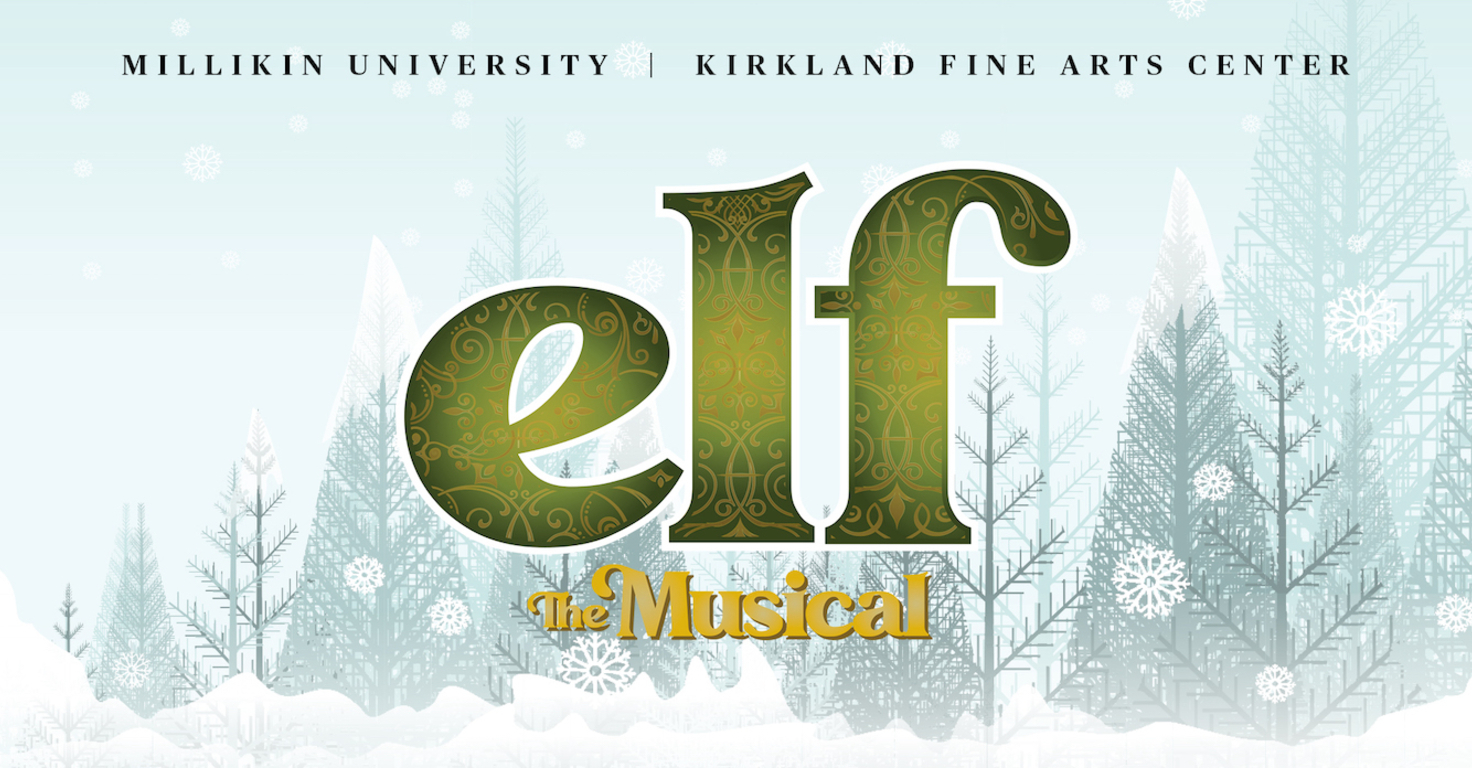 Elf The Musical comes to the Kirkland Fine Arts Center, November 11-13, in a true community production of this holiday classic. Featuring the Millikin-Decatur Symphony Orchestra, this staging at Kirkland Fine Arts Center showcases the acting, dancing, musical, design and production talent of the Millikin School of Theatre & Dance, with students from Decatur area schools rounding out the youth ensemble. Beth Creighton, music director of the production, had this to say about the uniquely cooperative show:
"Any opportunity to serve as the Music Director for a Millikin School of Theatre & Dance production is a privilege but working on such a fun and light-hearted show has been a JOY!  Spending my evenings and weekends with this cast of Millikin students and local youth has been a blast – and we can't wait to share our work with the Decatur community. I am so thankful for the spirit of collaboration that continues to surround this show and it will be the perfect way to launch the holiday season."
While a production of this size requires immense planning and the focused dedication of innumerable staff and stage crew, Bryan Diver, the Director of the Kirkland Fine Arts Center, says the seasoned team is "up for the challenge."
"Collectively," he continued, "we have decades of experience preparing for and hosting theatrical productions of all kinds, including meeting the staging demands of traveling plays much larger, even, than Elf The Musical. It's a pleasure to use that expertise to put on such a fun and family-friendly play for the Decatur community."
The director of the production, Artist in Residence Kevin Long, is looking forward to debuting this particular show, given how well Decatur has historically celebrated the holidays: "I have been wanting to share a holiday show with the Decatur audience since I first started to work at Millikin. Over the years I have observed how much the community embraces this time of year together, and I hope our production of Elf can be a kickoff to the many holiday celebrations this season. This family friendly show is one that can be shared by all generations — and sharing laughter and singing will create lasting memories."
Elf The Musical follows the journey of Buddy the elf after he discovers he's not really an elf at all. Based on the beloved film starring Will Ferrell, Elf The Musical has become a delightful holiday classic sure to amuse and charm. Attendees have multiple shows to choose from:
Elf The Musical
Friday, Nov 11 | 7:30pm, doors open at 7pm
Saturday, Nov 12 | 7:30pm, doors open at 7pm
Sunday, Nov 13 | 2pm, doors open at 1:30pm
Tickets are $20 // $25 // $30, with children under 12 $10
Buddy's Workshop
Each performance, 45 minutes prior to doors opening, kids are invited to attend Buddy's Workshop, where they can make an ornament, get a green or pink Elf hat, take a picture and make some music. Tickets for Buddy's Workshop are $10 for children under 12. Show tickets are sold separately.
Based upon the New Line Cinema film written by David Berenbaum, the book for the stage play was written by Thomas Meehan and Bob Martin. Lyrics by Chad Beguelin and featuring music by Matthew Sklar, Elf was originally produced by Warner Bros. Theatre Ventures in Association with Unique Features.
Artist in Residence Kevin Long will direct, with music direction by Beth Creighton. Choreography by Isaiah Silvia Chandley.
Tickets are on sale now at kirklandfinearts.com or by calling the ticket office at 217.424.6318.
Support for Kirkland Fine Arts Center has been provided by a grant from the Illinois Arts Council Agency. For a full schedule of events, please visit kirklandfinearts.com.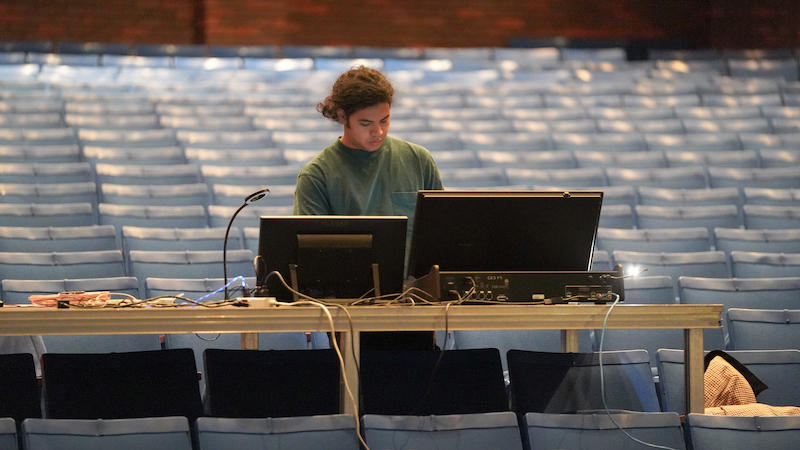 About Kirkland Fine Arts Center
Kirkland Fine Arts Center is located on the Millikin University campus in Decatur, Illinois. Since its grand opening in 1970, Kirkland Fine Arts Center has played an integral part in continuing the arts in Decatur and central Illinois. The center is home to a 1,903-seat auditorium and housesseveral music and choral facilities, lecture halls, art galleries and other multipurpose rooms. Kirkland Fine Arts Center has brought in many nationally acclaimed musical tours including Rent, 42nd Street, Grease, Godspell, Side by Side, Jesus Christ Superstar, Evita, Cats and many others. World-renowned entertainers such as Trace Adkins, Duke Ellington, Ray Charles, Little Richard, Vicki Lawrence and others have also performed at the center. Visit kirklandfinearts.com to learn more.
About the School of Theatre & Dance
The School of Theatre & Dance is a nationally recognized program, offering conservatory style training rooted in a liberal arts education. Our approach to education, known as Performance Learning, offers a comprehensive integration of theory and practice with the added component of collaboration with third-party stakeholders. Through these collaborations, our students gain valuable insight and engagement with their chosen professions prior to graduation which helps prepare them for professional success.  
With only 1800 undergraduate students, Millikin is able to offer smaller class sizes, individualized attention, and faculty/student mentorship opportunities that foster artistic and academic growth for all parties. The intimate setting allows us to blur the lines between individual degree programs to create a diverse and inclusive community of artists from a variety of disciplines who are equally essential to the process of creating theatre. Our new Center for Theatre and Dance was meticulously designed to offer our student-artists an environment that supports and encourages the development of creativity and the mastery of craft. We invite you to explore our programs of study and discover the many artistic and academic elements that make the Millikin University School of Theatre and Dance an exciting and unique place to study.
Visit millikin.edu/theatre to learn more.
About Millikin University
Millikin is a private, not-for-profit, four-year university with an enrollment of approximately 1,800 students in traditional and non-traditional undergraduate and graduate degree programs. Located in Decatur, Illinois, you will quickly discover that the signature of a Millikin education is a unique experience we like to call Performance Learning.
Since its founding more than 120 years ago, Millikin has operated under the philosophy of providing an education that combines theory with practice. While this was a radical idea at the time, we know today that students must perform their knowledge in order to be truly prepared for a successful career after college. Through immersive experiences such as internships, co-teaching, running a business, presenting research to experts and performing in front of audiences, students find new ways to live out their learning and reap the rewards of their hard work. Visit millikin.edu to learn more.
For further information, please contact LJ Pemberton, Marketing and Patron Relations Manager at Kirkland Fine Arts Center at 217.424.3931 or lpemberton@millikin.edu.