For one day on the Millikin campus students are given an opportunity to present a years' worth of achievements and research to the University-wide community; that day is Celebrations of Scholarship (COS).
The celebratory event, held on April 28, was a culmination of academic achievement that represented a vast array of subjects in the fine arts, sciences, business, nursing and more.
Multiple sessions, organized by each department, were held across campus including an Idea-to-Incubator business competition; theatre students presenting their scene work; freshman focus panels and the original research efforts of Long-Vanderburg Scholars.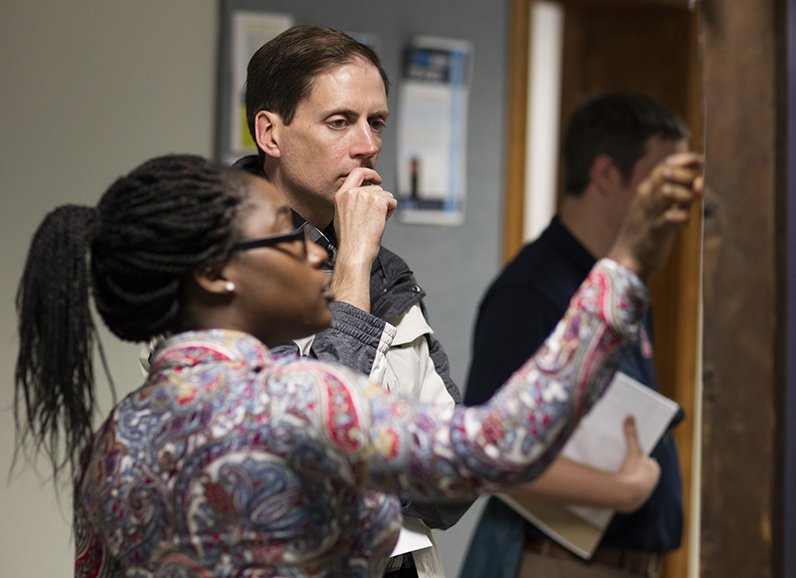 "Celebrations of Scholarship is a way we set aside some time to specifically recognize the great work our students do in collaboration with faculty members all across the curriculum," said Millikin University Provost Dr. Jeffery Aper. "You've got people all over the curriculum who are able to use this day to showcase remarkable work."
Dr. Aper noted, "At Millikin, Performance Learning gives everyone an opportunity to be actively engaged in the life of their discipline. It boils down to the idea that we want to challenge and give every student a chance to know what it really is to do that work."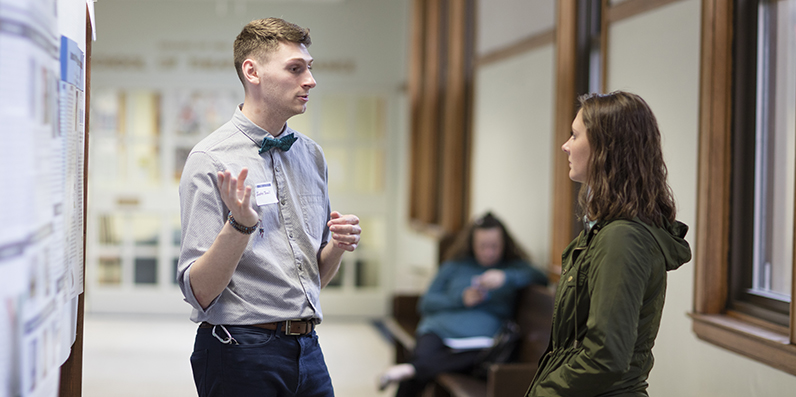 As part of COS, the 24th Annual Research Poster Symposium, dedicated to Judy and the late G. Richard Locke, M.D. was held in Shilling Hall. The symposium highlights the scholarly work completed by students in regularly scheduled courses, seminars, independent studies, directed studies, internships, summer undergraduate research fellowships, Leighty Scholar, Long-Vanderburg Scholar and James Millikin Scholar projects.
Among the presenters was Shelby Chesko, a senior biology major from Wilmington, Ill., who presented her research on the quantification of lead in central Illinois birds of prey. Chesko explained how she collected blood samples from raptors admitted to the Illinois Raptor Center in Decatur, Ill., and determined lead content using a lead analyzer.
"Our work provides a better understanding of the sources of lead in multiple species of raptors, including non-scavenger species," said Chesko. "It's been exciting because Millikin has given me the opportunity to present at regional and national conferences as well as raise public awareness about the impact of human activities on wildlife."
Uriah Walker, a senior chemistry major from Lansing, Ill., explained how she's using 3D printing to teach microfluidics to undergraduate chemistry students. Microfluidics is the science of manipulating fluids in small channels on the order of a micrometer.
According to Walker, microfluidics is not typically taught at the undergraduate level because of the difficulty associated with preparing microfluidic devices. During her presentation, Walker discussed how she used a 3D printer and computer-aided designs to make the devices.
"Having that exposure and the opportunity to work with a 3D printer on campus has been incredible," said Walker. "I know I'll be able to take this experience and use it in the future when I enter graduate school."
In reference to Celebrations of Scholarship, Jeff Aper noted, "I think it's the pinnacle of the year in some ways where people from all across the university and every different discipline get the chance to really show off the quality of work that students are doing."
Judy and G. Richard Locke, M.D. began providing financial support in 1994 for the Poster Symposium prizes awarded to the top-rated student presentations. Judy Locke continues to support undergraduate research at Millikin University through not only treasure but also of her time. Judy returns to campus annually to serve as a Poster Symposium judge and has greatly enjoyed the time she spends with students and faculty.
The following are the award winners of the 2017 Celebrations of Scholarship Poster Symposium.
1st Place Awards
Nicole Koch and Dr. Travis Wilcoxen
"Effects of Simulated Tadpole Tail Predation on Post-Metamorphic Performance in Cuban Tree Frogs (Osteopilus Septentrionalis)"
Hunter Somers, Estefano Martinez and Dr. Casey Watson
"Exploring the Effects of Cryogenic Processing on Photovoltaics"
2nd Place Awards
Skyler Taylor and Dr. Jennifer Schroeder
"Atrazine Analysis in Macon County Water Sources and Development of a Cost Effective Detection Technique"
Andrea Marsh and Dr. Marianne Robertson
"Aggregation and Sheltering Behavior of Armadillidium Vulgare (Isopoda: Armadillidiidae) Groups Exposed to Fluorescent & UV Light"
Katie Stromsland and Dr. Laura Zimmerman
"Relationships Between Parasitic Infection and Natural Antibodies, Age, and Sex in Red-Eared Slider Turtles (Trachemys Scripta)"
Justin Thrall
"Synthesis of Polypeptide Chains and Their Effects on Cancer Cells"
Kate Gebultowicz, Dr. Anne Rammelsberg and Dr. Jennifer Schroeder
"Solid Phase Peptide Synthesis of Cell Penetrating Peptide in Application to Cancer Treatment"
Sarah Rapp and Dr. Kyle Knust
"Bipolar Electrochemistry Experiments for an Undergraduate Laboratory"
3rd Place Awards
Sara A. Siegfried, Dr. Jennifer Schroeder and Dr. Paris Barnes
"An Essential Solution: Toxicity of Five Essential Oils in MCF-7 and MDA-MB-231 Breast Cancer Cell Lines"
Caitlin Sembach, Dr. Marianne Robertson and Dr. Travis Wilcoxen
"Can the Terrestrial Isopod Armadillidium, Vulgare (Isopoda: Armadillidiidae) Display Operant Conditioning to an Electric Stimulus"
Elyse Schnabel and Dr. Travis Wilcoxen
"Effects of Ammonium Sulfate on Stress Physiology of Western Mosquito Fish (Gambusia Affinis)"
Uriah J. Walker and Dr. Kyle Knust
"Using 3D Printing to Teach Microfluidics to Undergraduate Chemistry Students"
Takunda Jakachira, Whitley Sapp, Hunter Somers, Andrea West and Dr. Casey Watson
"Examining the Effects of Magnetic Fields and Heating on the Wear Resistance and Microstructural Properties of Wind Turbine Gearbox Bearings"
Mary Chierek
"Perioperative Goal-Directed Fluid Therapy Using the Cheetah StarlingTM SV: A Pilot Study"
Morgan Ashby and Tatiana Kozal
"Float Nurses and Patient Quality of Care"
Phi Kappa Phi Award
Hunter Somers, Estefano Martinez and Dr. Casey Watson
"Exploring the Effects of Cryogenic Processing on Photovoltaics"