Service Over Self: Millikin's Elyce Knudsen balances excellence on the court with good works in the community
Knudsen was the 2022-23 winner of the Jostens Trophy, which honored the top women's basketball player in NCAA Division III.
DECATUR, Ill. – Service over self.
It's an idea that Millikin University senior Elyce Knudsen has built her college experience around and it touches everything she has built in her three years on campus, including becoming one of the best NCAA Division III women's basketball players in the nation, maintaining a near 4.0 GPA and actively volunteering in the community. 
Elyce's journey to Millikin began when Big Blue Women's Basketball Coach Olivia Lett became a regular fixture at her high school basketball games during her senior season. Coach Lett saw great potential in her, even though Elyce was more interested in playing collegiate softball than basketball at the time. It was a reminder to never listen to your critics. 
"In high school, I was told I was too small to be able to play at the collegiate level in basketball. So that was where my mindset was," Elyce said. "During my senior season, I broke the all-time scoring record at (Tolono Unity High School), and I thought basketball could actually be on the table for me. Then our softball season was canceled due to COVID, leading me to Millikin on the basketball path."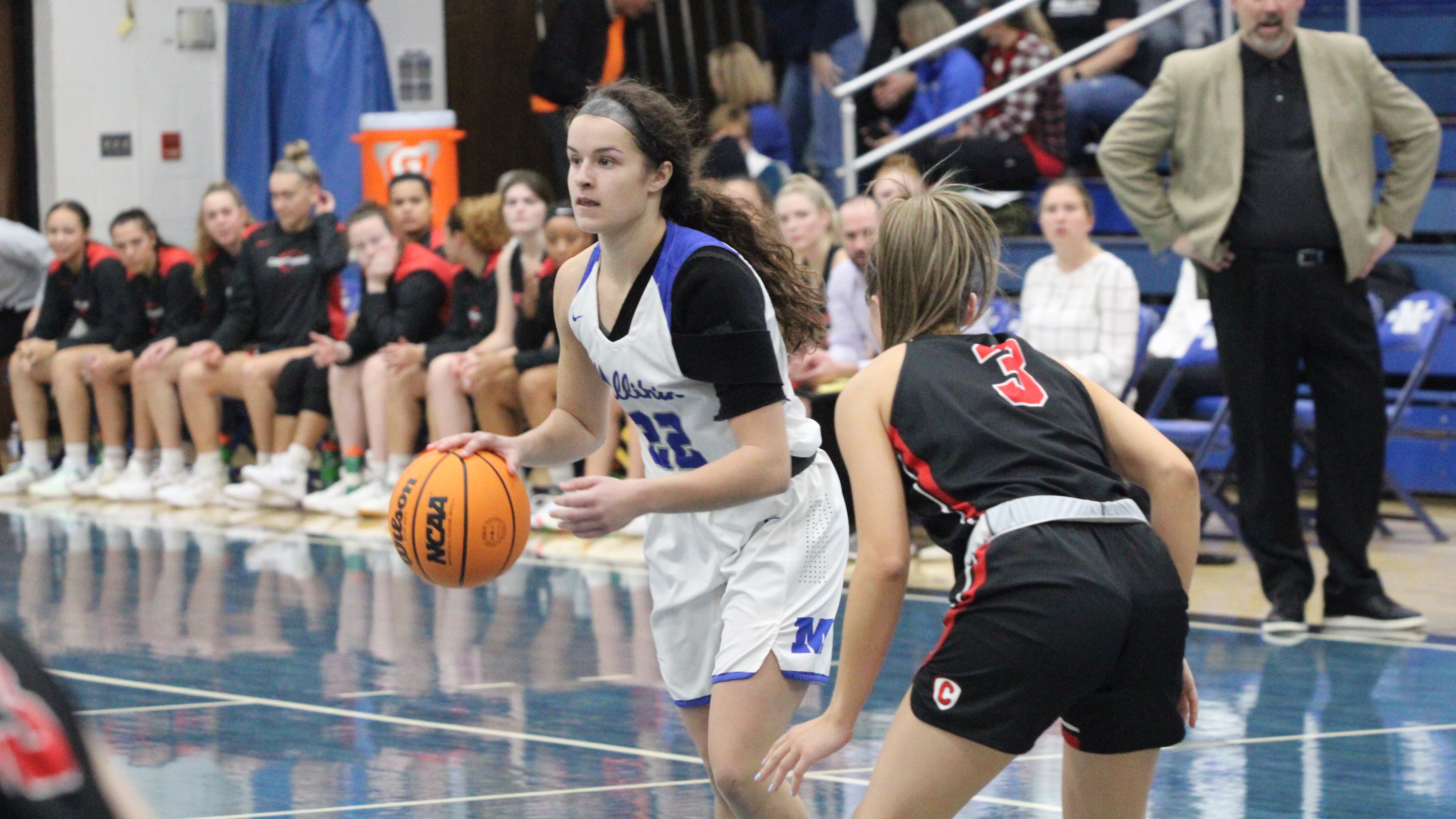 Even during those first recruiting visits, the connection between Coach Lett and Elyce was far beyond the typical coach/recruit relationship. 
"I tell people that Coach Lett was more like a mentor to me than just a coach trying to sell their college," Elyce said. "She spoke to me after games about what I thought I did well on and what I could improve on. She was more of a friend and that was what I really enjoyed about the recruiting process with her."
Knudsen's impact on the Big Blue program was felt immediately, leading the team to a College Conference of Illinois and Wisconsin (CCIW) Tournament championship in her first year while averaging a team-high 18.5 points a game. The NCAA Tournament that season was canceled due to COVID, but the team has since made consecutive appearances. 
During her three seasons, the Big Blue posted a combined 58-15 record, including an outstanding 37-6 CCIW record. Knudsen averaged 22.3 points last season, earning her the CCIW Lori Kerans Student-Athlete of the Year Award and a unanimous CCIW First Team selection for the second straight season.
The postseason awards kept coming as Knudsen became the first Millikin basketball player to win the Jostens Trophy, a national award recognizing the most outstanding men's and women's Division III basketball players of the year.
"Millikin has put me in a position to be successful and find what I am really good at here. I don't know if I could get that at another school," Elyce said. "There's no way that I would have thought after high school that I would be competing at the level that I am competing at. That is due to Coach Lett and my teammates and just allowing me to be the best version of myself here."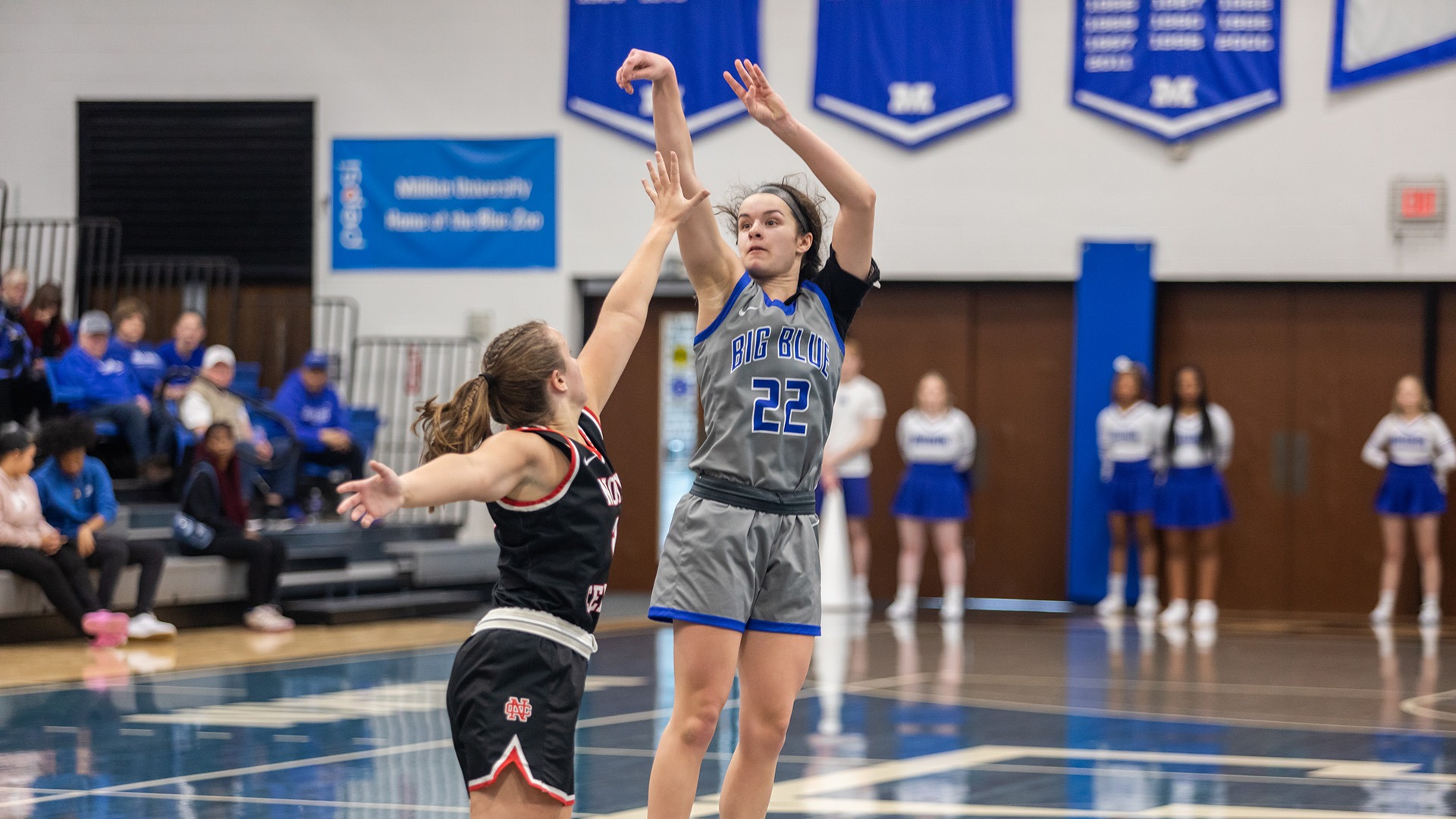 While Knudsen's outstanding performance on the court has brought her a trophy case full of honors, she feels her teammates are just as responsible for those honors, and she wants them to know that.
"All of these awards go to my teammates and those here at the university who have helped me. It is also important for them to be congratulated," Elyce said. "I would not be able to get these accolades and be in my position without them. Sometimes I don't think they understand that, so I sent them a message about how the Jostens Trophy is their award too. I think that is very important for them to know and they are an amazing group of women."
Along with basketball ability, the fundamental tenets for the Jostens Trophy are academic prowess and service to one's surrounding communities, two areas Elyce excels in.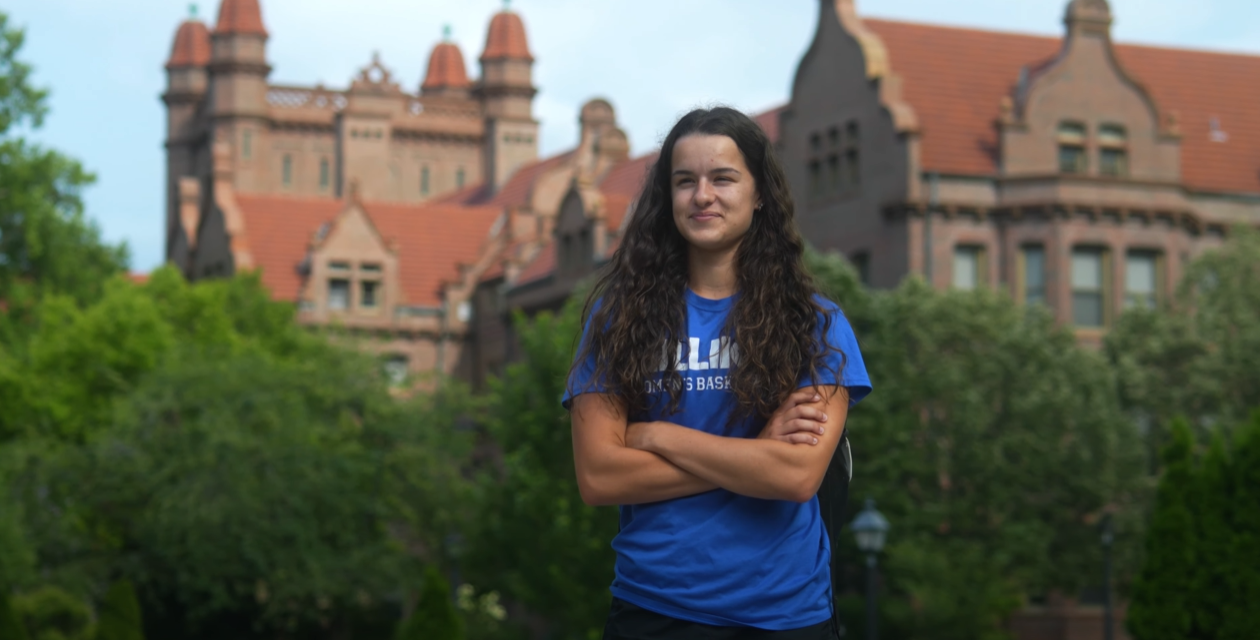 Elyce began her Millikin studies as an Accounting major and went on to make a shift to Finance, which would position her better to get into sports marketing following graduation. Since then, Elyce has been getting first-hand knowledge of Central Illinois businesses in person and in the classroom.
"My favorite class has been Financial Management and we were able to present on Caterpillar and where their target price would be in a year," she said. "I was able to do that with five other students and we dug into the company as a whole and what they sell. I looked at all their statements and it was interesting to look at Caterpillar, with its local connections to Decatur." 
This summer, Elyce got a first-hand Performance Learning experience at JCG Midwest, a farming products business based in Moweaqua, Ill.
"I am working with JCG Midwest's Chief Financial Officer. I am shadowing him and also working on projects myself. I'm excited about that," she said. "Coming into Millikin, I had an idea that it would be a lot of hands-on, real-world experience because that is what Millikin is all about. I was very excited about that because I want to apply what I've learned outside of the classroom right away. Many people don't get that opportunity."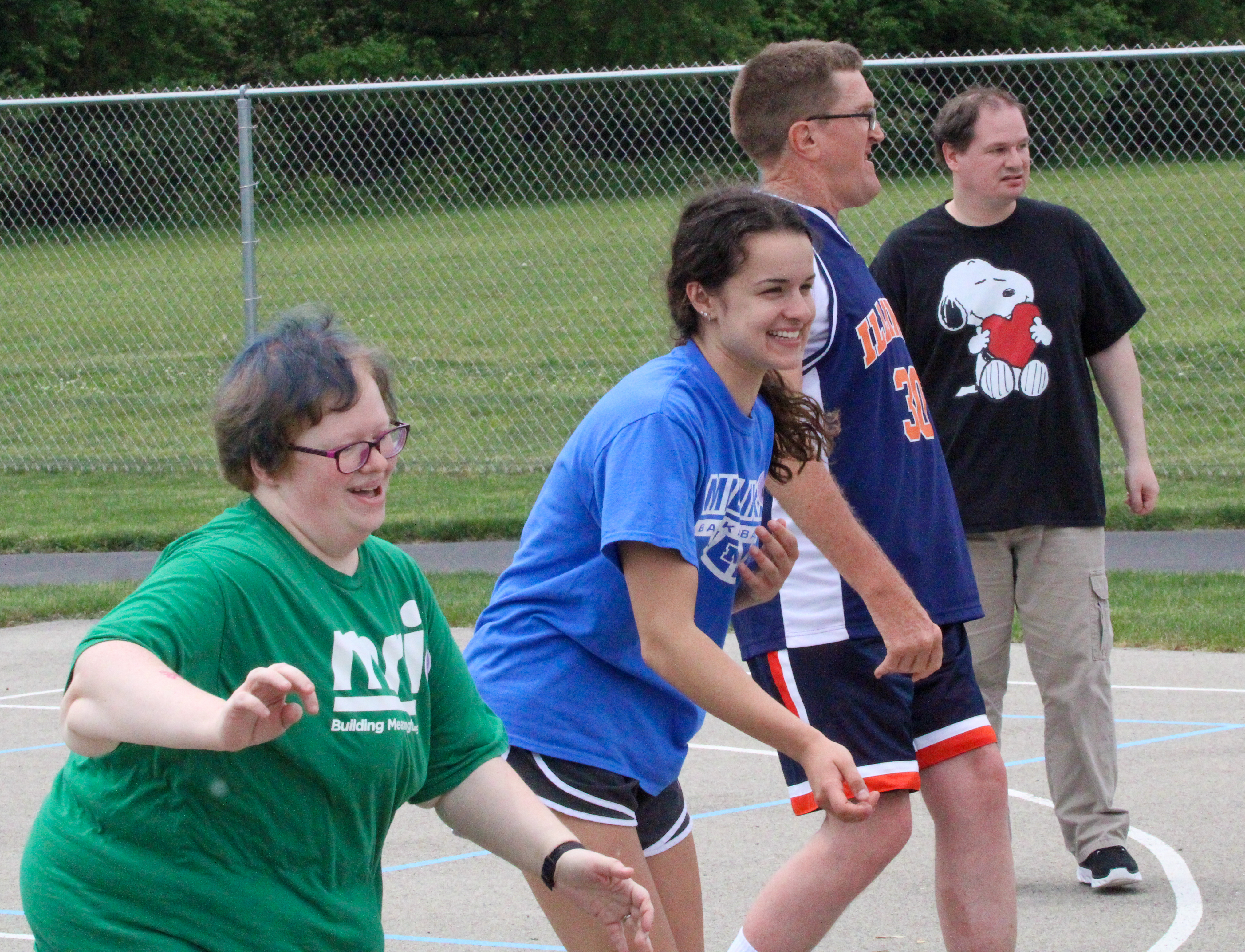 Basketball serves as a bridge to Elyce's community service endeavors as well. Along with her Big Blue teammate Bailey Coffman, Knudsen founded a reading club at local Decatur-area public schools called "Book-it," which creates opportunities for Millikin student-athletes to go into schools two times each month to read to students and answer questions.

"My goal for next year is to expand it and encompass all student-athletes at Millikin and have a mix of athletes from track and field, basketball, baseball and football," Elyce said. "I think it is also a chance for us to connect with students and student-athlete to student-athlete."
Twice a year, Macon Resources, Inc. (MRI), a Decatur-based non-profit organization that serves individuals with developmental disabilities, hosts Field Day events for its residents, and the Women's Basketball team hosts a scrimmage. Many of the MRI residents are regular attendees at Big Blue games and it is an opportunity to connect with some of their favorite players. 
"They love us over there at MRI and we love them," Elyce said. "It's very nice to go over there and they remember your name and are excited to see you. They always have a smile on their faces, and it is great to be involved in the community. I think that our program represents Millikin well."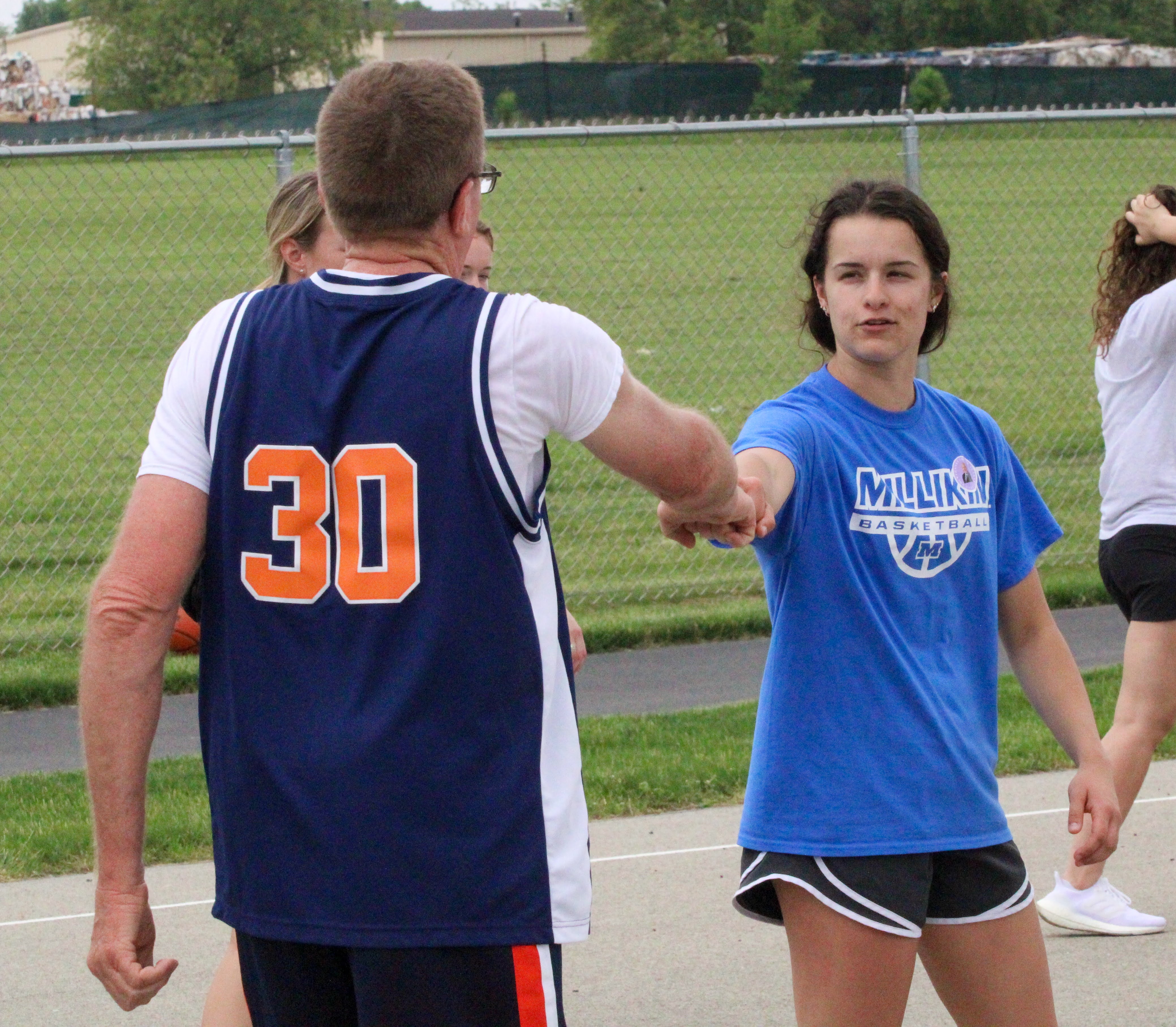 For her senior season, Knudsen has big goals and after graduation, she is considering her graduate school options and a fifth year of basketball eligibility. 
"I have thought about graduate school and I have thought about staying with basketball in coaching. I would love to give back within my hometown community (of Philo, Ill.) which has been very important to me my whole life," Elyce said. "My ultimate goal is to get this team to the Final Four and a national championship. We've got the assets to do that, but that starts with me taking that role as a senior leader. Developing leadership is another big goal of mine and I'm always learning how to be a great leader and build on that. I want to get us to the top of the national level."