Performance Learning Opportunities Thrive at Millikin University Performance Consulting (MUPC)
The student-run venture specializes in technical consulting for small businesses and organizations.
DECATUR, Ill. – Each Tuesday morning during the semester, the student members of Millikin University Performance Consulting (MUPC) gather in the Tabor School of Business to share client updates and collaborate on projects. 
MUPC, a student-run venture specializing in technical consulting for small businesses and non-profit organizations, offers a wide range of services, including web development, web hosting, system analysis, hardware and software recommendations, database management, programming, update and migration, and network security.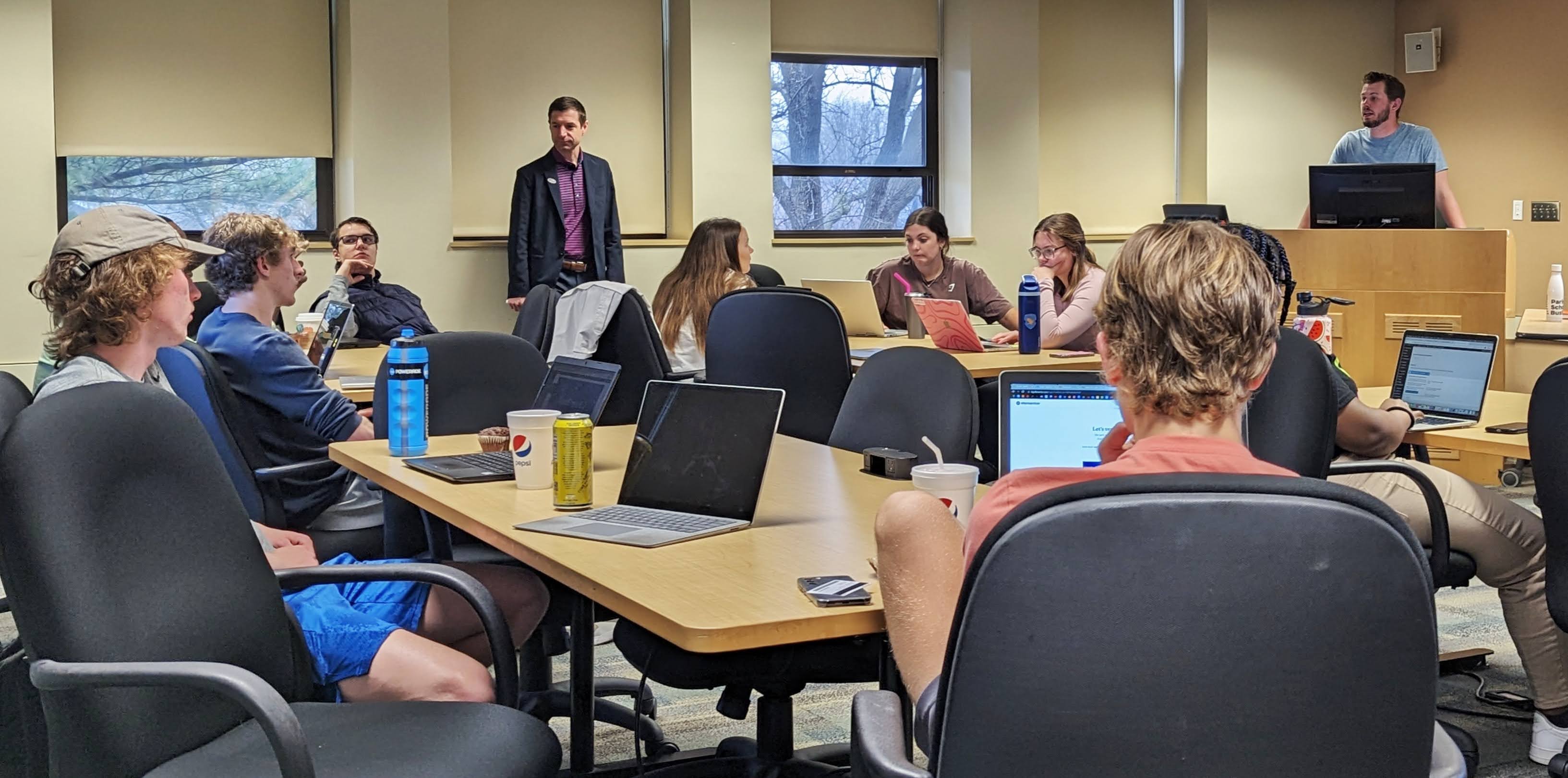 On this particular Tuesday, MUPC Senior Consultant Sean Miller had vital information to share with the group that impacted many of MUPC's clients. A security update needed to be implemented quickly to their client's websites and that needed to take top priority in the day's work.
"In these situations with critical updates, we take it very seriously, and in these situations, they say I have to stop what I'm doing and I have to work on this,"  Sean said. "They recognize that another organization's business operations are affected. Compared to other student-run ventures, we have unique opportunities to help so many real-world businesses and it is unique that they put so much trust in us."
MUPC began in 2016 with a group of Information Systems Management students who wanted to continue course projects beyond the end of the semester.
"The goal was just to hand it off at first, but that group was so ambitious to say, 'Let's go out and get more work,'" Sean said. 
MUPC's client list and membership continue to grow, with 13 clients this spring semester and several leads for future client projects to begin over the summer and next semester. Staff meetings now include 23 student members. 
Sean, a senior Finance and Information Systems double major, has been involved in MUPC for seven semesters and has seen the project focus expand to include many majors. 
"We have found we have more needs in business. We needed accountants, financial analysts, and marketing, so we are sure that we can continue to grow," Sean said. "We have expanded and we have Marketing, Finance and Accounting majors. We have also expanded into Arts Tech and Computer Science, which has allowed us to improve our core web design projects and expand into more database projects and custom programming."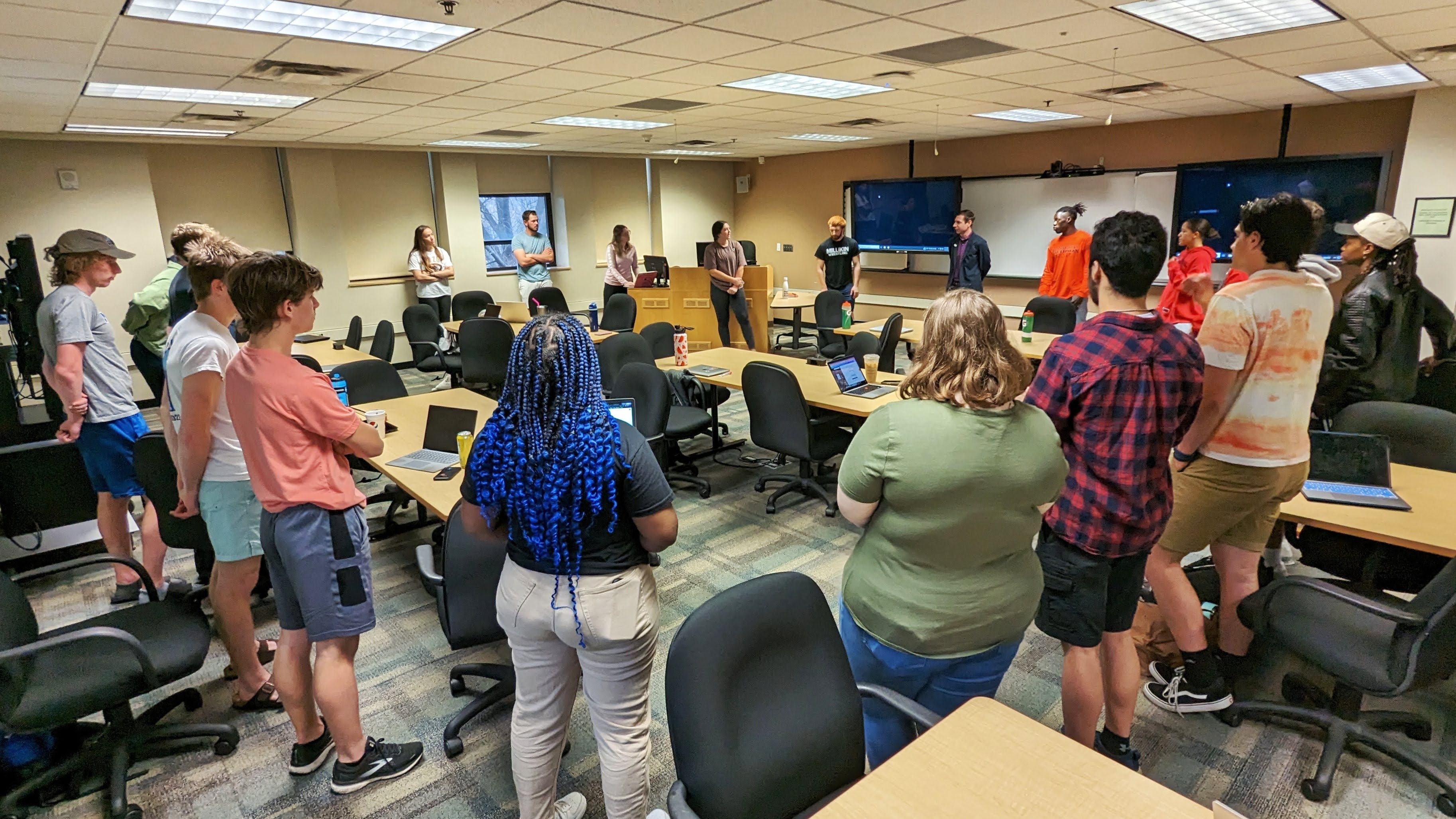 Performance Learning Opportunities Abound
MUPC is organized into three levels of leadership featuring Junior, Associate and Senior Consultants. RJ Podeschi, Dean of the Tabor School of Business, serves as MUPC Advisor and views his role as a mediator/facilitator/coach for the group that is genuinely student-led. 
"I have structured it in a way that allows students to set their personal goals and objectives in the class," RJ said. "If they want to learn X, Y and Z, we can put you on projects where you can learn X, Y and Z."
Students joining MUPC begin as a Junior Consultant and, to get their feet wet, are assigned a specific learning project to do pro bono for either a non-profit or small business. After that first semester, members are Associate Consultants who can lead projects and advance to Senior Consultants. 
"Senior Consultants are selected by me and they are really the leadership team that keeps the gears running every day," RJ said. "They do an excellent job of holding each other accountable and telling people they need to step it up when needed."
The 2022-23 group of Senior Consultants included Sean, Madisyn Carpenter, Paige Coleman and Jake Shumaker. 
Madisyn is a senior Business Management Major and has been in MUPC for three semesters. She has taken advantage of the Performance Learning opportunities that the organization offers. 
"I get to actually practice what it is like to work with real clients and get to walk through the process of signing contracts and figuring out what they want from the project. We get to see the project all the way through from a business standpoint," Madisyn said. "We also have internal Marketing, Accounting and Finance teams, and I lead the Marketing team this semester. Having both technical and business sides is nice, so you can develop both skills simultaneously and get real-world experience working with clients."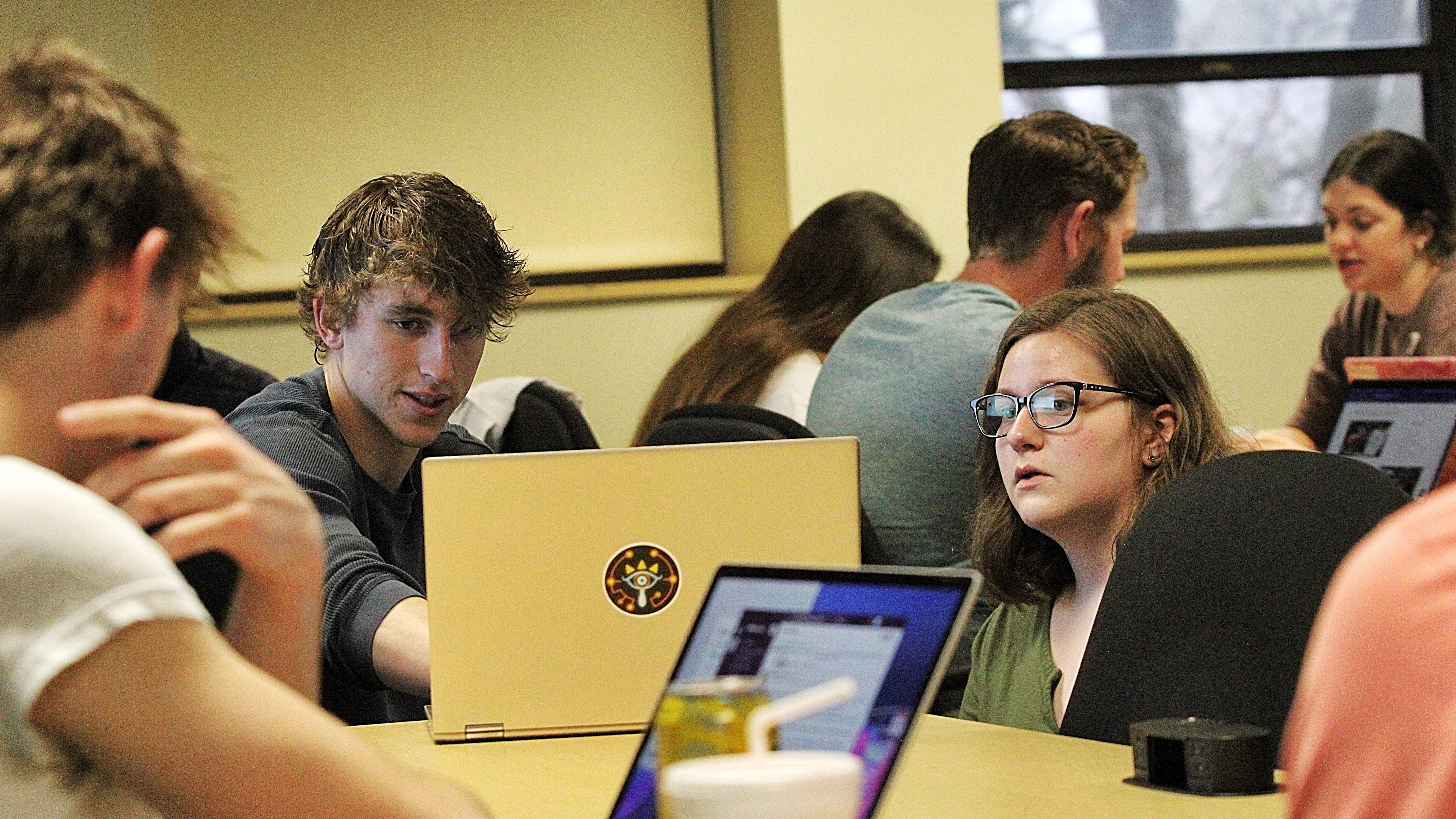 Jake, a junior Computer Science major, has participated in several projects in his two semesters with MUPC, including redesigning the website of Decatur-based non-profit Paw Print Ministries and implementing a new inventory software system with Springfield's J & W Countertops. 
"When clients reach out to us, I think sometimes there is the idea that we are students and maybe we don't have the experience of an established marketing business," Jake said. "We like to pride ourselves on our modernness and being of a younger age appealing to a younger clientele and it can help us have a different perspective on website development projects." 
Paige, a junior Business Management and Information Systems double major, has enhanced her management skills by leading projects for Workforce Investment Solutions, Marion County Fair and Reasonable Service, a Decatur non-profit organization focused on hunger and homelessness. 
"My favorite project has been the Reasonable Service's software development project. They are a not-for-profit here in Decatur and it feels good to do something for the community," Paige said. "We are building a database from scratch, so the research behind that and the technical implementation is exciting to me. It is great to use what I've learned in class in a real-world situation." 
Sean has used his MUPC project management experiences in an internship with State Farm Insurance in Bloomington. After graduation, he will join them full-time as a software developer and credits MUPC for helping him be prepared for the next steps in his career.  
"I would recommend MUPC to anyone," Sean said. "It is one of those opportunities where you learn skills that I don't think you can read in a textbook. Sometimes you just have to do something and MUPC puts you in those situations."