2022-23 Millikin Honors Convocation praises the outstanding work of students and faculty
More than 90 awards were presented at the annual event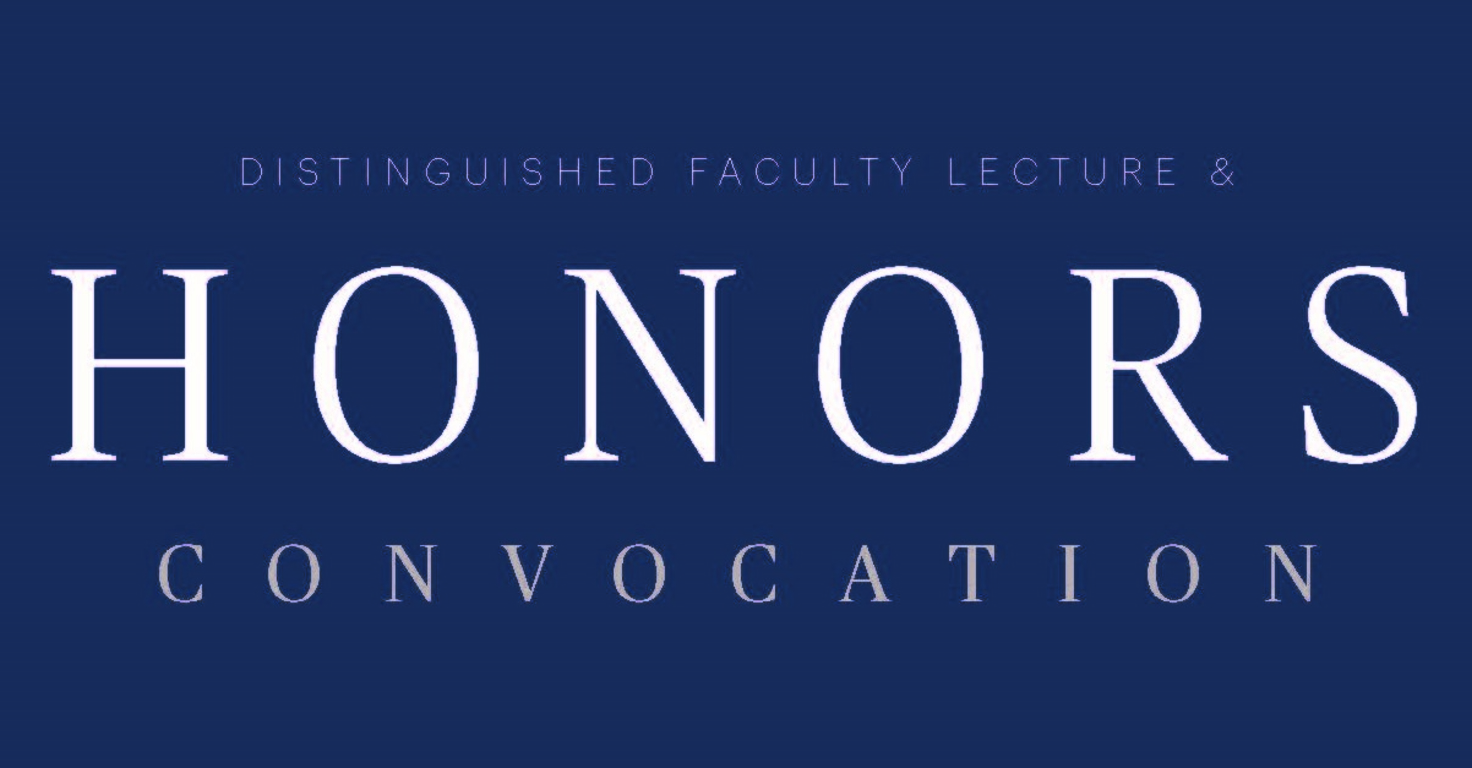 DECATUR, Ill. – The Millikin University community gathered again for the annual Honors Convocation and Distinguished Faculty Lecture on Thursday, April 27, at Kirkland Fines Arts Center to honor faculty, staff and student accomplishments as the 2022-23 academic year approaches its close. 
"The Honors Convocation constitutes a special moment in Millikin's academic year, when we connect as a community to honor achievement in teaching and learning and excellence in all aspects of Millikin life, inside and outside the classroom," Millikin President Jim Reynolds said. "This occasion celebrates the many exceptional achievements made at our University and we commemorate the inspiring work and scholarship our students and faculty create."
Over 90 awards were presented to Millikin students and faculty who were honored for their commitment to academic excellence. Many awards have been created to distinguish alums from  Millikin's past.
Among the awards is the Scovill Prize, the most coveted recognition of the Honors Convocation. Scovill Prize winners are selected based on high academic achievement, demonstrated leadership, service and scholarship. This year, eight students were named Scovill Prize recipients.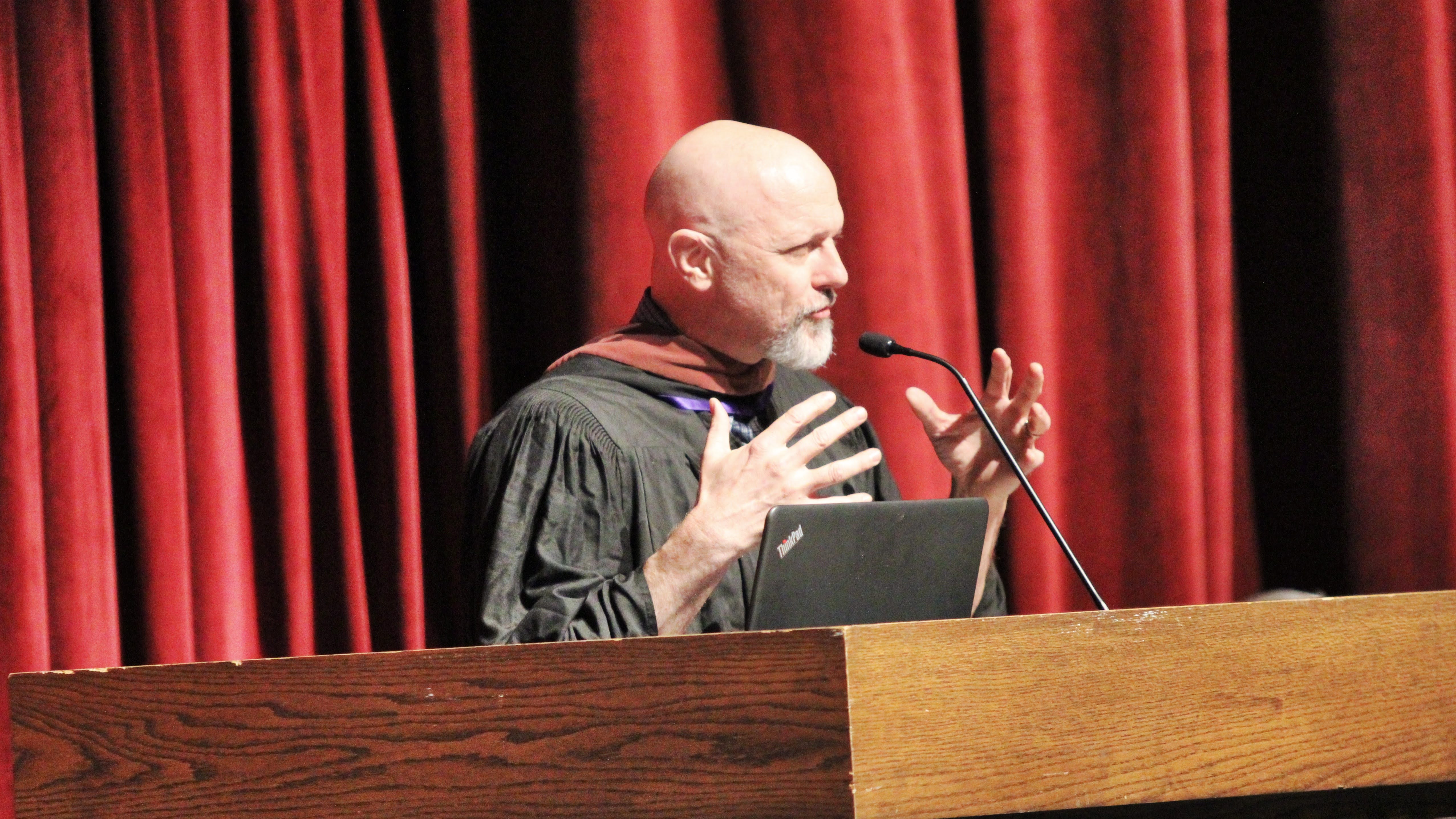 Each year, the Millikin faculty vote to select one of their own as the Distinguished Faculty Lecturer. This year's Distinguished Faculty Lecturer was Dr. Alex Miller, professor of Theatre and Dance. Dr. Miller's lecture was titled "Walkin' Shoes."
College of Arts & Sciences
Behavioral Science Award: Emily Kemp
Henry F. Gromoll Service Award: Madison Gentry
Biology Honors Award: Nikol Obradovic, Christian Ragain and Victoria Stuart
Dr. Neil Baird Biology Lab Assistant Award: Delany Haubner and Morgan Hollon
Clyde Dennis Award: Katharine Baumann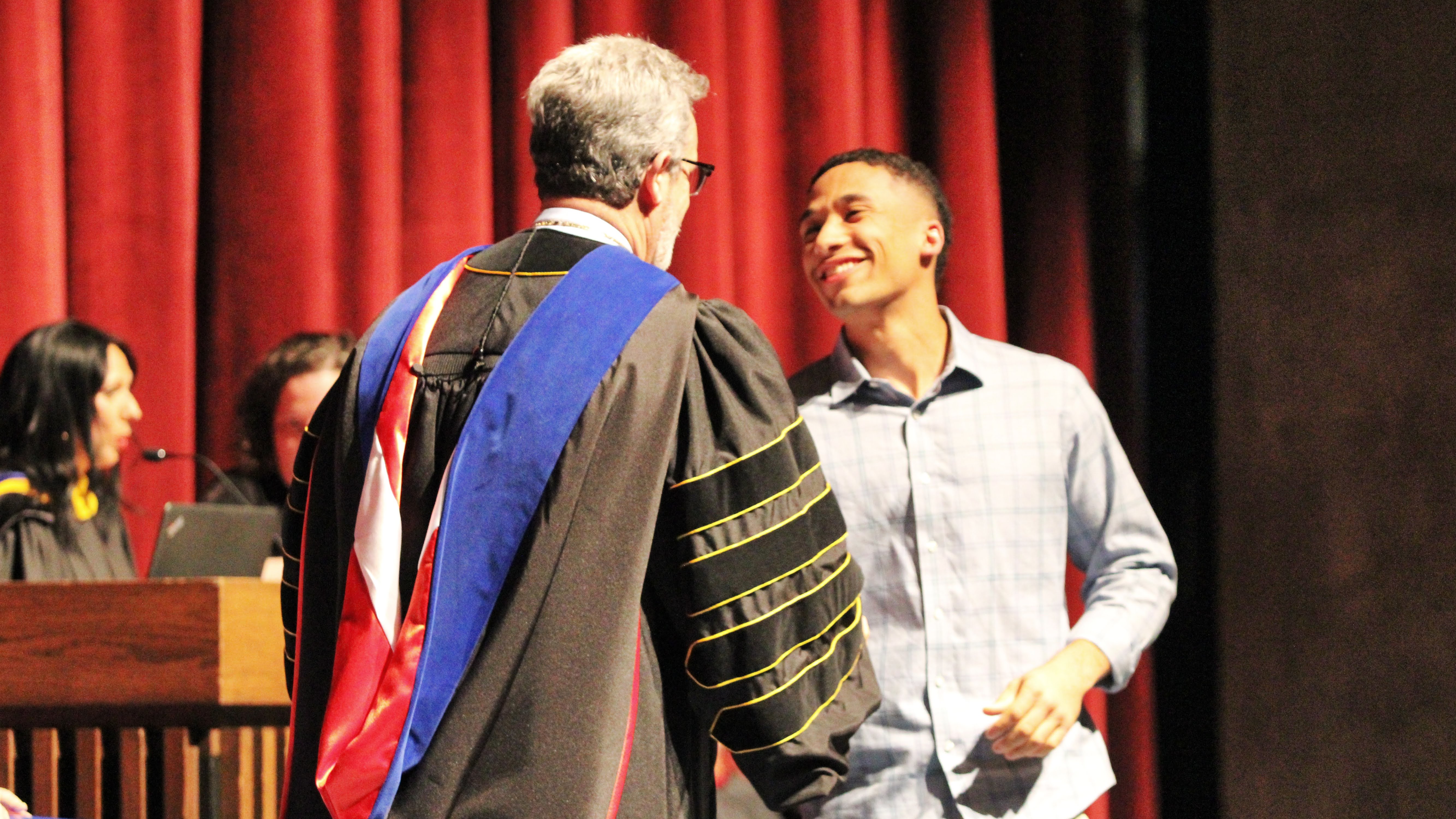 George/Rick Glasscock Memorial Biology Award: Jarius Ingram
John/Ula Leighty Research Award: Emma Antonelli, Justin Caldwell and Jessi Kreder
Alpha Epsilon Delta Award: Jarius Ingram and Victoria Stuart
American Chemical Society Award: Sydney Griggs
Ed & Lucy Acheson Award for Chemistry: Andrew Detmers, Emily Edwards, Grace Harmston, Morgan Herrick, Austin Hughes, Dayton Lasack, Jayden McNaught, Carly Thomas, Carley Ward and Katelyn Wendt
Dr. & Mrs. William F. Henderson Prizes: Madeline Klinger, Jensen Mast, Katie Risner and Adam Walker
Carl & Lucile Weatherbee Chemistry Award: Keagan Brady, Sydney Griggs and Madeeha Salik
Carl & Lucile Weatherbee Graduate Studies Award: Madalyn Bochantine, Micka Diella Iteka, Sydney Griggs and Madeeha Salki
Dr. Clarence and Carol Josefson Award for Excellence in Chemistry: Sydney Griggs and Micka Diella Iteka
Dr. Grace Patten Conant Writing Award (Creation): Olivia Swords
Dr. Grace Patten Conant Writing Award (Interpretation): Sophie Nicholson
Contant English Department Award: Gwen Klinkey
Contant Society Achievement Award: Olivia Cooper, Gwen Klinkey, Maggie Kusar, Claire Reynolds, Page Shields and Kaitlyn Spence
Marybeth Drechsler Sharp Outstanding Journalism Award: Carin Houser and Page Shields
J. Graham Provan History Award: Christopher Bruno
Albert T. Mills Prize: Cheyenne Hollowell and Matthew Skeffington
John Vrooman Prize: Brennan Pekelder 
Sigrid A. Stottrup History Award: Daniel Peters
Mathematics & Computer Science Award: Jayme Reed and Rolande Umuhoza
Lavern J. Meyer, Ph.D. Math Ed. Award: Camryn Skundberg
Linda Weatherbee Mathematics Award: Analynn Bullock
Department of Modern Languages Linguistic Excellence Award: Chelsea McCullum
Department of Modern Languages Literary Criticism Award: Rileigh Watts
Margaret Burkhardt Johnson Award: Itzel Garcia
Dr. Robert McIntire Political Science Award: Rhys Dieter, Krista Koke, Garren Meeker and Gabby Watson
Outstanding Political Science Major Award: Rebecka Ngoya
Alice Ambrose Lazerowitz Philosophy Award: Jayme Reed
Thomas W. & Mary R. Adney Memorial Award: Avery Damron and Gabby Watson
T. W. Samuels Award: Jadon Cox, McKenna O'Donnell and Olivia Swords
Rev. Robert S. & Doris Stewart-Religion Award: Jack Hughes
Outstanding Physics Award: Charles McLaren-Mustread
College of Fine Arts
Pi Kappa Lambda Outstanding Senior Award: Alan Ramirez
Presser Award: Victor Lawton
Alice Herren Ayars Award: Risako Hida
Mary B. Merris Award: Jorie Clark and Emma West
Winifred St. Clair Minturn Award: Hayden Marshall
Thomas. A. Johnson Memorial Achievement Award: Jaden DeLay
Dr. Russell Tiede Award: Hayden Marshall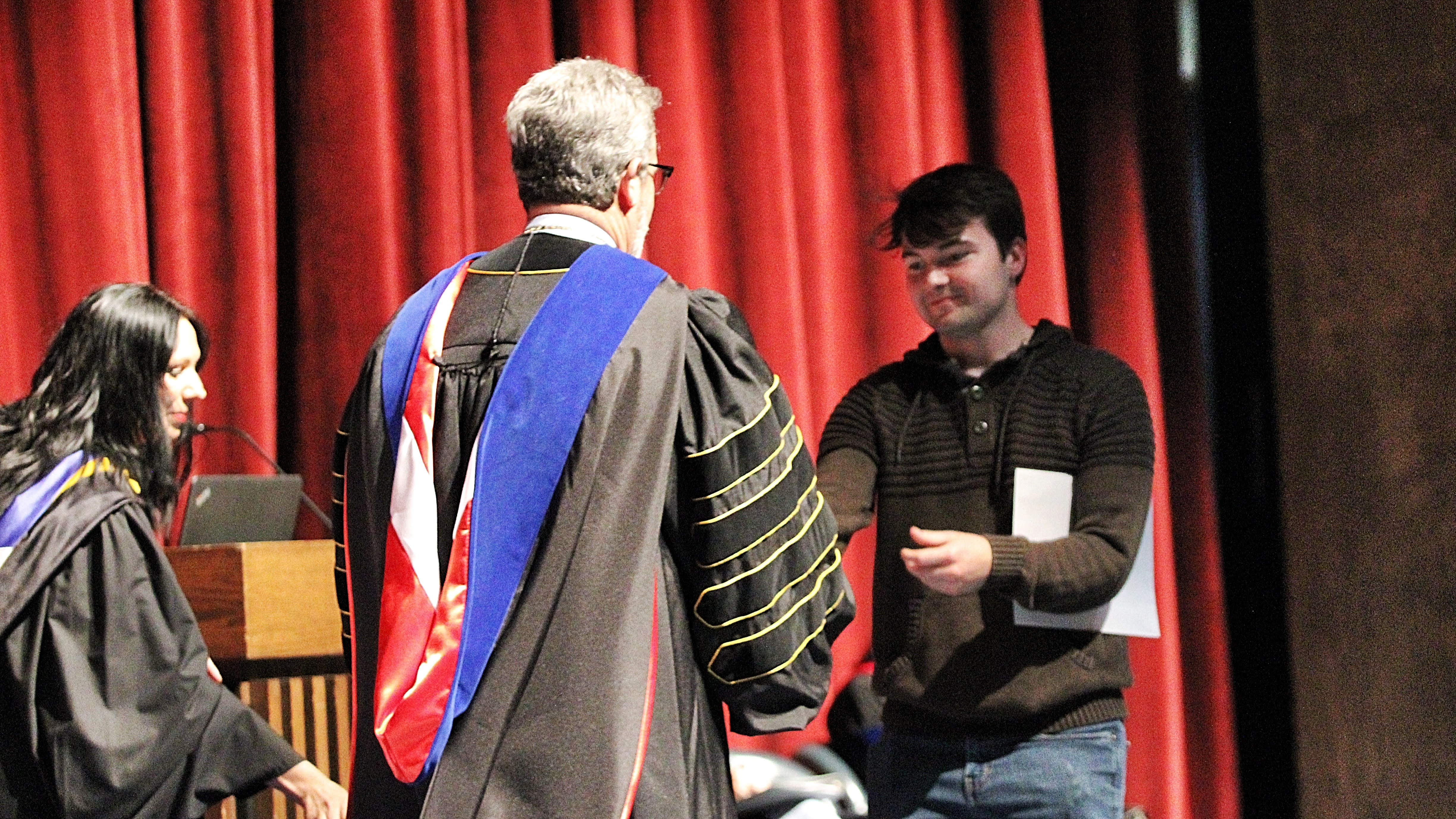 Percussion Achievement Award: Kyle McMillen
Dr. Maria Klott Memorial Award: Spencer Domer and Cara Rivecco
Handler Award for Excellence, Bachelor of Arts in Music: Alan Ramirez
Joan & Melvin Grabowski Memorial Award: Tierra Clark, Kaden Cutler and Kyle Jordan
Dr. L.C. McNabb Memorial Award: Rebecca Jaffe, Gavin King, Emily Nicholas and Rachel Silvey
Michelle Chartier Memorial Award: Sarah Bielicki, Hannah Magy and Zack Scott
Kathryn Paige Torp Theatre Award: Abby Urquhart
Ron Smith Award in Musical Theatre: Jake Faragalli
J. Ben Wand Prize: Christian Andrews-Stewart, Raeven Carroll, Chloe Fisher and Cole Hintz
Andrew Strand Memorial Theatre Award: Nathan Gallop and Darcy Reimler
Dr. Everett J. Brown Prize: Cole Anderson and Elizabeth Hulick
Marvin Klaven Art Award: Courtney Schudel and Sydney Wilson
David S. Monroe Art Award: Lacey Edwards, Samantha Keza, Julia Milynowski and Erica Pamson
Dorothy Sellers Art Award: Leslie Anukwu, Skylyr Choe, Jack Harmon, Jupiter Holcomb, Alela Kinyua, Logan McCormick, Kyle McMillen, Skylar Meents, Nina Polivka, Cody Smith and Maggie Strubhar. 
College of Professional Studies
Robert and Barbara Byrkit Award in Education: Hannah Henson and Sydney Janvrin
Dr. Jerald Hunt/Dr. Darlene Hoffman Award for Excellence: Kailee Stewart
Jola Kuntz Education Award: Karlie Clark
Ray Boehmer Memorial Award for Excellence in Science Education: Lauren Wyatt
The Smith/Orlandini Award: Alyssa Analitis and Julien Woodley
Walter Witt Award: Ryan Hoang, Sarah Isaf and Parker Warren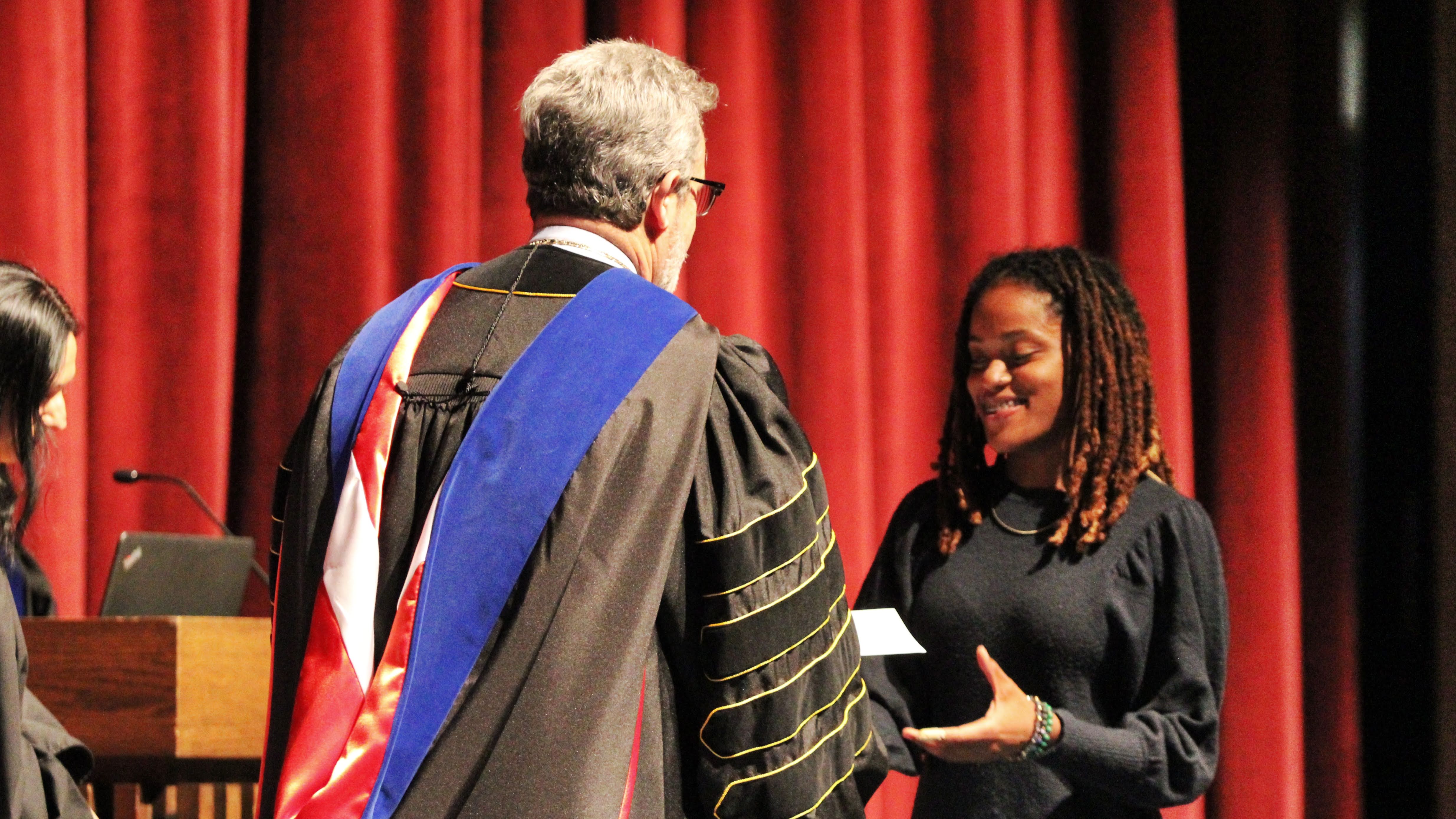 Alpha Tau Delta Honorarium Award: Naomi Hall
Decatur Memorial Hospital Cleland Award: Jessica Sheeler
James Millikin Theory & Practice of Nursing Award: Sheela Sunderland
Dorotha F. Dean Nursing Award: Nanami Owada
The Dr. Mary D. Shanks & Dr. Linda K. Niedringhaus Award: Melissa Tallent
Dr. Mary Jane Linton Nursing Excellence Award: Aseem Adoni
Patrick and Dr. Pamela Lindsey Award for Nursing Excellence: Jacob Busey
Tabor School of Business
Glen R. Smith Award: Miranda Fox
Margaret Sparks Award: Grace Talbert
Judy Lederbrand Day Accounting Award: Abigail Ratsch
Dr. & Mrs. W. J. Darby Prize: Aaron Wendt
Dr. Nancy J. Curtin Communication Award: Joshua Yeo
Linda Weatherbee Human Resource Management Award: Kelsey Bruno
Paul R. Winn Memorial Award: Chelsea McCullum and Stephie Morene Niyomwungere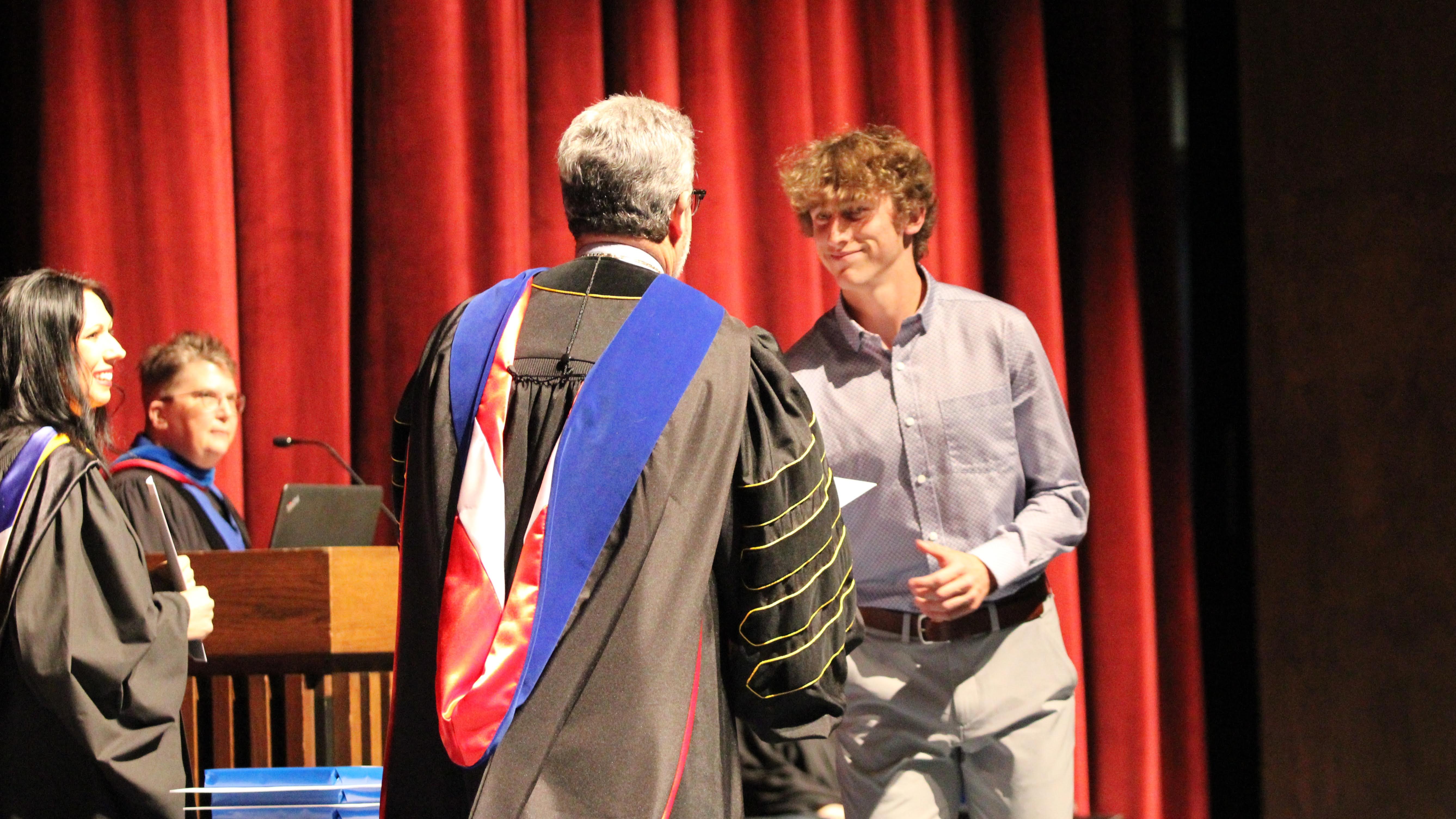 Podeschi-Landacre Management Information Systems Award: Jake Shumaker
Excellence in Information Systems Award: Chris Barambona and Paige Coleman
University Awards
Maria Leonard Senior Book Award: Sydney Finch, Miranda Fox, Jarius Ingram and Bryn Sentnor
The JoAnne Trow Award: Julia Funck and Helena Hashimoto
Sigma Alpha Epsilon, Illinois Delta Chapter Award of Excellence: Carson Cole, Luke Davis, Gavin King, Coleman Klimek, Logan Mulholland and Klen Sanchez
C.W. Barnes Memorial Award: Sophie Darden
Major Thomas G. Storey Citizenship Award: Sydney Griggs
Jere C. Mickel Human Relations Award: Stephanie Munoz
Daniel J. & Elinor Gage Student Activities: Nanami Owada
Helen Moffett Russell Community Service: MacKenzie Moyer
Eshelman Family Award: Miranda Fox and Sean Miller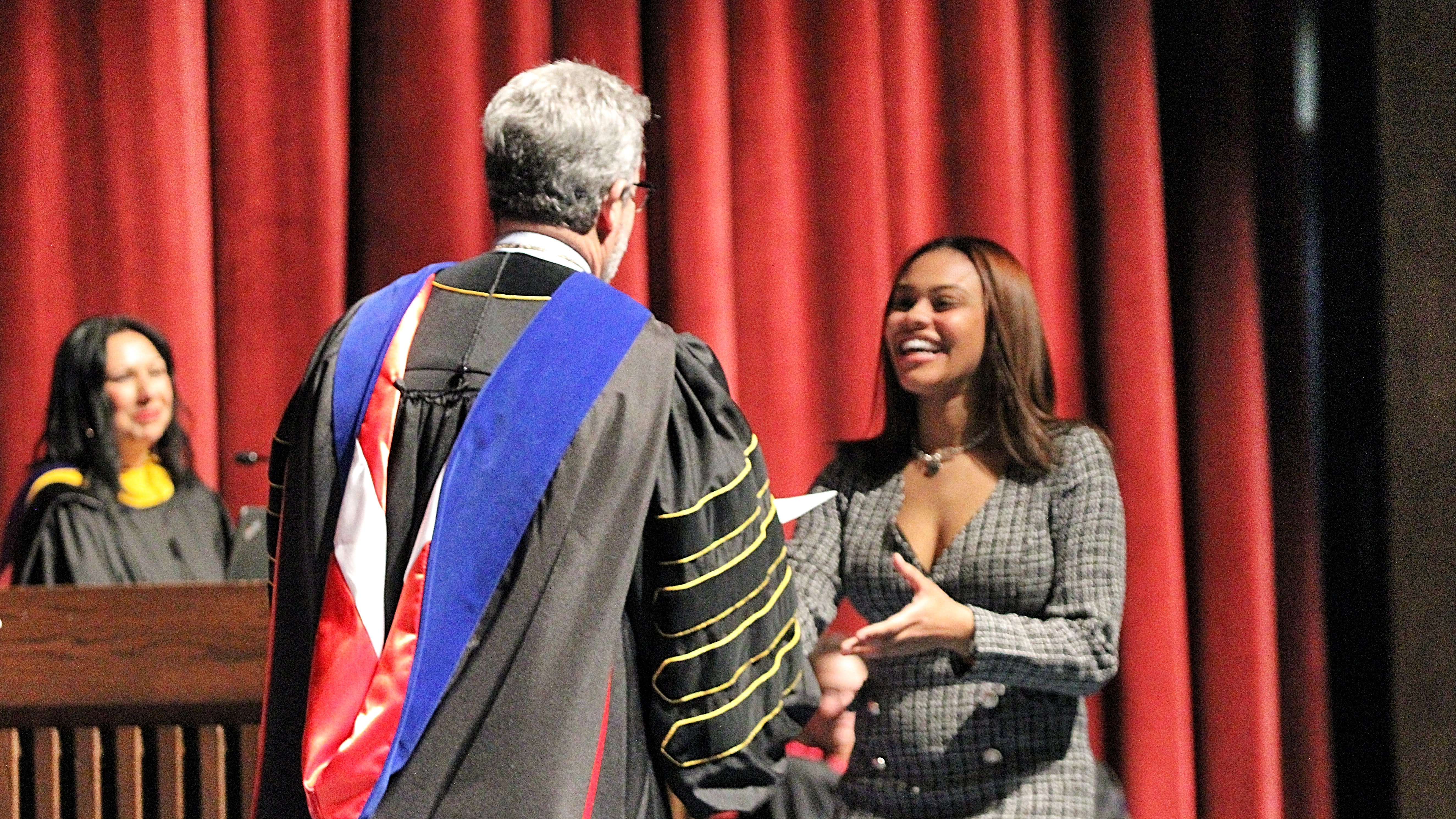 The Dr. Jan Devore Award for Excellence: Cleah Roberts
The Dr. J. Roger Miller Leadership Award: Jarius Ingram
Outstanding Adjunct Award: Jacob Henss
James Millikin Scholars Educator of the Year: Eric Roark
Alpha Lambda Delta Outstanding Teaching Award: Paris Barnes
Teaching Excellence Award: Timothy Guasco
Faculty Research & Artistic Achievement Award: David Cook
Faculty Service Award: George Bennett
Dr. Ralph A. Czerwinski and Dr. Deborah L. Slayton Teaching Excellence & Campus Leadership Award: Sara Theis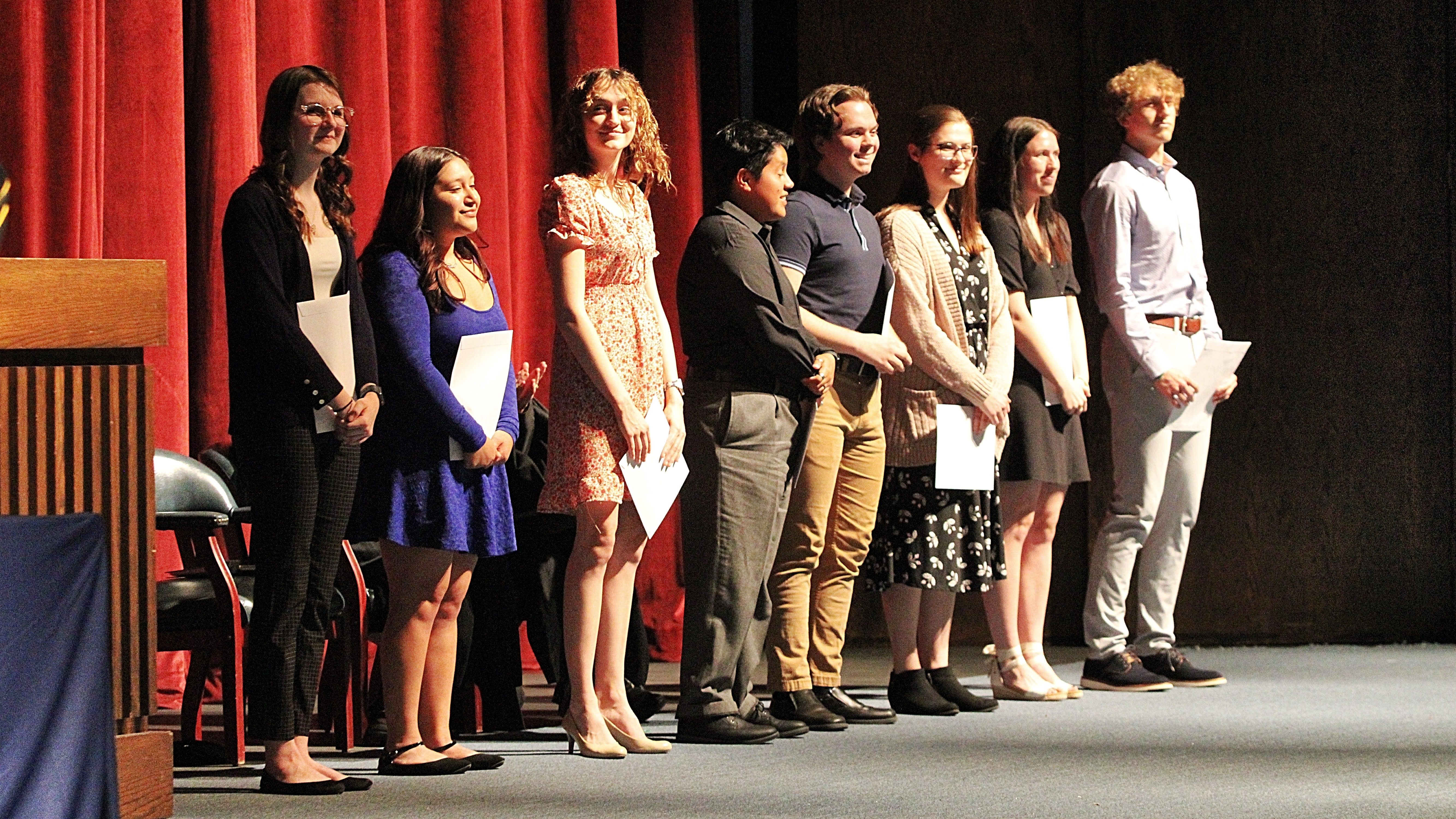 Scovill Prize
Jacquelin Anderson, Junior, Elementary Education, with endorsements in Secondary English Education and Special Education
D Galvan, Junior, Sport and Recreation Management
Melina Hall, Junior, Molecular & Cellular Biology
Diana Hernandez, Junior, Nursing with a Psychology minor
Joshua Klaber Higgins, Sophomore, Musical Theatre with a Dance minor
Kendra Jellison, Junior, Music Education – Instrumental
Page Shields, Junior, English – Professional Writing
Jake Shumaker, Junior, Computer Science