The story:
2020 marked the 50th year of women's athletics at Millikin, and although we planned to host various events in 2020, COVID -19 postponed that schedule. We are thrilled to welcome Millikin athletes and loyal supporters of women's athletic teams back to campus May 13th-15th, 2022 for a celebration weekend! The weekend will be full of events that allow us to recognize these athletes as part of a Big Blue tradition of trailblazers as Millikin University celebrates 50 years of women's athletics.
Millikin has a long history of nurturing lives of meaning and value in our students. It's the very foundation of who we are. It was important to us that our female students be validated when they expressed their desire to receive more from their collegiate experience. In 1970, two full years before Title IX legislation was passed, Millikin put that value into action as Harriett Crannell pioneered the charge and assembled our first women's basketball team, marking the beginning of MU's storied history of women's athletics. Now, 50 years and 10 NCAA teams later, Millikin celebrates a proud tradition of women wearing the Big Blue. We are inspired by women and teammates like you who helped forge a lasting legacy at Millikin!
May 12th - 15th, 2022: Celebration Weekend
A weekend you won't want to miss!
Tentative planning includes:
Commemorative Apparel
Individual Sport Reunions
"Open Gym/Field/Track/Pool" Opportunities
Meet and Greets with beloved coaches
Behind the scene tours of athletic facilities
Women in Athletics Gala Event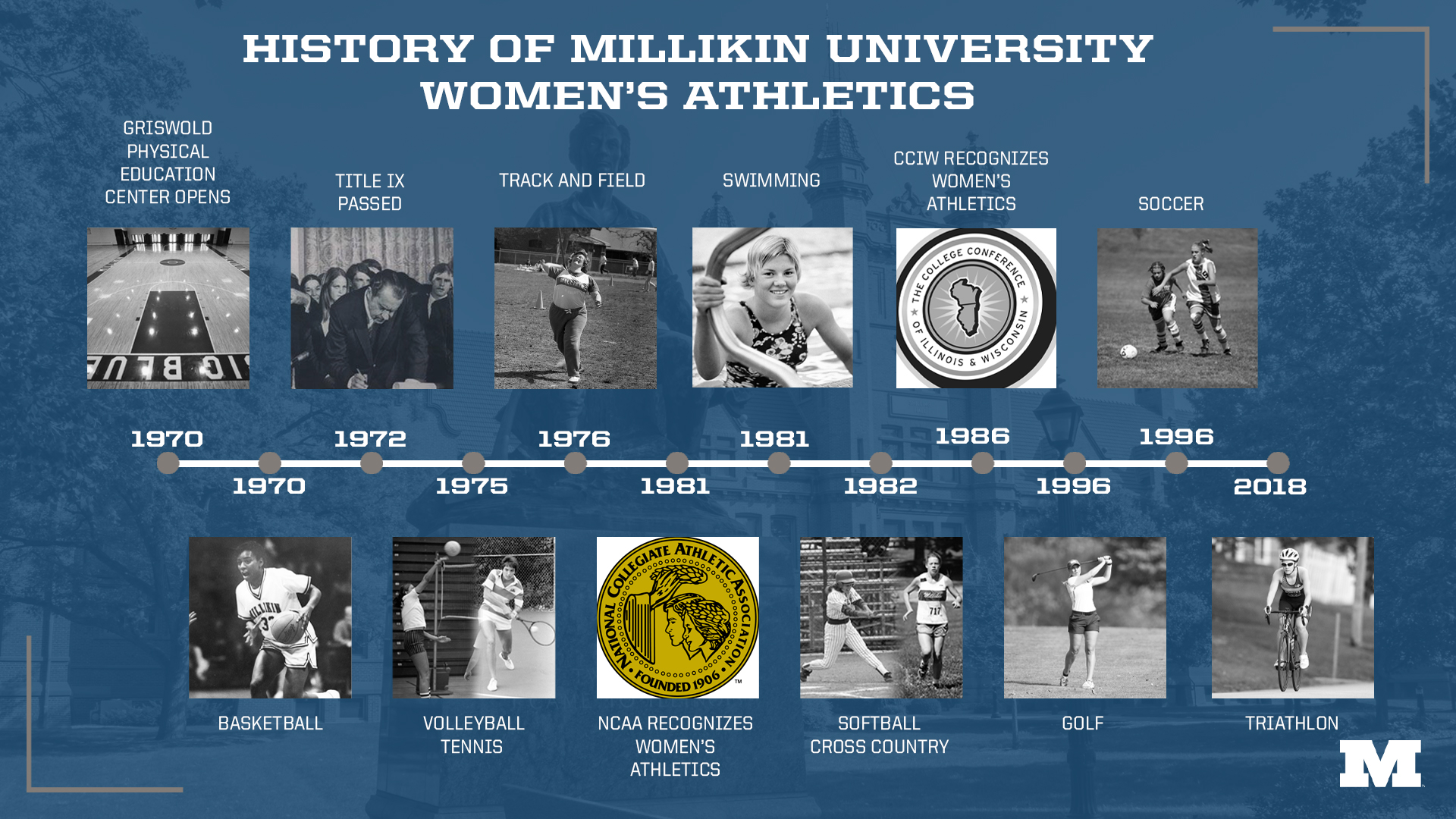 Check back for a detailed schedule of events celebrating the contribution of women's athletics at Millikin, as well as information regarding each individual sport celebration.
Millikin University is proud to support 10 different women's athletics teams. Follow the links below to learn more about the teams, the rosters, and the schedules for each!
Basketball
Cross Country
Golf
Soccer
Softball
Swimming
Tennis
Track and Field
Triathlon
Volleyball