MSN: Master's Entry into Nursing Practice

Overview
Considering a Career Change? Consider Millikin's MENP Program
The Master's Entry into Nursing Practice (MENP) is designed for individuals who already hold a non-nursing bachelor's degree and are interested in entering the nursing field. This accelerated, full-time program facilitates a smooth transition into the field of professional nursing. Graduates are eligible to take the National Council Licensure Examp and apply for licensure to become a Registered Nurse.
Important Dates
Program Start: July 2023
Application Open Date:     August, 2022
Application Deadline :       February 28, 2023
Program Start: July 2024
Application Open Date:     August, 2023
Application Deadline :       February 28, 2024
Millikin's MENP program is one of only a handful of accredited programs in Illinois, and during their course of study, our students complete 500 clinical and residency hours in the areas of:
Medical-surgical
Maternal-child health
Pediatric
Psychiatric-mental health
Public health nursing
Educator roles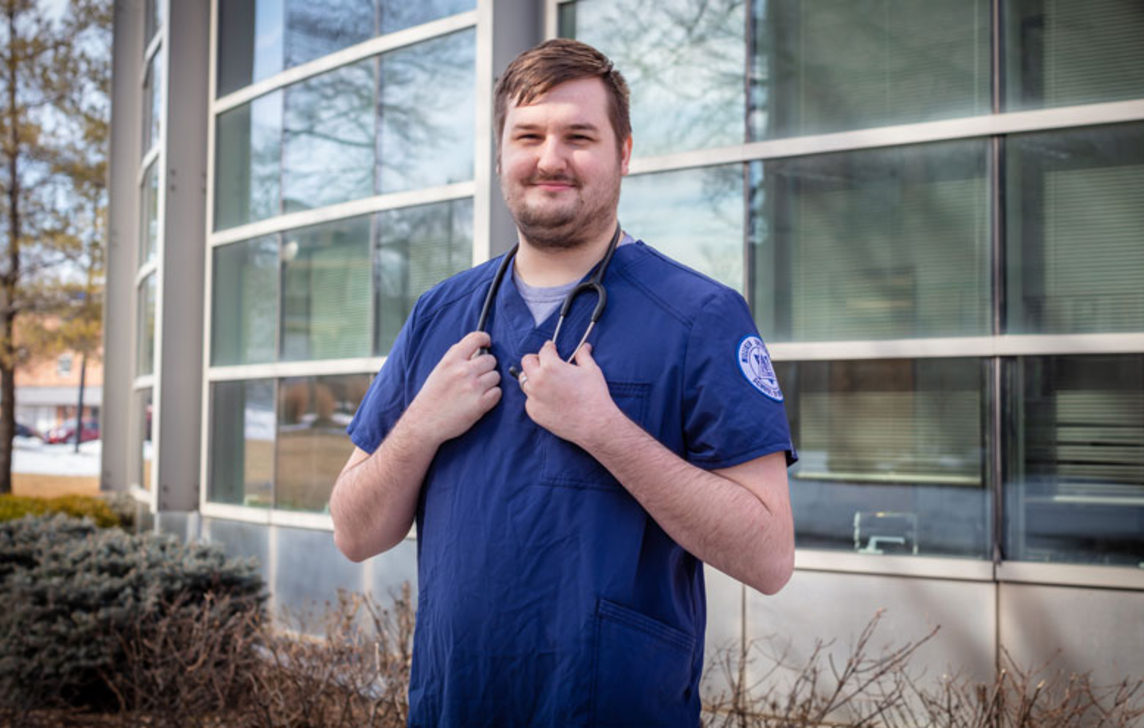 Student

Spotlight

As a student in Millikin University's MENP program, Jacob is taking the next step toward a hands-on career on the front lines of healthcare.
Courses
Departmental Course Offerings
Students are required to complete 81 credits of course work over a 26 month period. In addition, students will complete over 800 clinical hours in the traditional areas of medical-surgical, maternal child health, pediatric, psychiatric-mental health and community health nursing. Students also complete core graduate courses in nursing that create the foundation for post-master's degree academic or advanced practice specialization.
Courses change each semester, so this list should not be considered a commitment to these individual topics. However, this does represent a list of many of our current and popular courses. The list is provided so that you can begin to imagine your academic career at Millikin in this major.
Application of Theory to Practice (NU515)
Care of Women & Newborns (NU531)
Mental Health Nursing (NU534)
Advanced Health Assessment Lifespan (NU544)
Advanced Pharm. Across Lifespan (NU545)
 Care of Adults (NU514)
Public Health Nursing (NU551)
Measurement & Eval Learning Outcomes (NU553)
Nursing Leadership (NU569)
Professional Nurse Residency (NU578)
Advanced Nursing Project I (NU590)
Advanced Trans to Pro Nursing (NU599)
Program Highlights
Millikin's MENP program begins each July and features the following:
MENP students can come to the program with a bachelor's degree from any field, expediting their transition to nursing from another career.
Students engage in Millikin's signature Performance Learning curriculum at every level, applying critical concepts in clinical practice each term.
Our program empowers students to practice the leadership skills that will propel them into administrative, educational or advocacy roles.
Students gain a strong foundation in all of the following: curriculum development, methods of inquiry, nursing theory, the role of education in healthcare, research and evidence-based practice.
After receiving licensure and a master's degree, MENP graduates are also eligible to sit for the Nurse Educator National Certification.
Admission Requirements
Getting Into the Program
Qualified candidates are highly motivated individuals who hold a bachelor's degree in any field from an accredited program and have a grade point average of 3.0 or higher on a 4.0 scale.
The School of Nursing participates in Nursing's Centralized Application Service (NursingCAS). All materials will be submitted through NursingCAS.
NursingCAS collects and processes your application documents and verifies your transcripts. We receive from information NursingCAS and use it to make our admission decision. We recommend that you order all official transcripts from all college experiences as early in the process as possible. NursingCAS provides detailed information on the transcript process for all applicants. Millikin University requires course-by-course evaluations for transcripts from foreign institutions and we accept evaluations from World Education Services, Inc. (WES) and Educational Credential Evaluators, Inc. (ECE).
Based on your application, we evaluate all applicants on the following:
Application found on NursingCAS.org- Master's Entry into Nursing Practice
Demonstrate a minimum undergraduate cumulative GPA of 3.0 on a 4.0 scale.
Provide evidence of successful completion (grade of C or better) of courses in undergraduate anatomy and physiology I & II, microbiology, organic chemistry with lab, lifespan development, and statistics.
Submit a written statement.
Submit a current resume or curriculum vitae.
International Students
International students must submit official transcripts (in English) with an official evaluation of those transcripts by a foreign credentials evaluation agency and proof of English proficiency. To see requirements, go to Center for International Education. If you have any questions, contact Millilkin's School of Nursing Department prior to submitting an application.
FAQs
Master's Entry into Nursing Practice
How is this program different from Millikin's traditional degree programs?
This is an intensive 26 months full time program where the student receives a Master of Nursing Degree and is prepared to sit for the NCLEX-RN Licensure Exam.
Are there any prerequisites to enter the program?
A college graduate with a baccalaureate degree in field other than nursing must complete following courses:

Organic Chemistry with lab (may need General Chemistry as a pre-requisite)
Anatomy & Physiology 1
Anatomy & Physiology 2
Microbiology with lab
Statistical Methods or Math 120: Elementary Probability and Statistics
Lifespan Development (Human Development)
What is the minimum GPA to be accepted into the program?
What else is required to apply to the program?
An interview will be conducted with students who meet are eligible for the program.
What degree will I earn?
Master of Science Degree in Nursing with a Nurse Educator concentration
When are the courses offered?
Courses will be offered daytime Monday-Friday in a mix of classroom, online, and hybrid format. Clinical hours will also be scheduled.
What is the length of the program?
The program, starting in July, is currently 26 months, including summer
What are costs of the program?
When can I apply for the program?
Who can I talk to if I have questions?
Kathryn Hise, Graduate Student Recruiter, can help you throughout the admissions process. She can be reached at khise@millikin.edu or 217-424-3558.