Media Arts Center
The Media Arts Center is located within the University Commons on the second floor. It serves as a teaching space for classes in departments such as Arts Technology and Administration, Art, and English.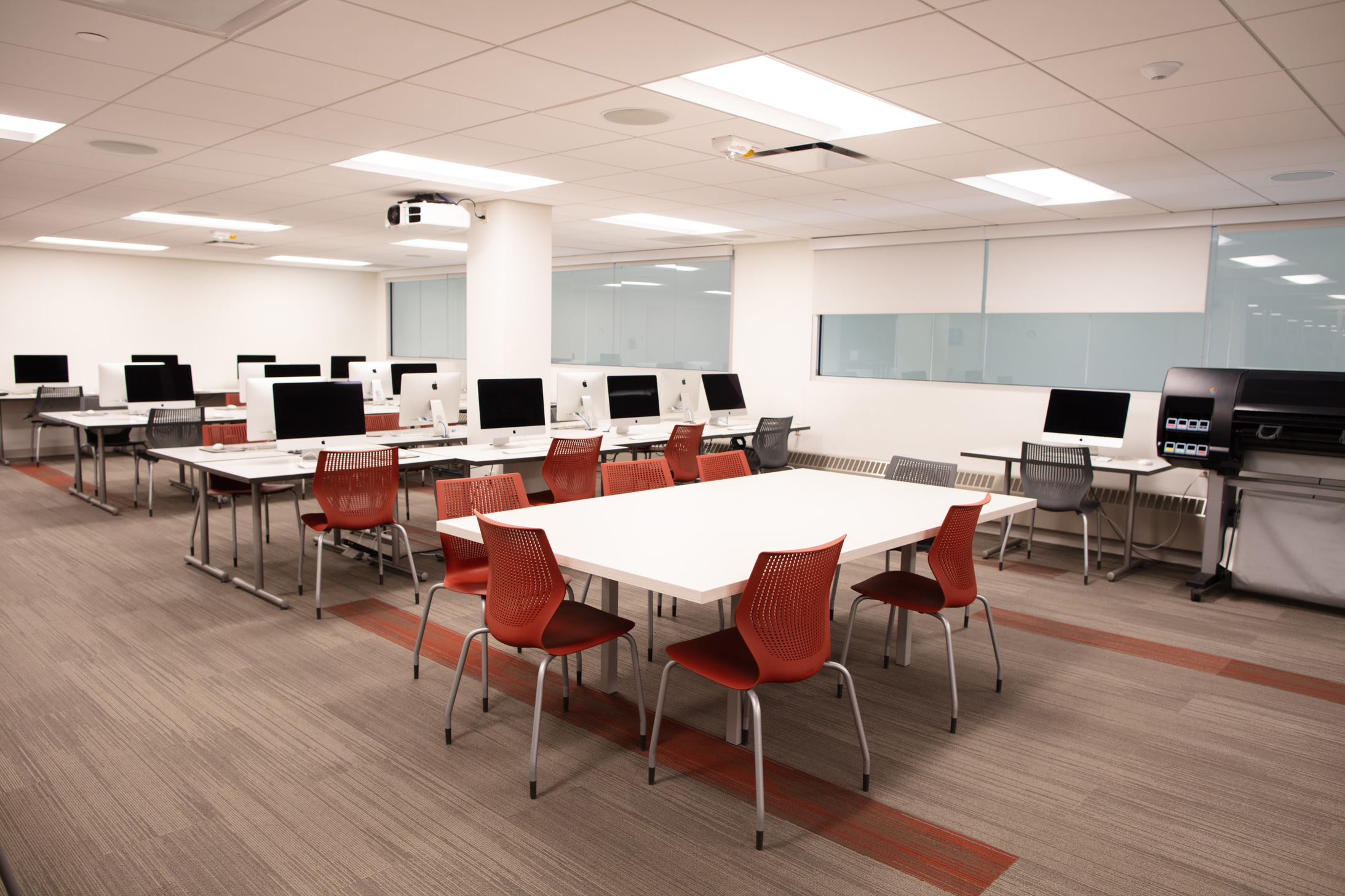 Resources
20 Macintosh computers (plus 1 additional handicap assessable machine) complete with the latest Adobe Creative Suite software and other software that aids the completion of digital media artistic and business projects.
ShareLink technology, which allows any machine to project images on the large projector wirelessly.
Conference table for student/client meetings and other collaborative work.
1 color laser printer that is capable of printing paper as large as tabloid size.
1 greyscale laser printer that is capable of printing paper as large as legal size.
1 color large format printer that is capable of printing paper as large wide as 60 inches.
Scanner
Swipe Access
With the exception of special events and workshops, this space is reserved for students currently enrolled in classes taught in the Media Arts Center. Other students wishing to use digital media software may use the Macintosh computers in the lower level of ADM/SCO. Those machines have the same software and are available 24 hours a day.
Policies
Laser printing is funded by course fees of the classes in the lab, thus only prints of media work designed for Media Arts Center class projects are allowed in this space. There is a charge for printing on the large format printer and it is determined by the size requested.
If there is a class in session and open seats available, students may come in quietly and work on class assignments during the class.
Student Assistant
Each semester a student is employed primarily to tutor students with lab technology. The student assistant hours are posted in the Media Arts Center.
Additionally, this student serves as a design consultant creating media requests for campus needs such as icons, brochures, posters, videos, and more. If you would like to partner with the Student Assistant in completing a media project contact Media Arts Center Director, Jessa Wilcoxen for information on feasibility and availability.