Center for Theatre and Dance to Open Fall 2020
Millikin University is building on dreams to create a new home for the School of Theatre and Dance. We dream of a collaborative environment dedicated to Performance Learning and the intersection of teaching, production and creativity. We dream of a permanent home to reflect the reputation and nurture the talents of a nationally recognized program. We dream of a home that provides support for student-artists who learn and teach; who convey stories and bring visions to life on and off the stage; who challenge the status quo and change the world.
The new Center for Theatre & Dance will provide an innovative environment for Millikin's student-performers — both on stage and behind the scenes — to gain industry-level, hands-on experience, allowing them to thrive at Millikin and beyond. This facility will include a convertible theatre and well-equipped studios, classrooms, design labs and public spaces, providing a professional venue for our student-artists, faculty and community to build on the Millikin tradition of excellence in the performing arts. No longer will rehearsal and classroom spaces be scattered across 12 campus locations. The new Center will offer a centralized, focused location for creativity to be taught, fostered and displayed, and will also provide a new platform for those who appreciate and understand the importance of the performing arts.

Athletic Facilities Expansion and Renovation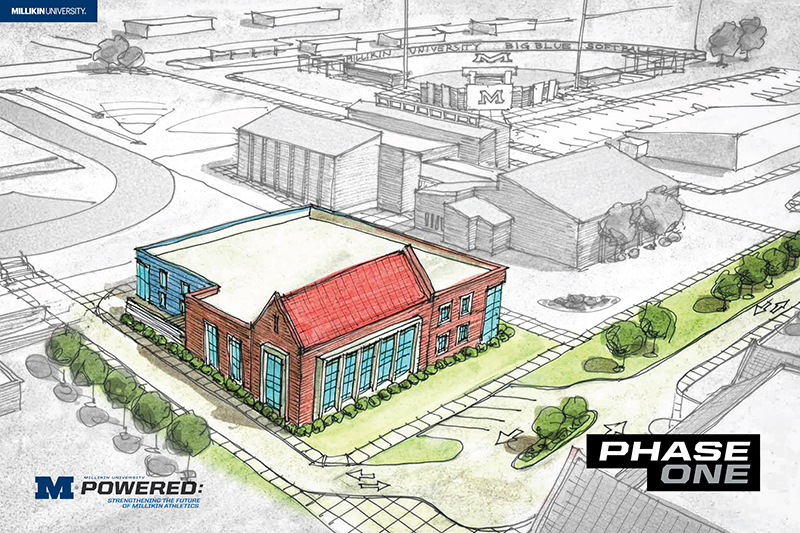 The Athletic Facilities Expansion and Renovation will further enhance Millikin's ability to: recruit the finest students and athletes to gain a competitive advantage; provide outstanding strength and conditioning facilities to maximize performance; and provide needed space for coaching, teaching and learning.
Phase One will include:
A 10,000-square-foot fitness center and weight room, accessible to the entire campus community.
Six locker rooms to accommodate varsity and junior varsity football, men's and women's soccer, and men's and women's track & field and cross-country.
Breakout classrooms and team meeting spaces.
There are many options for giving to these capital initiatives:
Honor a loved one
You may choose to honor a loved one or commemorate your connection to Millikin by naming a meeting room, faculty office or other designated area with your gift.
Match your gift
Your place of employment (or your spouse's) may match your gift. Check with your employer for eligibility requirements.
Contact info
For more information on capital priorities, please contact the Alumni and Development Office.