Decatur Public Schools + Millikin Partnership
The collaboration between Decatur Public Schools (DPS) and Millikin University is a highly valued partnership. What began as an agreement for internship and student teaching placements has developed into a multifaceted partnership that includes multiple schools in the district, along with many different departments at Millikin, working together to benefit the community.
The Dennis Millikin Partnership
The Dennis Millikin Partnership was built on the synergy between the student-centered educational pedagogies of the Performance Learning of Millikin and the Project-Based Learning of Dennis. These approaches have long allowed collaborative ideas to flourish. The partnership positively influences students from both campuses in real world applications that continue to progress their social, post-secondary education and career-ready development. Initially conceived as a way to connect Millikin's School of Education to Dennis for internships and student teaching, the Dennis-Millikin partnership has grown by leaps and bounds. Now the Dennis-Millikin partnership extends past the study of education and brings students from both campuses together to learn about democracy, service, mentoring, global issues, and more.
A great example of the outcomes of the Dennis-Millikin partnership is the West End Garden, funded annually through a grant provided by the School of Education, housed on a lot owned by Millikin, but largely maintained by the students of Dennis Lab School. Under the supervision and guidance of Millikin faculty and students, Dennis students have planted vegetable gardens and fruit trees, built a stage and seating for theatre productions and speeches, and both schools and the local community hold lovely functions in the garden.
French STEM Academy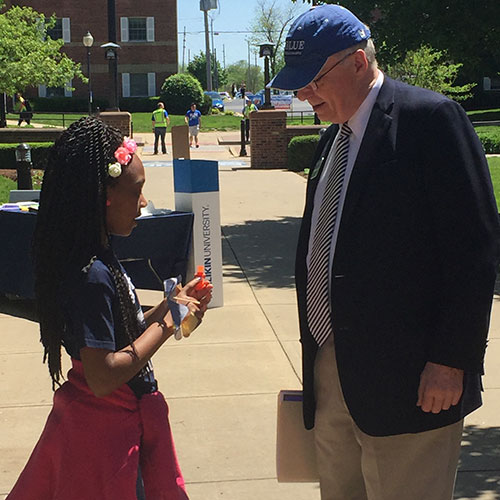 The French STEM Academy enjoys a partnership and commitment from the School of Education to support STEM initiatives for all students and teachers. The areas of Science, Technology, Engineering, and Mathematics are core to Millikin's mission of uniting in equal importance the scientific, practical, and industrial with the literary and classical. Through annual giving and program development, Millikin faculty in the field of Education support learning goals at French STEM Academy for all students. Some outstanding examples of how students have benefited from the School of Education partnership include:
5th grade Boxcar Derby design and presentation at the Illinois Junior Academy of Science
Development and materials coding and robotics
4-H Jr. Science Explorers Club after-school program
Science Fair projects and judging
Professional Development conference for preparation of The Great American Eclipse
5th and 6th grade field trip to southern Illinois to witness the full August 21st eclipse
Johns Hill After School Program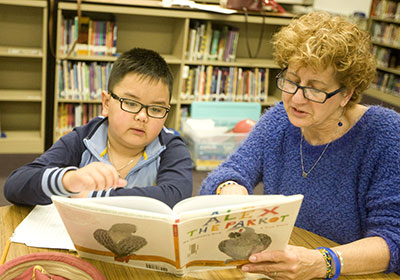 Johns Hill Afterschool Program (JHAP) is a free afterschool program housed at Johns Hill Magnet School exploring culture, language, and literacy in a richly diverse school environment. JHAP provides Johns Hill students with the opportunity to develop social and academic confidence through activities that focus on literacy, linguistic skills, academic achievement, cultural awareness, and play. This after school program has emerged from grass roots needs and interests of community members: Millikin faculty, School of Education students, Millikin international students, and Johns Hill ESL teachers and students.
This program fosters children's awareness of cultural and linguistic diversity. By creating a safe and intellectually curious environment, children learn about different multicultural backgrounds through discussions, technology, literature, social interactions, cultural activities, and especially from each other. JHAP aims to bolster students' self-identity, by encouraging them to understand who they are in this society, and additionally understanding others inside and outside of their community. With socially conscious organizers, the JHAP is a program that will build children's awareness of cultural and linguistic differences and similarities in a positive, nurturing environment.
The students in the program demonstrate many forms of communicative competence through meaningful social interaction.
JHAP helps students know and value their own unique gifts and learn about the diverse cultures and people in their community.
JHAP will contribute to the academic and social lives of Johns Hill students and its community.
This afterschool program also integrates research, teaching, and service, all focused to promote innovation, cultivate justice, enhance social mobility, and improve the quality of life by responding to local, national and global societal needs.
Smash Camp
During the summer, the School of Education hosts the Decatur Public Schools' SMASH Camp for middle schoolers who are identified as gifted. This 4 week camp is reimagined each year with a unique curriculum, planned outcomes, and innovative learning experiences. The lucky middle school campers are able to use the many resources and experts at Millikin in their learning and activities.
Over the past few years, Millikin Education students and DPS teachers created summer experiences focused on entrepreneurship, visual arts, astronomy, food sciences, and technology. DPS middle schoolers used Millikin's public observatory (the largest public observatory in the state) to view the night sky with their families, designed and opened startup companies, and auctioned creatively repurposed items.