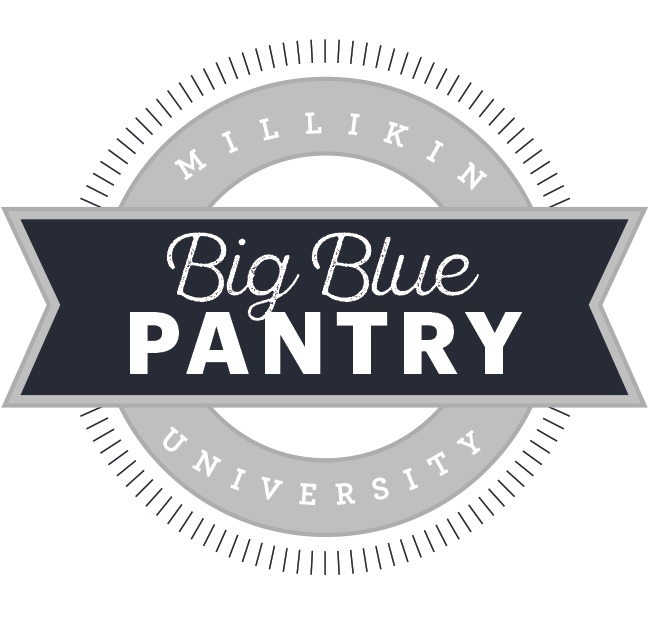 Mission
The mission of The Big Blue Pantry is to aid Millikin University in delivering on the promise of education by serving as a center for social services performance learning.
Vision
The Big Blue Pantry aims to support Millikin students experiencing food insecurity and approaches this through
Work with the Millikin campus community to collect, organize, and distribute food and other supplies to students experiencing food insecurity
Provide opportunities for awareness, training and service in the areas of campus food insecurity
Host regular sessions that provide information about food insecurity and how to seek assistance
Develop and strengthen relationships by partnering with other campus and community organizations
Background
The Big Blue Pantry was formed during the 2018-19 school year, when the Campus Chaplain was assigned to explore ways to address student food insecurity, and began serving as liaison between Millikin University and a neighborhood food pantry, located at First Lutheran Church. (More history is available in the pantry digital diary.)
Big Blue Pantry is student-led organization with oversight provided by the Office of Campus Life (including the University Chaplain, who acts as Pantry Director). It operates as a 501(c)(3) under fiscal sponsorship of the University.
How It Works
The Big Blue Pantry utilizes a referral process, where students who are experiencing food insecurity, or have other needs, are referred to the Office of Campus Life, who gather information, assess needs, and assign a unique referral number to each student. Contact information is then forwarded to the Pantry Director, who provides a menu for the student to prepare a selection list of desired items. The Director then sends the list to the Student Operations Manager, who supervises the preparation of the box of selected items. The Director coordinates a pickup time with the referred student. This process protects dignity, provides anonymity, and addresses stigma, while preventing waste and misuse. Students interested in using the pantry may seek referral from staff or departments such as Campus Life, Student Success, Wellness, SFS, etc.
Involvement Benefits

There are many ways to get involved with the Big Blue Pantry, as well as various benefits including but not limited to

Service opportunities

Collection of food and other supplies
Fundraising
Loading and unloading
Stocking
Assisting with inventory
Filling menu orders

Leadership opportunities

Supervision of volunteers
Training facilitator
Assist with shopping and other needs
Other activities as determined by the Student Operations Manager

Student Operations Manager

Work directly with Pantry Director
Assist in strategic planning
Provide leadership for other volunteers
Manage daily operations

Campus and Community Partners

Our partners provide food donations, financial support, time, energy, and volunteers to assist in carrying out the mission of the Big Blue Pantry.

Campus partners include:

Alpha Phi Omega - Eta Epsilon
Alumni and Development
Marketing and Media
School of Nursing
Physical Graffiti - Millikin University's Hip Hop Crew
Seminar Classes
Greek Life - Sororities & Fraternities
Dept. of Math and Computational Sciences
Dept. of Sociology and Criminal Justice

Community partners include:

Central Illinois Food Bank
First Lutheran and St. Peter's Church food pantry (AMELCA)
First Lutheran Church Endowment Foundation
Good Samaritan Inn
United Way WSOY food drive
Walmart
Westminster Presbyterian Church

We are always looking to expand our network of partners. If you would like to partner with us, please consider becoming a Pantry Pal! Please email bigbluepantry@millikin.edu or contact us via Facebook or Instagram (@MillikinBigBluePantry) for more information!

Working with Big Blue Pantry is a great way for registered student organizations (RSO) to earn volunteer and philanthropy hours. Any RSO interested in working with Big Blue Pantry should contact bigbluepantry@millikin.edu or the Big Blue Pantry Staff.

You can also donate food items to the Pantry through our Amazon Wishlist. Once purchased, the items will ship directly to the Pantry. 

Future Opportunities

The Big Blue Pantry is always looking to expand the services we are able to provide. In the future, we hope to

Coordinate TED talks related to leadership, volunteering, social services, etc. 
Sponsor think-tanks to identify needs, gifts and partners
Provide a meeting space to network with community partners
Partner with a neighborhood school to help needy families by utilizing our menu/referral/delivery process