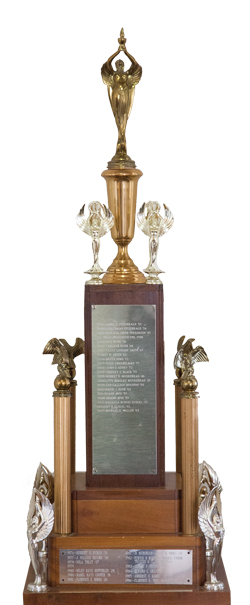 Each year, Millikin University proudly recognizes individuals who personify the university's tradition as an environment for excellence. Through outstanding achievements and contributions, these individuals bring honor to Millikin University and its alumni. Established in 1951 with one award, the program has grown to five award categories to better recognize the accomplishments of alumni at different life stages.
These awards are presented annually during the fall Homecoming celebration. Recipients have the opportunity to accept their awards in front of family, friends and other alumni.
What are the awards?
Alumnus of the Year Award recognizes service to the university during the past year, as well as continuous service throughout the years. This award is the highest alumni honor presented by the university.
Merit-Loyalty Award recognizes individuals who have demonstrated great loyalty and dedication to Millikin and distinguished themselves in their particular profession or field of endeavor.
Merit Award recognizes individuals who have distinguished themselves in their profession or field of endeavor in such a way as to reflect credit upon themselves and Millikin. Outstanding community service is also a criterion for this award.
Loyalty Award recognizes long and faithful service to Millikin, the interests of the university, as well as outstanding community service.
Young Alumnus Award recognizes an alumnus/a 35 years of age or younger who has made notable achievements in a chosen field and/or given faithful service to Millikin.
Faculty/Staff Recognition Award recognizes a Millikin employee (past or present) who has demonstrated exceptional investment and care for the academic, professional and personal well-being of students and alumni.
How do I nominate someone for an Alumni Award?
Alumni, parents and other friends of the university are invited to nominate Millikin alumni for a variety of awards presented by the Alumni Association and the Athletic Hall of Fame Committee during annual Homecoming activities.

Know someone who fits the above descriptions? You're encouraged to nominate him/her for a Millikin University Alumni Award:
Nominations for Homecoming 2022 will be accepted through April 1, 2022. Nominations remain active for three years and may be added to at any time.

Current active members of a university board are not eligible to receive an Alumni Award. They may be nominated once their service to the board is concluded.
How are recipients selected for an Alumni Award?
The selection committee consists of members of the Alumni Association board and Alumni and Development staff. Committee members will review nominations and make selections during their April Alumni Association board meeting. Recommendations are then passed along for approval by Millikin's president and board of trustees.
What is the timeline for the Alumni Awards and Athletic Hall of Fame process?
Nominations are accepted throughout the year for both the Alumni Awards and the Athletic Hall of Fame.
April 1 – Nominations are due to the Alumni and Development Office each year.
May – Committees begin their review and selection process.
May-June – Final recommendations are passed for presidential and board of trustee approval.
June – Recipients are notified.
Aug. 1 – Recipients announced.
October – Alumni Awards Dinner during Homecoming Weekend.
October – Athletic Hall of Fame Induction Ceremony & Brunch during Homecoming Weekend.