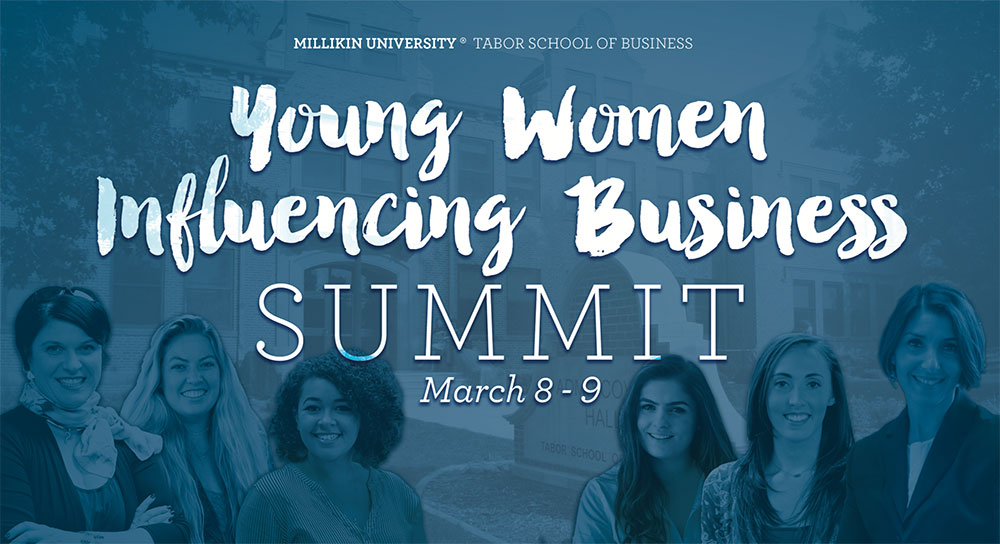 Influencing & Empowering Tomorrow's Leaders
Coming Soon!
Registration: 5:00 - 5:30 PM
University Commons, Millikin Campus
Are you ready for a high-impact day discussing challenges that face today's women business leaders? Register for Millikin's Young Women Influencing Business Summit as you'll hear from business leaders from across campus and our community. The day will include interactive workshops, networking, and conversation on current business trends.
The inaugural Young Women Influencing Business Summit will welcome keynote speaker Shelley Rosen, former McDonald's Corporation executive, strategic planner, and successful business leader to speak about her experiences, strategies, and knowledge of the business industry. Ms. Rosen is no stranger to successfully navigating the corporate world; she is now the founder and CEO of her own specialty company Luxe Bloom, LLC, and owner of Airlift Ideas. While working for McDonald's, Ms. Rosen guided the corporation's first-ever global innovation with Redbox DVD vending rental and McDonald's Balanced Lifestyles wellness menu items. For more information about Ms. Rosen, check out her bio.
"Investing time to talk to tomorrow's leaders is imperative for a business owner today," said Shelley Rosen, Founder & CEO of Luxe Bloom. "Millikin University is hosting a summit to do just that with the Young Women Influencing Business Summit."
Join the Summit as we gather with dynamic leaders, decision makers, and trailblazers to continue to build a strong network in the campus community and empower women as leaders in business. The conference will include workshops on mentorship, communication, and building confidence.
Women in Business is a student organization at Millikin University in the Tabor School of Business that is dedicated to bringing together business professionals and students of all majors to network and learn about business.
Tentative Schedule:
Thursday
5:00-5:30 PM - Registration
6:30-7:30 PM - Dinner, opening remarks
7:30-9:00 PM - Keynote speaker Shelley Rosen and special guest, Illinois Comptroller Susana Mendoza (view Ms. Mendoza's bio)
9:00 PM-? - Late-night empowerment session with Professor Kimmie Mungaray
Friday
8:00-8:30 AM - Breakfast & networking
8:30-9:30 AM - Q&A sessions

Ramona Borders
Kendall Briscoe
Lindsay Abbott
Shataea Irons
Amanda Martin
Melverta Wilkins

9:45-11:00 AM - Creating Your Own Brand Story with Shelley Rosen
11:15 AM-12:00 PM - Millikin Alumni Panel

Julie Beyers
Michelle O'Bryan
Tiffany Rosik
Katherine Smith

12:00-1:30 PM - Lunch, closing remarks
Accommodations: Students will be hosted on campus with current Business majors. Parents can make reservations at Decatur Conference Center & Hotel. Mention "Women in Business" to receive a discounted rate.
If you have a question, please connect by phone or email; call or text Trevor May at 217-615-5087 or tmay@millikin.edu.
Register Women in Business Summit Click here to tell us what you want to hear about!
Don't forget to download this form and bring it with you to the event!
Presented by: