Millikin student hones her craft in Theatre Design and Production
When Katelynn Watkins, senior design and production major from Pekin, Ill., enrolled at Millikin University almost four years ago she admittedly did not know anything about the School of Theatre & Dance's costume shop. Now in the fall semester of her senior year, Watkins is ready to take the theatre production world by storm when she graduates in spring 2021.
After she graduates, Watkins is hopeful that she will be "moving to Chicago and getting internships and apprenticeships at some theatres, and then maybe moving onto design in New York."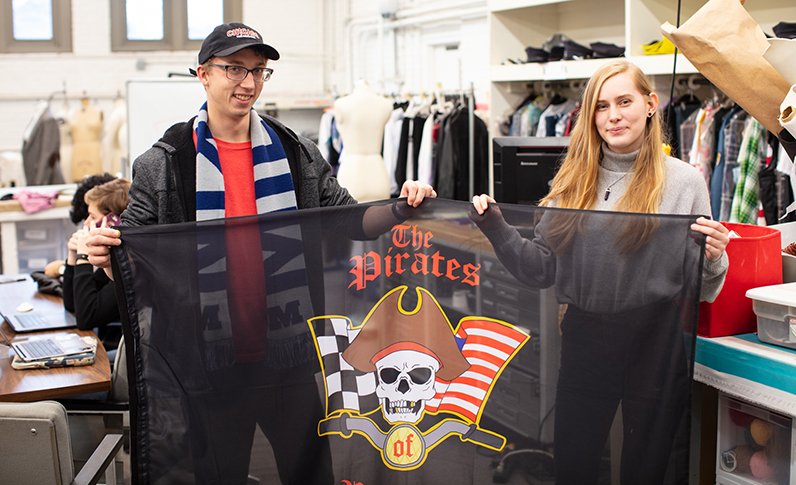 Watkins is confident in her skills and abilities because of the Theatre Design & Production degree program at Millikin. She attributes some of her success to the small, close-knit major she is in and the strong relationships the students have with the faculty members.
"Design & Production is a really small major, and because of that we get to have a really good relationship with our faculty," Watkins said. "I can go into any of their offices and I can just sit there and talk to them for a long time about anything. They're here for us and they help us a lot throughout our entire education at Millikin."
The helpful faculty and Performance Learning opportunities have aided in Watkins' educational experience in her field and her readiness to perform in her professional career.
"Millikin has definitely prepared me for my career after graduation since I [can] have a well-rounded education and learn about every aspect of costumes in theatre," Watkins said. "I've done wardrobe supervising, costumes crafts, hair and makeup, and I can come out saying 'hey I've done all of these things, so if you need someone for that I'm the person for you.'"
Watkins said that the Performance Learning aspect is what sets Millikin's program apart from other schools.
"What stands out the most about Millikin would probably be the opportunities you get. If I all of a sudden wanted to do lighting design or scenic design, they would help me achieve that goal," she said. "You get a well-rounded education on every aspect of design and production; not just costumes, but scenic and also lighting."
Millikin allows students to truly find their passion in the chosen major, and then helps them to fine tune their skills so they are ready for their professional careers.
Last year, Watkins was able to exhibit her craft as the costume designer for Millikin's performance of "Pirates of Penzance," an operetta performed in fall 2019. It was her first time designing an entire opera, but she was able to utilize new technology, including 3D printing, to help with her vision.
"It was super fun making a whole bunch of different skirts and making the entire biker gang look really cool. We were able to 3D print some belt buckles as well as make fake tattoos, which was also a lot of fun," she said.
During a time when theatre performances look different than they have traditionally, students like Watkins are working to make sure the public can still see the art they are creating.
"We have been taking a lot of precautions to make sure that we're safe and we've been doing that successfully so far," she said. "We are getting help from Arts Technology majors and planning to video a lot of our shows so we can put those out for everyone to see."