Oscar Meija
Business Management
L.A. native has sights set on leading his own management company
From the palm trees of Los Angeles to the corn of the Midwest, Oscar Mejia has traveled far for his success and now he's on a path to take that success even further. With a major in business management and a minor in finance, the L.A. native plans to use his lifelong work experience in the hospitality industry to create a management company of his own.
The path to Millikin University for Mejia was one of perseverance. Growing up in a hotel that his father was the general manager of and his mother was the restaurant manager, Mejia has had experience in the hospitality business for as long as he can remember. Beginning as the dishwasher, Mejia worked through a variety of positions at the hotel before receiving the position of operations manager.
The dedication to his family's hotel was rooted in the passion Mejia has for his family. After high school, Mejia was faced with difficult family obstacles, so he put his college career on hold to help his mother at home with his siblings and with the hotel. The trials Mejia faced pushed him to work hard, not just for himself but for his family. Crediting this time for helping him grow and mature, Mejia said, "We all go through hard times in life, but it's really what we do afterwards that defines who you really are."
After working his way through Pierce College in Los Angeles, Mejia was recruited to play football for Millikin University, but what closed the deal on "Making it Millikin" was the Tabor School of Business. Intrigued by the institution's brand of Performance Learning, Mejia also noticed the connections that the Tabor School of Business had were top notch.
Mejia's involvement on campus started soon after transferring to Millikin when he received a job in the Office of Residence Life after going to one of Millikin's job fairs. "I loved working there. It connected me to every other department, which gave me the opportunity to see how all of Millikin's departments work together," he said. "At my other college I was told that individually you need to succeed, but here you succeed as a team."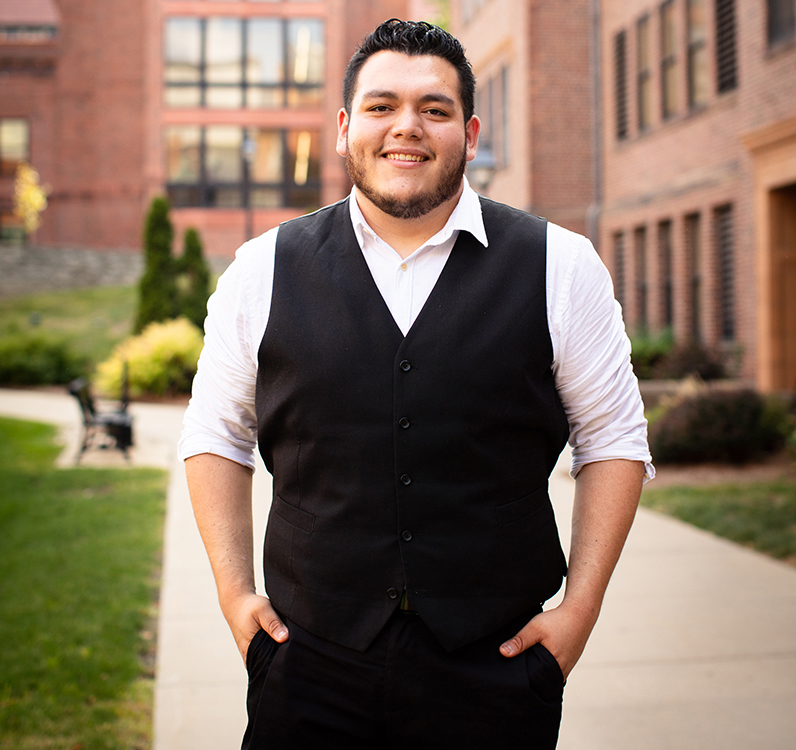 After being a student worker for a while, Mejia wanted to give back more to his university. He saw an opportunity to do so as a resident assistant (RA), one of the seven paraprofessional positions that Millikin offers. Being an RA gave Mejia the opportunity to get involved more in the Big Blue community.
With his senior year coming to an end, Mejia looks back at his past two years at Millikin with a full heart. Through Performance Learning, an engaging curriculum, and caring faculty and staff, Mejia has developed all the tools he's needed for success.
"Millikin has had such a big impact on me. I've learned so much about myself. People want you to succeed, and everyone here has the opportunities, resources, and support to succeed."
Some say the path to success is when preparation meets opportunity, and Mejia's big opportunity recently came full circle he met the CEO of a major hotel chain before a flight from Chicago to Los Angeles last semester.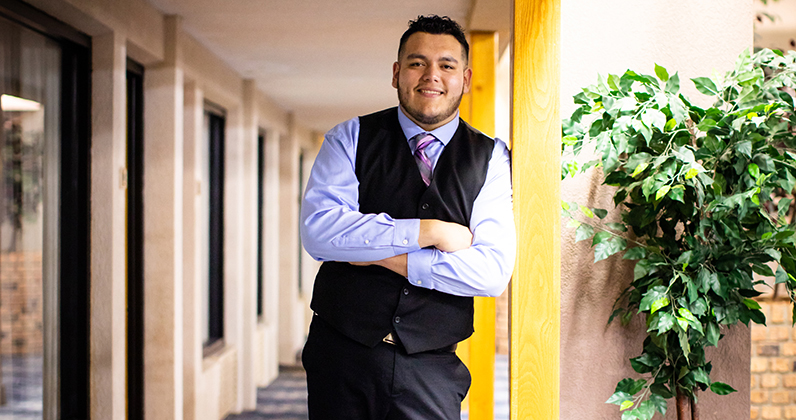 Impressed by Mejia's hard work and dedication, the CEO upgraded his ticket so that they could continue their conversation during the flight. After sharing his career ambitions, Mejia was able to network his way into a potential job opportunity – something he credits Millikin for.
"If I had never came to Millikin, I would not have had the spontaneous opportunity of meeting him and creating a connection that could jumpstart my career," said Mejia.
Since then, Mejia has received two managerial position offers for hotel chains in California and plans to accept a general position after graduating this spring.
"At the end of the day, it was all through chance that I found Millikin University," he says. "You get this gut feeling, and Millikin just felt right to me."