Greg Schwoeppe
Information Systems
Millikin Men's Tennis
Preparation and leadership helps information systems major land opportunity at State Farm
Greg Schwoeppe gained interest in attending Millikin University when Millikin's former tennis coach reached out to him during his senior year of high school. Prior to the tennis team recruiting him, Millikin was not on Schwoeppe's initial radar. However, the moment he stepped on campus and spent time with the tennis program, he knew that Millikin was the ideal learning environment for him.
Fast forward to the present day – Schwoeppe is entering the fall of 2018 as a senior information systems major with a digital media marketing minor.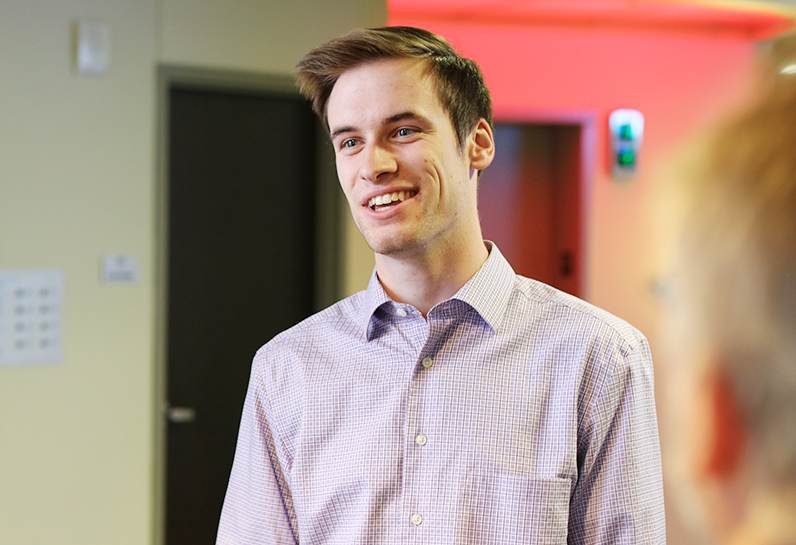 The Fishers, Ind., native has always prioritized staying involved on campus and engaging in as many campus events as possible. By staying adamant on attending events, he was able to network his way to landing a summer internship with State Farm. Schwoeppe held a previous internship as a web development intern for Millikin's Marketing and Media Relations Department. The hands-on experience he gained by working with Millikin Web Developer Jessica Landgrebe made him interview and job-ready for any endeavor that crossed his path.
Schwoeppe is spending the summer at State Farm in Bloomington, Ill., as an enterprise technology intern where he works directly with the customer communications department.
"I landed the internship by going to the career fairs that are offered on campus," Schwoeppe said. "Through the career fairs, I made connections with people that work at State Farm and was even able to land an interview. The first time I interviewed I was turned down, but they told me to keep developing my skills, to come back next year and interview, and I did, and got the internship this year."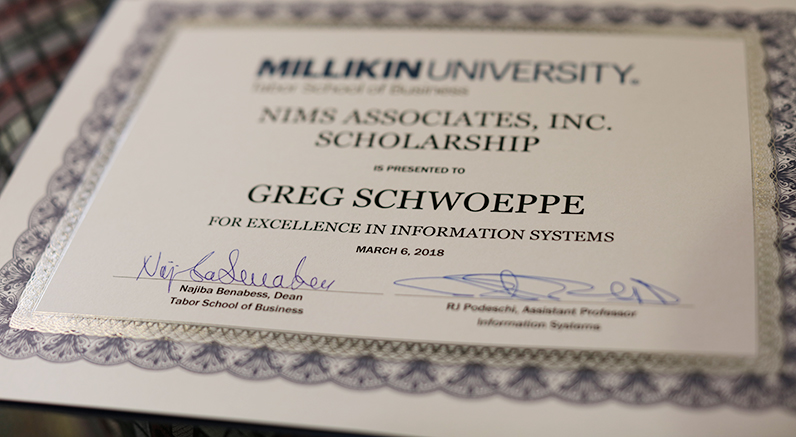 Schwoeppe knew that he wanted the additional work experience, so when he was initially turned down for the internship it did not deter him to apply for a second time, this time for the desired job offer.
He spent the past academic year preparing for his second interview with State Farm, and in the process, consulted with two Millikin information systems professors, Ed Weber and RJ Podeschi, on how he could improve to land the position.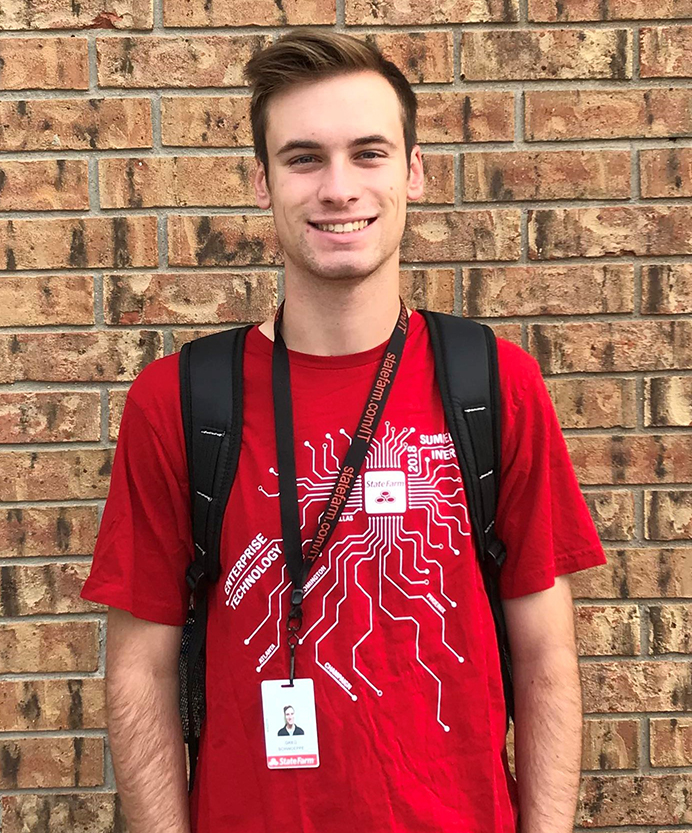 "Ed Weber and RJ Podeschi helped me prepare for the internship. Through the classwork and the diverse ways that we develop our projects, I knew that going into the internship that I was adequately equipped with the necessary skills," Schwoeppe said. "I also have to acknowledge that the knowledge I obtained during my internship with the Millikin Marketing Department has helped me develop into the applicant that I am today."
In addition to preparing for his internship, Schwoeppe served as a vital leader for the student-run venture Millikin University Performance Consulting (MUPC). The venture serves as an IT consulting firm that bridges information systems students to businesses who need a website or consulting services.
Through his experience with MUPC, Schwoeppe gained a sense of leadership that he had not obtained before. This necessary skill allowed him to develop into the person, student and applicant that he is today.