Emily Seegmiller
Health, Fitness, and Recreation
Women's Volleyball
Volleyball Team Captain flourishing as a student and leader
During Emily Seegmiller's senior year of high school she was looking for two aspects in a university while searching for schools to attend. First, she knew she wanted to continue her volleyball career, and two, she wanted a small school that would allow her to connect with her classmates and professors.
When the Arthur, Ill., native was recruited by the Millikin University Women's volleyball team, she knew that Millikin would be the ideal learning environment for her. Fast forward to Seegmiller's senior year, and she still feels just as confident in her decision to "Make It Millikin" as she did on her signing day almost four years ago.
Millikin's volleyball team has been a powerhouse the last few years within the College Conference of Illinois & Wisconsin (CCIW), with Seegmiller being a vital asset to that success.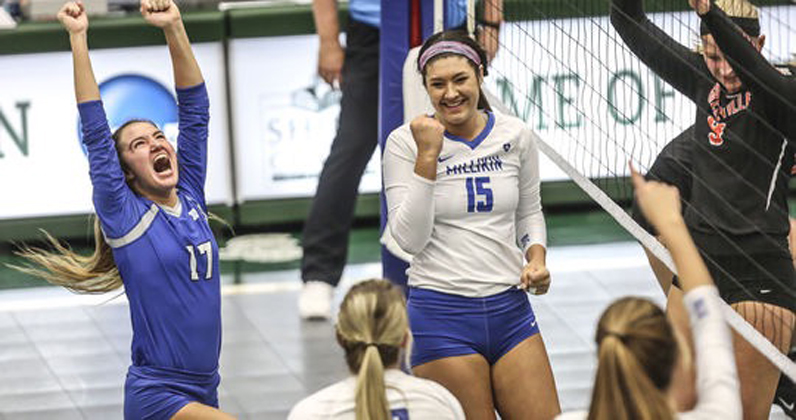 The two-year team captain has not only dominated the court, but she has also been dominant in the classroom. Staying on top of her classwork and overall GPA has always been a priority for Seegmiller, so much so that she has been recognized on the Dean's List and the CCIW Academic All-Conference team. Seegmiller was also the recipient of the 2017-18 Merle Chapman Leadership Award which identifies student-athletes who best exemplify loyalty, enthusiasm, leadership, sportsmanship, and a commitment to academic, athletic and personal excellence.
While Seegmiller's passion has always been volleyball, she knew that her playing days would one day end, which is why she knew that focusing on her grades and future needed to be prioritized just as much.
The health, fitness and recreation major aspires to one day become a registered dietitian and plans to attend graduate school after she graduates from Millikin in May 2019.
Support and guidance from Millikin's faculty, she says, has played a major role in ensuring that the classes that she takes during her undergraduate years have efficiently prepared her for graduate courses.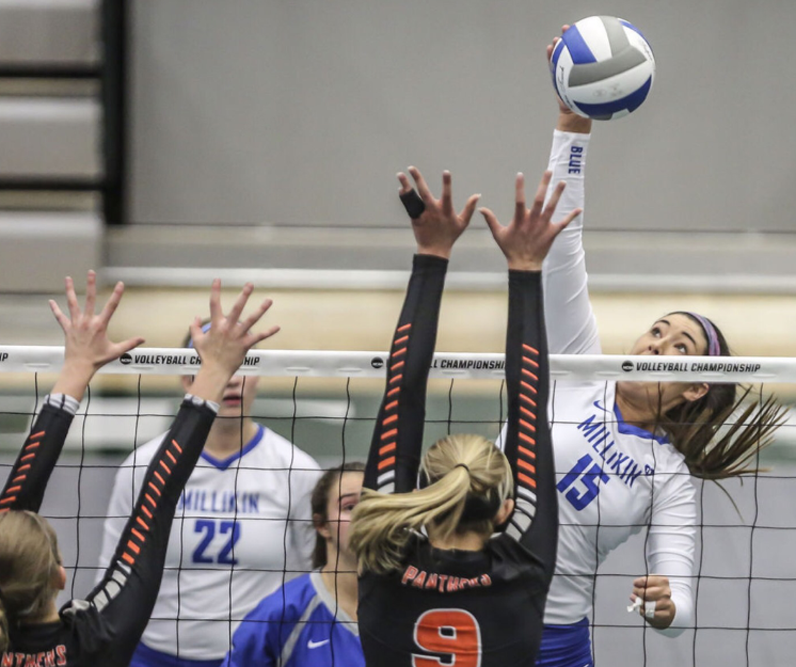 "Tina Cloney has made a huge impact on my education here at Millikin," said Seegmiller. "She is a registered dietitian, so she has known exactly what I need to do to ensure that I get into graduate school and eventually pass my boards. She has been a phenomenal mentor and professor, I can't imagine my college career without her."
The experiences that Seegmiller has had at Millikin have not only prepared her educationally but have allowed her to travel and explore new places with the volleyball program. During her four years she has traveled to New York City, N.Y., Colorado Springs, Colo., Los Angeles, Calif., and will soon be traveling to Seattle, Wash.
These invaluable experiences would not have been possible if she had not worked hard both on and off the court. Experiencing her undergraduate years at Millikin has allowed her to flourish as a student and a leader, and Seegmiller would not change that for the world.