Allyson Isenhower
Biology Pre-dental concentration
Biology major gears up for dental school by utilizing research opportunities
Allyson Isenhower knows exactly what she aspires to do post-graduation from Millikin University. The junior biology major with a pre-dental concentration knows that her years spent on campus in labs, working on research projects and one-on-one studies with professors have efficiently prepared her for graduate school and her future career as a dentist.
The Trenton, Ill., native first noticed Millikin when she was recruited to join the volleyball program. After playing two seasons, she decided to take a step back from the team to focus on her career and prepare for the Dental Admission Test (DAT) which is required for all students to take in order to be admitted to a dental graduate program.
"I chose Millikin because of their athletic program and the potential for one-on-one research with professors," said Isenhower. "It was important for me to go somewhere that I would be pushed to succeed and could get a valuable education. The small class sizes allow you to get to know not only your peers but also your professors. I was also very impressed when Millikin President Dr. Patrick White remembered who I was and what I wanted to do after meeting only one time before."
President White is known for going out of his way to get to know all students who represent the Big Blue. While this may seem like a small gesture, it proves to make a large impact on the Millikin campus.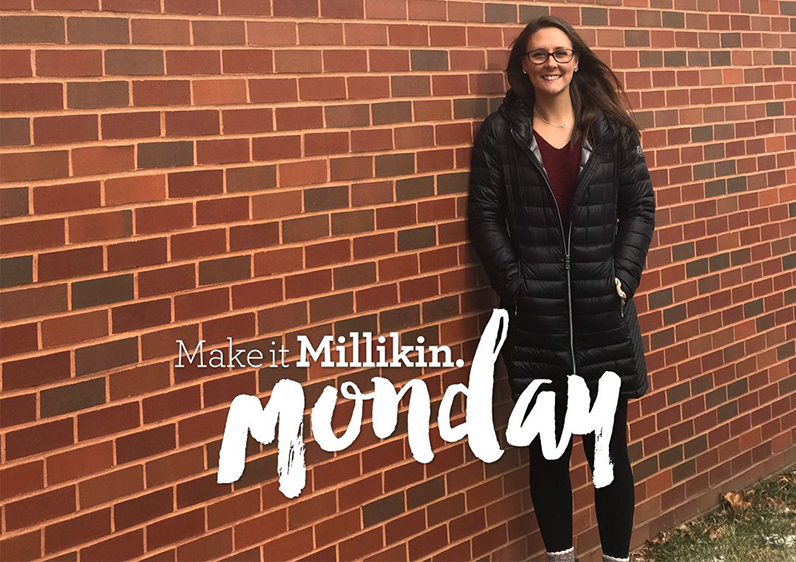 "All Millikin faculty, from university professionals to professors prove to the students that they care about them because they truly get to know them," said Isenhower.
These interpersonal relationships that she has created has allowed her to network and land a summer internship performing research at the University of Illinois at Urbana-Champaign. Her upcoming summer will be spent working diligently on a National Institutes of Health (NIH) research project looking for certain genes in pathogenic fungi, an opportunity that not all students are able to land. However, because of her excellence within her major and networking abilities, she was able to accomplish just that.
"Histology was easily the most difficult class that I have taken in my college career," said Isenhower. "The class taught me how to push myself harder than I ever had to before academically. The class not only taught me about the science behind histology, but it also taught me a lot about myself and my true potential."
Similar to other biology majors, Isenhower spends many hours in research labs. However, she makes an effort to be involved in student organizations that are outside her academic discipline. Currently, she is involved with My College Buddy, Beta Beta Beta and the Millikin Mentor program.
"My College Buddy has been the most influential group that I have been a part of on campus," said Isenhower. "My College Buddy is a program that matches students from a local public school with Millikin students. We meet with our buddies once a week and create a mentorship-like relationship with them. It is a great way to give back to the Decatur (Ill.) community and utilize our leadership skills obtained on campus, and implement them in the community."