The Millikin Medal for Excellence in Young Adult Literature
The Millikin Medal for Excellence in Young Adult Literature was founded in the fall of 2015 by professors Mike Cook (English), Amanda Pippitt (Staley Library), and Rachel Bicicchi (Staley Library). The purpose of the project is to bring together future educators, writers, historians, librarians, and parents to establish and facilitate a sustainable literary award. In their post-graduation lives, students may teach award-winning literature, serve on award committees, encourage overall literacy, or simply help their children find outstanding literature. Students on the Millikin Medal committee experience first-hand how award committees determine their award criteria, create a list of nominees, choose their winner, and handle the public relations that follow.
The inaugural, 2015-16 committee of Millikin students and faculty established the following mission and criteria for the Millikin Medal:
The Millikin Medal for Excellence in Young Adult Literature is awarded each spring to a work of fiction, published in the previous year, of outstanding literary merit that inspires a love of reading in a young adult audience. The judging panel for the Millikin Medal consists of current Millikin students and faculty.
A "young adult" audience is defined as high school through college age
Book inspires and encourages young adult literacy through inclusion of plots, characters, and themes young adults can connect with
Books must be a stand-alone narrative
Books considered are limited to print fiction, but do not exclude genre fiction and may vary in form and literary style
Published in the year since the previous award cycle's finalist list was created
Literary merit includes the following aspects:

The author creates a unique, realistic voice that informs the way the story is told,
The book includes diverse characters in terms of disability, ethnicity, race, gender, nationality, religion, sexuality, or socioeconomic status. Removal of the character(s) from the plot would significantly affect the plot,
The book does not promote stereotypes,
The book does not suffer from formulaic or overused plots, characters, or themes.
2019 Millikin Medal
Nominate a book for the 2019 Millikin Medal!
If you are a Millikin student interested in joining the 2018-19 committee, please email Amanda Pippitt at: apippitt@millikin.edu
2018 Millikin Medal Finalists
The titles selected as long list finalists for the 2018 Millikin Medal were (in no particular order):
History Is All You Left Me by Adam Silvera
Soldier Boy by Keely Hutton
Queens of Geek by Jen Wilde
The Sun Is Also A Star by Nicola Yoon
The Heatbeats of Wing Jones by Katherine Webber
Allegedly by Tiffany Jackson
City of Saints and Thieves by Natalie Anderson
The Female of the Species by Mindy McGinnis
Saints and Misfits by S.K. Ali
The Hate U Give by Angie Thomas
When the Moon Was Ours by Anna-Marie McLemore
Piecing Me Together by Renee Watson
You're Welcome, Universe by Whitney Gardner
When Dimple Met Rishi by Sandhya Menon
You Bring the Distant Near by Mitali Perkins
Ramona Blue by Julie Murphy
Eliza And Her Monsters by Francesca Zappia
American Street by Ibi Zoboi
The six short list finalists for the 2018 Millikin Medal were:
Eliza And Her Monsters by Francesca Zappia
The Female of the Species by Mindy McGinnis
The Hate U Give by Angie Thomas
The Sun Is Also A Star by Nicola Yoon
Ramona Blue by Julie Murphy
You're Welcome, Universe by Whitney Gardner
2018 Millikin Medal Winner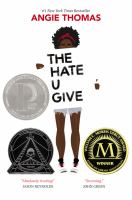 The Hate U Give by Angie Thomas
The death of Starr's childhood friend Khalil becomes a national headline after he is fatally shot by a police officer and her community erupts in controversy. The sole witness to the shooting, Starr is forced to watch Khalil's reputation slandered in the media and must make a decision about whether to come forward, putting her own reputation, her relationships with family and friends, and possibly her life, at risk.
2018 Millikin Medal Honor Book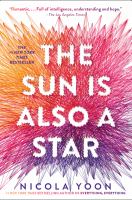 The Sun is Also a Star by Nicola Yoon
Daniel and Natasha cross paths, and fall in love (he, wholeheartedly, she, against her better judgment), as they go about their separate missions over the course of the day in New York City. Natasha is bound and determined to keep her family from being deported to Jamaica, Daniel is on his way to an interview for admission into an Ivy League school (something his Korean immigrant parents are more excited about than he is). The reader follows their path while learning how the interconnected dreams, dramas, and tragedies of various other people affect the outcome of Natasha and Daniel's love story.
Members of the 2018 Millikin Medal Committee were: Rachel Roberts, Kira Dickson, Karly Grice, Rachel Bicicchi, and Amanda Pippitt.
2017 Millikin Medal Winner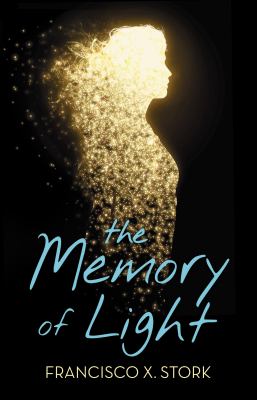 The Memory of Light by Francisco X. Stork
Vicky Cruz hid her depression from friends and family well, until her suicide attempt. Waking up in a hospital, finds herself in a recovery group with Mona, E.M., and Gabriel, three other teens experiencing a range of mental illnesses, including self-harm, anger management issues, and schizophrenia. Drawing strength from each other, and from their therapist, Dr. Desai, the teens struggle towards self-understanding, openness, resilience, and reintegration with their lives outside the hospital.
Comments from the committee: "The Memory of Light explores the often taboo topic of mental illness through engaging, diverse characters in a way that is honest, touching, and ultimately hopeful. Through Vicky and her friends, this important book provides teens suffering from mental illness with hope and an example of a courageous character accepting help to being her journey to recover, and allows readers outside of that experience an opportunity for empathy and understanding." "The novel is beautifully written and is a thoughtful and necessary lens into the complexity of mental illness, one that requires readers to acknowledge the diversity of experience and to question long-help assumptions and stereotypes." "There need to be more books like The Memory of Light that portray the reality of the world in an objective fashion, allowing all readers to connect with what they may experience, or understand what they do not." "It handles a relatively taboo topic in a stark, yet balanced fashion. There are many young adult readers who would benefit from this book and what it brings to the literary world." "This book takes a topic that's often romanticized and shows that mental illness is a constant struggle rather than something that magically goes away after a certain amount of treatment. It also reminds readers that mental illness can affect anybody, regardless of gender, class, or race." "A much-needed look at both the complexities of mental health issues and mental health care, with a cast of diverse characters that we don't normally get to see outside of stereotypical side roles in stories like this."
2017 Millikin Medal Honor Book
Symptoms of Being Human by Jeff Garvin
Riley, a gender fluid teen, is struggling to make friends (or at least not make enemies) at their new high school, while also dealing with the stresses of being the perfect child during their father's congressional re-election campaign and the occasional panic attack. After writing about their experience on an anonymous blog, and connecting with (and crushing on) a fellow outcast at school, Riley begins to feel like things are under control. But when someone begins to troll the blog, threatening to out them at school, Riley has some big decisions to make.
Comments from the committee: "In Symptoms of Being Human, the mystery of Riley's sex at birth doesn't matter, even though many readers will spend the whole book trying to figure it out. Riley is a human being, and this novel puts that at the forefront. Relatively unexplored topics that are just now hitting the mainstream in our society must be written about, and they must be written about well. That is why Symptoms of Being Human is ultimately deserving of this award." "One of the most important books the committee read, Symptoms of Being Human offers readers an important look at the fluidity of identity and of being a human being. The book is a must-read for everyone." " It's high time that society begins to look past the gender binary. Although we've been trained to categorize people into either male or female, the diversity of identity exists beyond that binary; characters in literature need to do the same." "This book will revolutionize the understanding young readers (and some not-so-young readers) have of gender identity. One of the most important books I've read in a long time."
Members of the 2017 Millikin Medal Committee were: Emma Hoyer, Sam Miller, Matthew Gremo, Mikayla Mendenhall, Ryan Morgan, Amanda Pippitt, Rachel Bicicchi, and Mike Cook.
2016 Millikin Medal Winner
Eleanor & Park by Rainbow Rowell
Eleanor & Park, set in 1986, is the love story of two misfits who find strength and belonging with each other. Eleanor is bullied. She's from a poor family, wears the "wrong" clothes, and struggles to deal with her abusive stepfather. Park is half-Korean in mostly white Omaha. His love of comics and alternative music sets him apart from his peers and his sports-loving family. This is a story of the importance of first love, even if that love is ultimately left behind.
Comments from the committee: "The perspectives of both Eleanor and Park felt beyond authentic." "Rainbow Rowell was able to perfectly encapsulate the emotion and thought processes behind her characters in a wholly genuine fashion." "The result was a novel that hurt in a nostalgic fashion- forcing the reader to relate to her characters by digging through their own psyche." "Instead of providing token characters that could fill the quota for a 'diverse' novel, Rowell created actual humans that were not tethered to a specific aspect of their lives." "The entirety of the plot, including the rather 'open ended' finale, never felt as if it were forced or formulaic. In fact, it felt as if the entire story was a snapshot taken from the lives of actual adolescents."
2016 Millikin Medal Honor Book
Girls Like Us by Gail Giles
Girls Like Us is told by the voices of Biddy and Quincy, two "speddie" (special education) graduates paired up to live together after high school. Biddy is shy and gentle. Quincy is combative and closed off. Though they don't always get along and experience many frustrations and challenges in their new life, they ultimately build a true friendship and support system together.
Comments from the committee: "The voices in the story were authentic and originated from the characters who actually lived with disabilities. Not many books do this, and those that do, often do not do it well." "This book also does not promote stereotypes and actually breaks several often seen in other literature (e.g., those with disabilities cannot speak for themselves, every disability has the same manifestation in each individual, and so forth)." "The setting (life after high school) makes a bigger connection to young adult readers who are preparing for, are currently in, or have just recently experienced the transition from high school to the next step in their lives." "The plot is not a stereotype, but rather an effort at awareness- something desperately needed today." "This book needed to be written and I'm so glad it was."
Members of the 2016 Millikin Medal Committee were: Rachel Bicicchi, Mike Cook, Matthew Gremo, Mikayla Mendenhall, Sam Miller, Ryan Morgan, and Amanda Pippitt
For more information view the related news story.