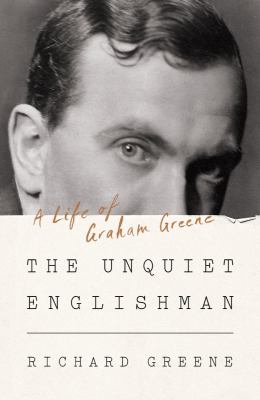 The Unquiet Englishman: A Life of Graham Greene
by Richard Greene
Published: New York, NY : W. W. Norton & Company, Inc.
Call Number: PR6013.R44 Z633464 2021
Publisher Description: A vivid, deeply researched account of the tumultuous life of one of the twentieth century's greatest novelists, the author of The End of the Affair. Graham Greene lived a life as strange and compelling as those in his brilliant novels. A journalist and MI6 officer, Greene sought out the inner narratives of war and politics across the world; he witnessed the Second World War, the Vietnam War, the Mau Mau Rebellion, the rise of Fidel Castro, and the guerrilla wars of Central America. His classic novels, including The Heart of the Matter and The Quiet American, are only pieces of a career that reads like a primer on the twentieth century itself. With wit, keen understanding, and compassion informed by recently surfaced letters and new memoirs from Graham Greene's contemporaries, Richard Greene creates a nuanced portrait of a complicated man. The Unquiet Englishman delves into the conflicts that defined Greene-marriage, promiscuity, faith, and mental illness-to bring fresh insights to his work. This sensitive, fascinating biography sheds new light on one of the foremost modern writers.