About the Program
The Millikin University percussion studio and ensembles represent one of the finest undergraduate programs of its kind. Through a diverse selection of degree programs and course offerings, we are committed to providing students with the training and facilities necessary to achieve success in the professional world. Percussion studies at Millikin University are designed to develop the whole musician--artistically, intellectually, technically--through the integration of theory and practice. Our goal is to develop the highest possible level of musicianship and an appropriate proficiency in performance, teaching, technology, or arts management depending on the curriculum of study chosen by the student.
Millikin is a small comprehensive undergraduate university where approximately one in four students major in the fine arts (300+ are music majors).
Collaborative experiences across disciplines are a signature element of the Millikin Experience.
Millikin blends the performance based aspects of a conservatory-styled education with a rigorous liberal arts curriculum.
All courses and lessons are staffed by experienced professionals (not graduate students) committed to offering the highest quality of instruction.
Our comprehensive graduate success rate with regards to placement into professional employment and graduate school is 96%.
Millikin's tuition rate is comparable to other regional institutions of similar quality. Generous Academic Merit Scholarships and Talent Awards are available.
For more information visit our Percussion Ensembles page.
Facilities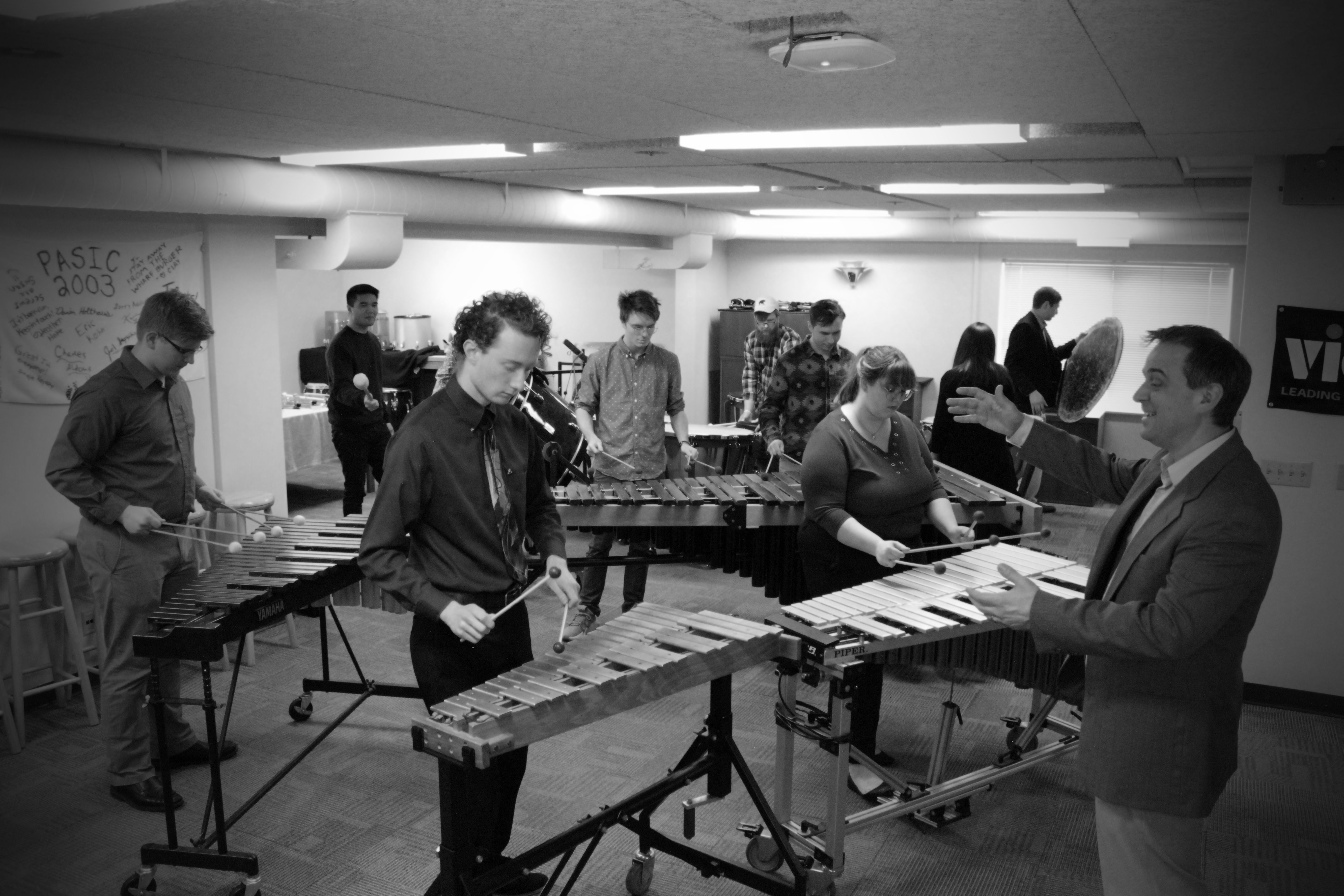 A separate building (Percussion House) accommodating eleven percussion practice rooms and a rehearsal studio make our facilities among the most spacious (and unique) anywhere.
A 1,900 seat Fine Arts Center auditorium provides the venue for ensemble performances and performance by national touring acts.
A newly renovated School of Music Facility featuring state of the art technological resources including a Recording studio; Mixing studio; Video editing suite; Electronic percussion studio; and Computer lab with 20+ iMacs, various software and keyboards. As MU is an Avid Learning Partner, ProTools certification to "Expert" level is possible.
Faculty
Jeremy Brunk
Dr. Jeremy Brunk is Assistant Professor of Music and Coordinator of Percussion Studies at Millikin. His teaching responsibilities include applied percussion, percussion ensemble,, music theory, and composition. He regularly performs with the Illinois Symphony Orchestra and other Central Illinois orchestras as a timpanist and percussionist. Dr. Brunk also gives solo and chamber recitals, master classes and clinics across Illinois. In 2018, Dr. Brunk joined Marimba Festiva International Competition and Congress in Bamberg, Germany as an adjudicator and solo artist. He also commissioned and premiered La Cantilena de las Luces for percussion ensemble and bass by Chicago-based percussionist Donald Skoog. Dr. Brunk has also premiered works by James Romig, John Stafford, Carolyn Bremer, Jennifer Bernard Merkowitz; and appeared in residencies for Steve Reich, Vinko Globokar, Pauline Oliveros, Annea Lockwood, Christian Wolff, and NEXUS. Dr. Brunk holds degrees in percussion performance from the University of Illinois (D.M.A, 2007), University of Oklahoma (M.M., 1999) and Millikin University (B.M., 1997). Dr. Brunk has composed music for the Millikin Percussion Ensemble, the New York New Music Ensemble, Kansas City Kansas Community College, Dance Now! Ensemble Miami, and Interlochen Summer Dance Ensemble, as well as solo percussionists Richard Kurasz and Eric Hines. His three books of Préludes for solo marimba are published by Edition Svitzer, and were developed over many years of working with his students, supported by a Research and Artistic Achievement Award from Millikin. Dr. Brunk's percussion ensemble works are available from Media Press Inc., have been performed at PASIC in 2003 and 2008 by the Millikin Percussion Ensemble, and are available on their most recent CD releases.

Brian Justison
Brian Justison is Professor of Music and Coordinator of Percussion Studies at Millikin. His responsibilities include directing the chamber and world percussion ensembles and teaching courses in percussion pedagogy and drum set styles. His students include winners of the MTNA National Solo Percussion Competition, the Percussive Arts Society International Percussion Ensemble Competition & two Downbeat Awards. His performance credits include the: Illinois Symphony and Chamber Orchestras, Canadian Brass, and the Brass of Illinois. He has also performed with a variety of leading jazz, Latin, and pop artists including: Gene Bertoncini, Brian Bromberg, Warren Chiasson, Jeremy Davenport, Dardanelle, Cathy Garcia, John McNeil, and Marcus Roberts. He is currently the drummer for the Millikin Faculty JAzz Ensemble and the Jane Hartman trio. Mr. Justison is active as an adjudicator and clinician throughout the region with recent appearances at the United States Percussion Camp, the Midwest Percussion Camp, the IMEA/MENC All State Festival, and the Percussive Arts Society Illinois Day of Percussion (1998, 2000, 2006, 2008). His Jazz Drumming Workbook is distributed by First Step Publishing.
Aaron Villarreal
An alluring performer and passionate educator, Aaron Villarreal currently teaches percussion at Millikin Un​iversity, and is a Doctoral Candidate and Fellow at the Indiana University Jacobs School of Music. Initially from Decatur, Illinois, Aaron holds degrees in percussion performance from both Millikin University (B.M.) and Northwestern University (M.M.). Known for his wide range of musical aptitude, Aaron is well-versed in orchestral, chamber, and solo percussion repertoire, as well as Afro-Cuban folkloric music. As a student, he has had the opportunity to study with percussionists She-e Wu (Northwestern University), Christopher Lamb (New York Philharmonic), Steve Houghton (jazz drummer/ Indiana University), and James Ross (Chicago Symphony Orchestra), among many others. From 2015-2016, Aaron served as Associate Timpanist for the Civic
Orchestra of Chicago, and has performed with various ensembles throughout the Midwest region, such as The Acre Brothers, Cardinal Stage Company, Bloomington Symphony Orchestra, Terre Haute Symphony Orchestra, Columbus Indiana Philharmonic, and the Illinois Symphony Orchestra. As a percussionist, Aaron has performed in musical tours to cities such as Springfield, St. Louis, Chicago, Louisville, and Atlanta. In 2011, as a member of One Voice, he toured the Dominican Republic, performing multiple concerts including a live television broadcast on the popular show Divertido con Jochy. The following year, in 2012, Aaron spent a week-long immersion in Havana, Cuba, studying with percussionist José Eladio Amat from the Instituto Superior de Arte. Aaron has been the recipient of various honors including the Presser Scholarship, Percussion Achievement Award (MU), and the Young Artists Award (MU), in addition to receiving two Certificates of Honor from the Pi Kappa Lambda Music Honor Society. In 2012,
Aaron won the Millikin University Hollis Prize Competition, consequently resulting in a solo concert at the Harold Washington Public Library in Chicago. Aaron has played on a variety of recordings, and received three Downbeat Student Music Awards for his participation on the records The Next Step (Decatur MacArthur High School), Simon Says (Millikin Latin Jazz Project), and Premiers (Millikin Percussion Ensemble). Upon his acceptance into Indiana University, Aaron was awarded the prestigious Barbara and David Jacob's Fellowship award.
Curriculum
Applied Curriculum Themes
Definition of Requirements
Year-End Assessment Form
Percussion Handbook
Stay Connected
Stay connected with Millikin's Percussion Ensemble by following us one your favorite social media sites.