Program in Guitar Studies
Welcome to the Program in Guitar Studies at Millikin University. Our goal is to prepare guitarists for careers as working professional musicians.
Taking the guitar from the hobby that it is for many people to a full-fledged profession in which you support yourself through music requires a deep commitment. It involves mastering the technical and creative aspects of the guitar combined with harnessing the tools and strategies that enable you to create your own career. This is the primary objective of the Program in Guitar Studies: to develop high-level performers who are savvy entrepreneurs. The program achieves this in two pieces.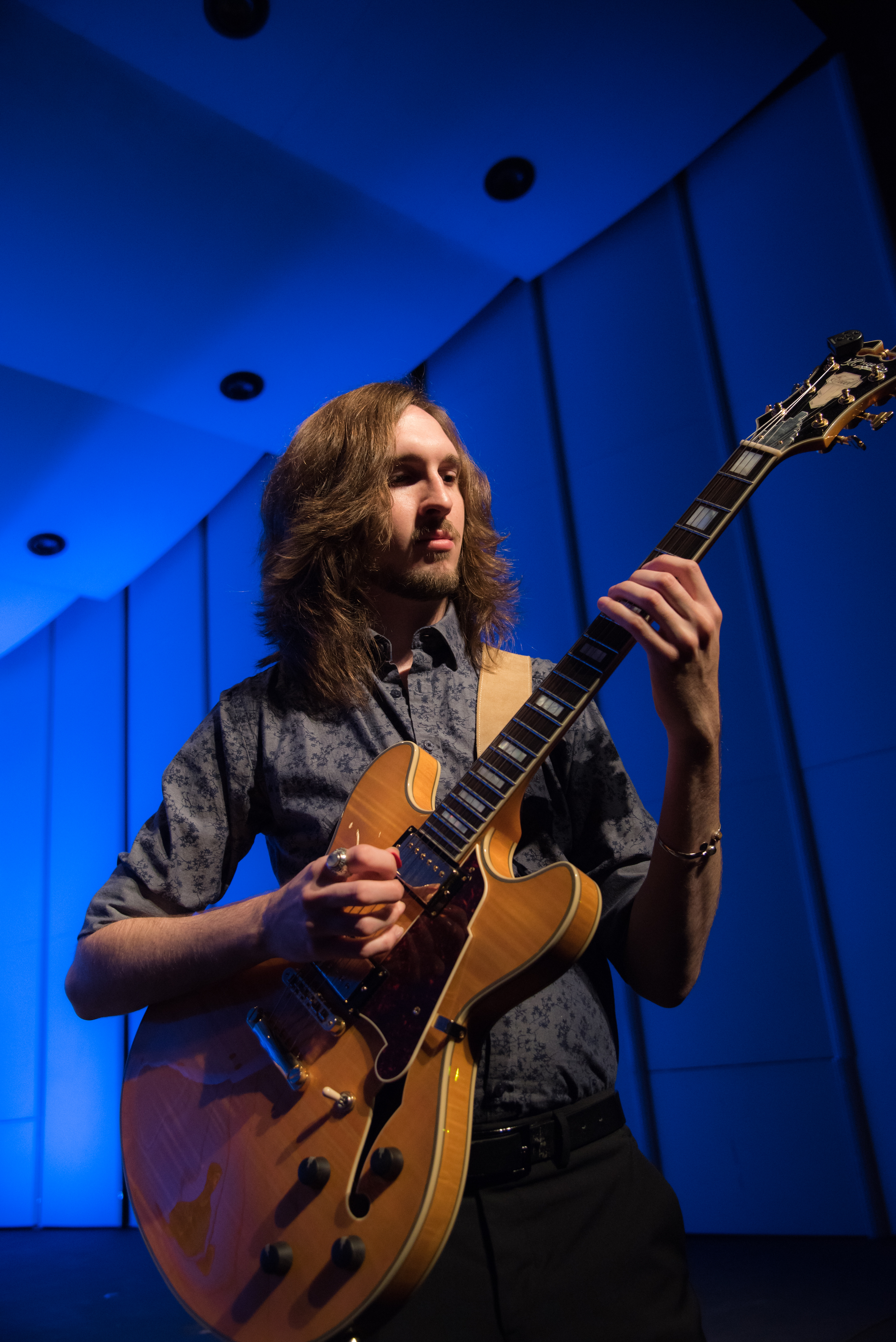 The first piece develops the skills of musicianship — note reading, music theory, technique, and repertoire. This is done primarily through private lessons. In this one-on-one setting, students are guided by an accomplished mentor who has "paid dues" in the music industry and can share insights gained from a professional career.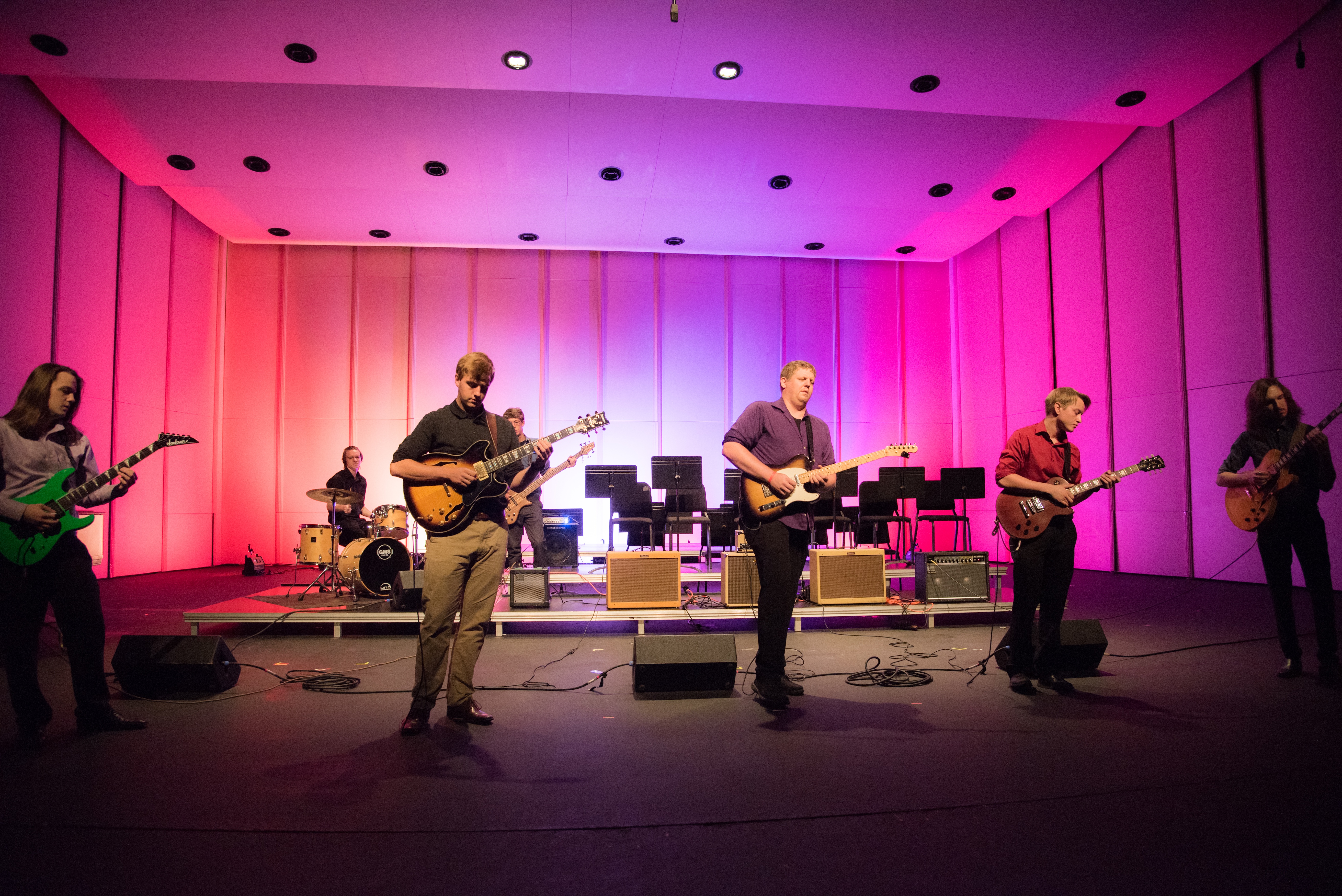 Daily practice and study then become a means to an end— performing. Guitar students have the opportunity to perform on- and off-campus through the full range of music groups in the School of Music, including guitar ensembles, popular music ensembles, studio recording sessions, and solo recitals. These performance learning opportunities immerse students in authentic musical environments that reflect what they will experience as professional musicians.
The program emphasizes instruction in commercial music styles — jazz, rock, and pop. These styles tend to offer broad performing opportunities in the music industry. They also connect with the commercial music and music business degree programs, the most common paths for guitar students. All guitar students are also required to take one semester of traditional "fingerstyle" classical guitar lessons.
Students need to know how to translate their hard-earned performance skills into a sustainable career. Thus, entrepreneurship is the second piece of the program. It integrates performance skills with instruction that enables guitarists to conceive of themselves as their own businesses, learning to piece together a living from various income streams, including:
Performing
Teaching
Composing and arranging
Audio engineering
Music engraving
Studio session work
Publishing
Music journalism
Arts management
Community engagement
Guitar students learn about these different income streams through their courses in the School of Music's curriculum and also through a weekly masterclass. All guitar students in the program meet together in this communal setting to perform and get feedback from professors and peers. They discuss shared issues and build unity. And they receive instruction in a wide range of guitar-related topics that help develop well-roundedness.
In total, the Program in Guitar Studies at Millikin University aims to mold guitarists into artists who can navigate their way through the 21st Century landscape and create a life in music.
We invite you to learn more about the Program in Guitar Studies.
Dr. Mark Tonelli, Coordinator, Program in Guitar Studies
217.464.6316
mtonelli@millikin.edu
Program in Guitar Studies Faculty
Mark Tonelli
Ed.D. in Music Education - Columbia University
M.M. in Jazz Studies - University of North Texas
B.M. in Jazz Performance - William Paterson College
Mark Tonelli has enjoyed a diverse career performing with artists such as Clay Aiken, Jon Faddis, Rita Moreno, Carol Channing, Lynn Seaton, Denis DeBlasio, Greg Bissonette, Ed Soph, Andrea McArdle, Al Martino, Bobby Rydell, The Coasters, and The Platters. He has been seen on FOX News and is featured in the Emmy-nominated PBS musical special Marina At West Point. He has had residencies in three major music hubs — New York City, Dallas, and Kansas City — performing at renowned clubs, including NYC's 55 Bar, Dallas's Sambuca, and Kansas City's Green Lady Lounge. His group has released three critically-acclaimed recordings on the MTonal Music label. He keeps a busy performing schedule, performing across the country with his own group and with other groups. In addition, Dr. Tonelli has performed in the orchestras of forty musicals, including regional productions of RENT and Evita and a touring production of Les Miserables.
For ten years, Dr. Tonelli was the guitarist for the West Point Band's Jazz Knights — when he was known as "Sgt. Tonelli" — touring and performing in some of the nation's top venues, including Jazz Standard, Blues Alley, Jazz Showcase, Kennedy Center, Jazz Kitchen, Avery Fisher Hall, Count Basie Theatre, and The Rock 'n' Roll Hall of Fame. With the Jazz Knights, Dr. Tonelli performed with a who's who of jazz legends: Benny Golson, Billy Cobham, Bobby Watson, Randy Brecker, Steve Turre, Rufus Reid, Bob Mintzer, John Riley, Claudio Roditi, Adam Nussbaum, as well as the Boston Pops and the New York Philharmonic Brass Quintet. At West Point, he entertained many dignitaries and public figures, including Colin Powell, Sandra Day O'Connor, and Tom Brokaw.
Dr. Tonelli's original music has been featured on National Public Radio's (NPR) All Things Considered, and he has been a finalist and won composition awards from Billboard Magazine and the USA Songwriting Competition. His jazz ensemble music is published by UNC Jazz Press and FJH Music, and his guitar ensemble music is published by Guitar Chamber Press. Dr. Tonelli's books, Everybody's Jazz Guitar Method and Way To Play: Jazz Guitar Riffs And Chords, are published by FJH. Dr. Tonelli has written for Guitar Player, Downbeat, The Jazz Education Journal, JazzEd, Jazz Improv, Just Jazz Guitar, and The Chronicle of Higher Education. He has made presentations on improvisation and entrepreneurship at major music conferences, including the Jazz Education Network, College Music Society, Society For Arts Entrepreneurship, and Self-Employment In The Arts. He is an Eastman Guitars and D'Addario Fretted instruments artist.
Mark Anderson
B.A. in Music and Theology - Elmhurst College
M.M. in Guitar Performance - San Francisco Conservatory of Music
Classical Guitarist Mark Anderson has been described as a "soulful and intelligent musician". Mark has performed throughout the United States and Europe including at The Freight and Salvage in Berkeley and on national television in Cyprus. He has also premiered many works for guitar such as "Inventions on Um a Zero" by João Luiz and "Rising Spirals" by award winning composer Chinary Ung (U.S. premier). Mark completed his M.M. in classical guitar at the San Francisco Conservatory of Music where he studied with Marc Teicholz and also received instruction from Sergio Assad, David Tanenbaum, Richard Savino, and Larry Ferrara. Mark is currently on faculty at Millikin University and Illinois Wesleyan University as well as maintaining a private studio in Chicago.