The Honor Society of Phi Kappa Phi (Millikin Chapter 052)
National website: http://www.phikappaphi.org/
Officers 2021-2022:
President: Amanda Pippitt
President-elect: Denice Love
Past President: Paul Lidy
Webmaster: Amanda Pippitt
Secretary: Rachel Bicicchi
Treasurer: George Bennett
Awards and Grants Coordinator: Paul Lidy
Student Vice-President: seeking
Mission: To recognize and promote academic excellence in all fields of higher education and engage the community of scholars in service to others.
About: Phi Kappa Phi, founded in 1897, is the nation's oldest and most selective multidisciplinary collegiate honor society and initiates more than 30,000 members a year on 300 campuses in the United States, the Philippines, and Puerto Rico. Millikin's chapter 052 was established in 1950. Each year we invite the top 10% of seniors, top 7.5% of juniors, top 10% of graduate students, and a limited number of Millikin faculty, staff, and alumni of distinction to join our chapter.
Awards: Every two years the society as a whole gives away over more than $1 million to outstanding students, members, and chapters. Annual grants and awards include:
Fellowship: 50 awards of $8,500 and six at $20,000, and two at $35,000 to members entering their first year of graduate or professional study. One candidate allowed per chapter.
Study Abroad Grants: 75, $1,000 awards to support undergraduates as they seek knowledge and experience in their academic fields by studying abroad. (application open to non-members and members with 3.75 GPA or higher.)
Love of Learning: 200 awards of $500 each to help fund post-baccalaureate studies and career development for active members including graduate or professional studies, doctoral dissertations, continuing education, career development, and travel related to teaching/studies. Chapter 052 also funds local Millikin University Love of Learning awards of $300 to assist Millikin faculty and staff with scholarly and educational projects.

2021 winners of $300 Millikin University Love of Learning awards: David Cook (to commission and collaborate on a new musical compositionby Dr. Alice Jones to be performed by the Millikin University Clarinet Choir) and Ken Laundra (to fund a Little Free Library as part of a collaborative, community-based revitalization project in Decatur's Torrence Park Neighborhood).
2021 Millikin winners of $500 Love of Learning awards: David Cook and Dr. Jennifer Schroeder
2019 Millikin winner of $500 Love of Learning award: Dr. Jennifer Schroeder
2017 Millikin winner of $500 Love of Learning award: Dr. R. J. Podeschi

Literacy Grants: grants of up to $2,500 available to Phi Kappa Phi chapters and individual members to fund ongoing literacy projects or create new initiatives (literacy is defined broadly, see website for examples).
Dissertation Fellowship: 10 awards of $10,000 each to active members who are doctoral candidates in the writing stage of their dissertation.
Scholar & Artist Awards: a $1,000 honoraria plus life membership to Phi Kappa Phi is given to honor individuals who demonstrate the ideals of the Society through their activities, achievements, and scholarship.
Distinguished Service Award: a $1,000 honorarium plus life membership to an individual who has provided sustained, non-compensated volunteer service to others beyond the realm of academia.
Excellence in Innovation Award: a $100,000 award given each biennium to recognize one institution of higher learning that uses innovative and substantive solutions to achieve meaningful, measurable outcomes to improve the lives of others and create systemic large-scale change.
Applying for an award or grant, check out these tips!
Each year, the Millikin chapter of Phi Kappa Phi contributes funds to the award for the winner of best poster for Millikin's Celebrations of Scholarship Poster Symposium.
Upcoming events for 2020-21:
Members recently honored:
Jeana Pierson: First place honors for headline writing from the Illinois College Press Association (ICPA) conference
Hannah Prochnow: Second place Model Illinois Government (MIG) Moot Court
R.J. Podeschi: March 2022 Phi Kappa Phi member spotlight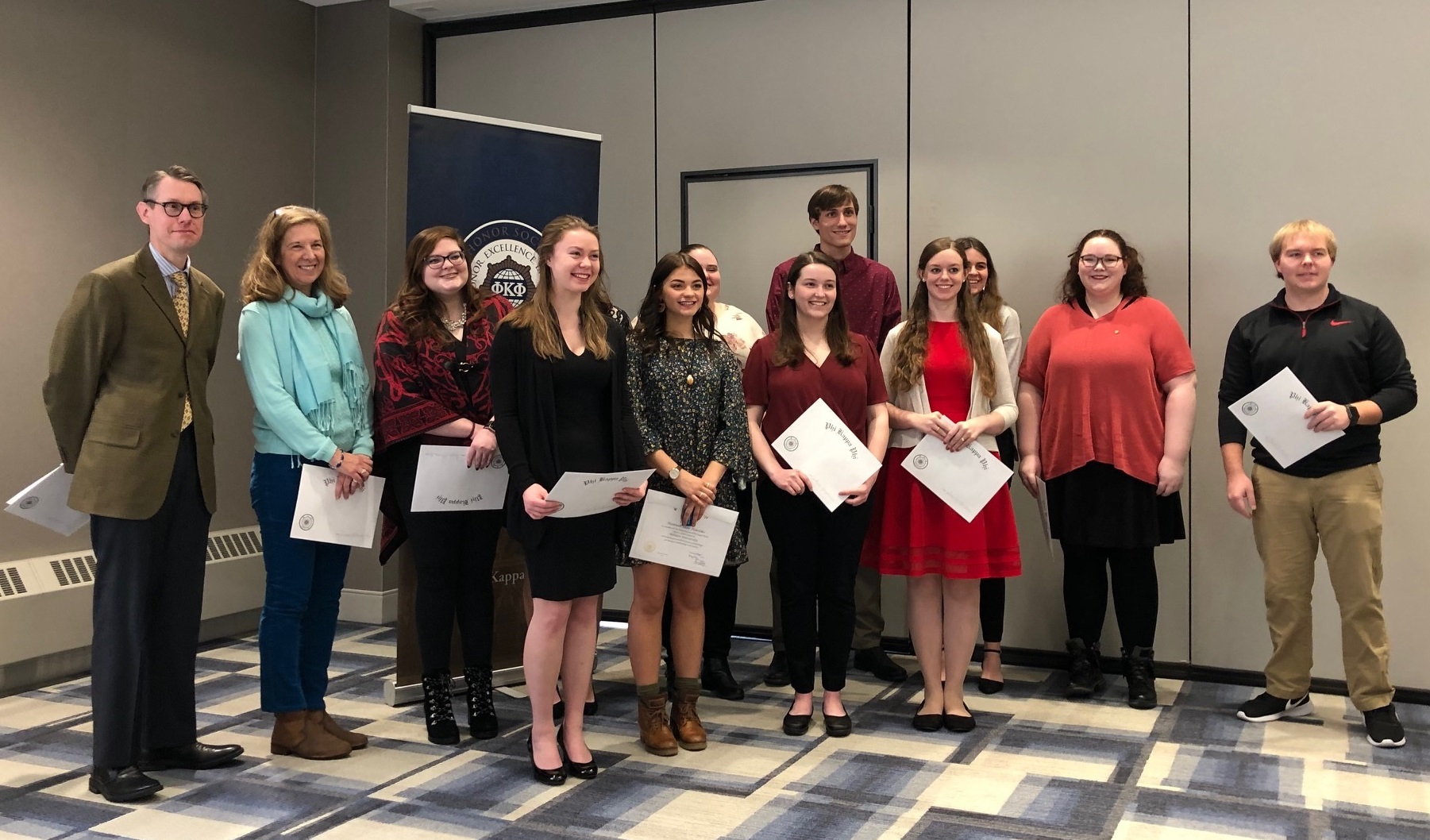 Millikin undergraduate students, graduate students, faculty, and staff initiates of Phi Kappa Phi Chapter 052 at our February 23, 2020 initiation ceremony.