Millikin nursing students honored at Legacy of the Lamp ceremony
Florence Nightingale set a standard of caring for all nurses to follow. Often called "the Lady with the Lamp," Nightingale paved the way for the heroic work of nurses today. Her compassion set her apart from others as she gained her famous moniker for checking in on her patients by lamplight, often writing letters to loved ones at home on their behalf.
The "lamp" is a symbol of Florence Nightingale, exemplifying the light of learning, knowledge and caring. That symbol was used as a means of honor during the Millikin University School of Nursing's annual Legacy of the Lamp ceremony on Oct. 1 at Fairview Park in Decatur, Ill.
More than 50 nursing undergraduates and six graduates were recognized during the ceremony that took place during Millikin's 2021 Homecoming celebration. The nursing majors received a ceramic lamp as a symbol of their move into the next level of their clinical studies.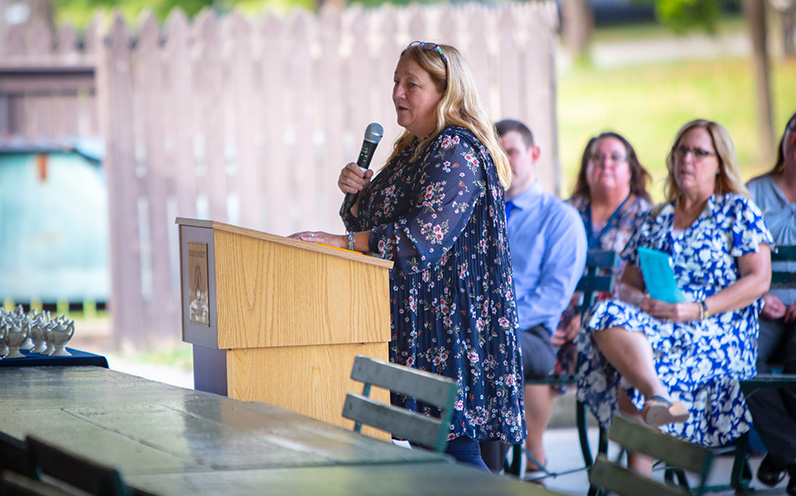 Dr. Wendy C. Kooken, director of the Millikin School of Nursing
"The Legacy of the Lamp is a long-standing tradition at the Millikin School of Nursing. Although there were nurses before Nightingale, none of them galvanized the attention of the world like she did," said Dr. Wendy C. Kooken, director of the Millikin School of Nursing, as she addressed the students. "She felt a calling from God to become a nurse despite all the opposition. This sort of passion and focus is absolutely what it takes to get through this difficult course of study and to remain resilient throughout your career of nursing."
Kooken says that now more than ever, with a complicated shortage, nurses are needed. According to Kooken, there will be close to 200,000 nursing positions available through 2030.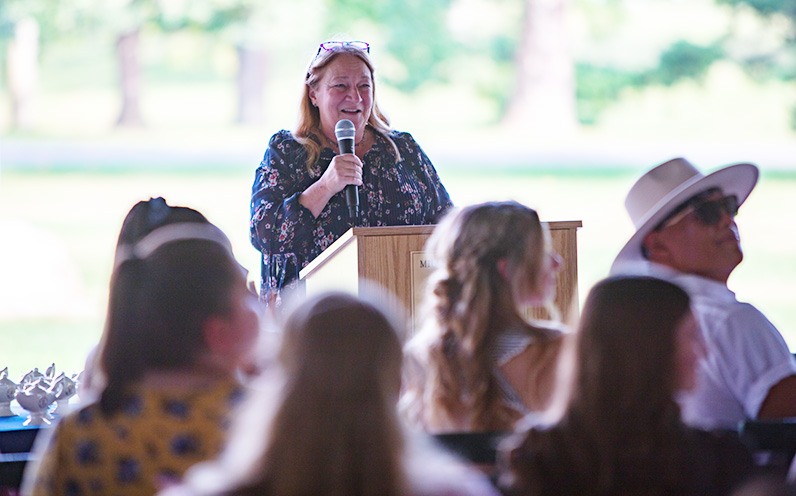 "We need you. Nursing is never an easy choice, and it never has been. Florence Nightingale saw people in their worst conditions and she also saw the reward of her vision for what healing could be," Kooken said. "It was reported that sometimes she was on her knees for eight hours during clinicals changing bandages. She was revered by her patrons because she literally saved their lives with sanitation, with vigilance, and she started evidence-based nursing with her statistical calculations that showed her methods saved lives."
Kooken concluded by saying, "We can make the world a better place, and I believe you can make the world a better place."
Prior to receiving the lamps, Millikin nursing majors heard from 2021 Distinguished Alumnus Dr. John Blakeman, who currently serves as an assistant professor of nursing at Illinois State University.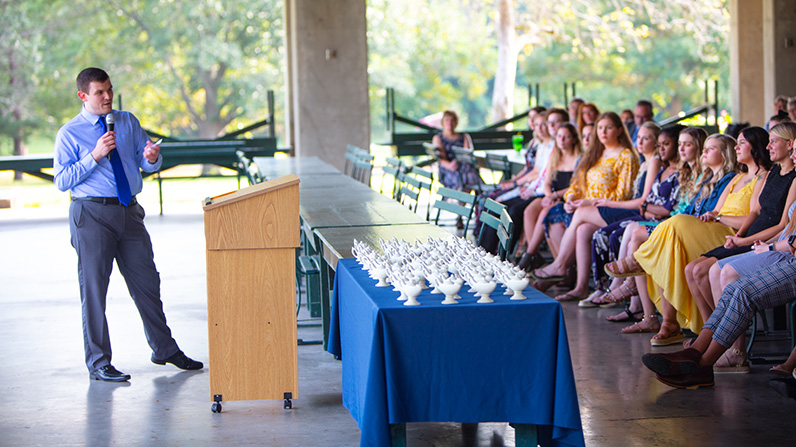 A double alum of Millikin, Blakeman graduated summa cum laude in 2013 with his Bachelor of Science in Nursing and in 2015 with his Master of Science in Nursing. While a student at Millikin, Blakeman served on several School of Nursing committees and served as the College of Professional Studies representative and Vice President of Academic Affairs for the Millikin University Student Senate. He was also involved in several on-campus organizations.
In preparing his remarks, Blakeman said he wanted to find something meaningful to share with the audience … and that was not "two hours long." He focused on "how to keep yourself going," and how to think about the long-term goals of graduating and practicing as a nurse.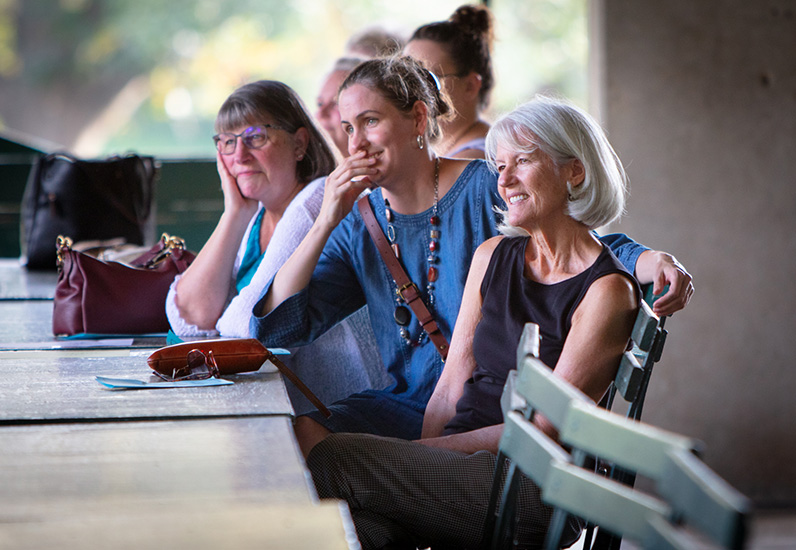 Blakeman used storytelling as a way to engage with the listeners and brought up moments with his family. About eight months ago, Blakeman's grandfather was hospitalized, and being the family nurse, Blakeman "got the call" from a nurse at the hospital. That nurse happened to be a former student of Blakeman's from three of the courses he taught.
"For me, it was one of those moments where I reflected on what I'm doing as a nurse educator and it also helped me think about how nursing students really might be taking care of my family someday," he said. "We want you to be great nurses because we want you to be great nurses for everyone."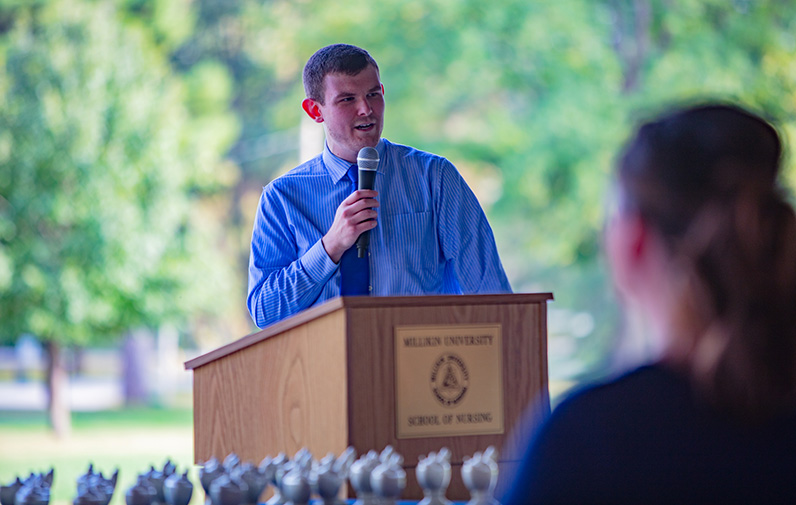 Dr. John Blakeman
After his time at Millikin as an undergraduate student, Blakeman worked for several years in the cardiovascular and cardiothoracic surgery settings and then moved into nursing education. He has been a nurse educator for six years and was recognized in 2019 as a Nurse Educator Fellow by the Illinois Board of Higher Education. He completed his Ph.D. in Nursing at Illinois State University in 2020, receiving the university-wide Clarence W. Sorensen Distinguished Dissertation Award for his dissertation work on women's heart attack symptoms.
Blakeman currently conducts research related to cardiovascular disease and symptom science, especially how individuals perceive, attribute, react to and manage symptoms of different types of cardiovascular disease. His ultimate goal is to improve recognition of cardiovascular disease symptoms, reduce delay times in seeking health care and optimize symptom management.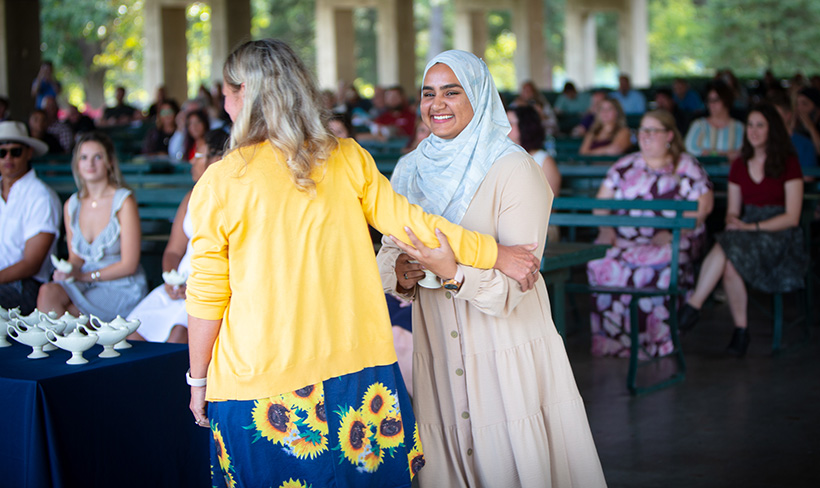 Blakeman left the audience with a question: When you become a nurse, what will that approach or attitude be? "You want to walk into that patient's room thinking that they are your family member, even though they are not, and treat them the way you want your family member, or loved one, treated," he noted.
The following nursing students were recognized at the Legacy of the Lamp ceremony:

Undergraduate Class, Fall 2021
Brandy Adams
Dane Alexander
Morgan Bailey Sierra Barnette
Ellarie Barrett
Kristian Boado
Allie Bonk
Emily Brewer
Grace Burris
David Catanus
Jenna Cheek
Bailee Clouse
Annaliese Couri
Devyn Dubose
Jessica Eckhart
Ghordann Gobel
Naomi Hall
Lainey Harris
Kiera Henke
Chloe Hugo
Jaden Lockard
Olivia Madura
Kaitlyn McIntyre
Wade Mills
Mackenzie Moyer
Aubrey Oitker
Nanami Owada
Sophia Pierre-Antoine
Cleah Roberts
Maddy Robinette
Addison Sargent
Alyssa Satterfield
Madison Schultz
Sadie Scott
Jessica Sheeler
Alex Shingleton
Maddie Snow
Natalie Snyder
O'Livia Stalter
Murielle Umuhoza
Isabella VanDyke
Catherine Vila
Rylee Vought
Atiqa Walji
Christina Wasserstrom
Rachael Welburn
Daisy Whitaker
Jaci Wichus
Collin Wilson
Brandi Woods
Billie Wooldridge
Aubrey Wright
Madelyn Yeakley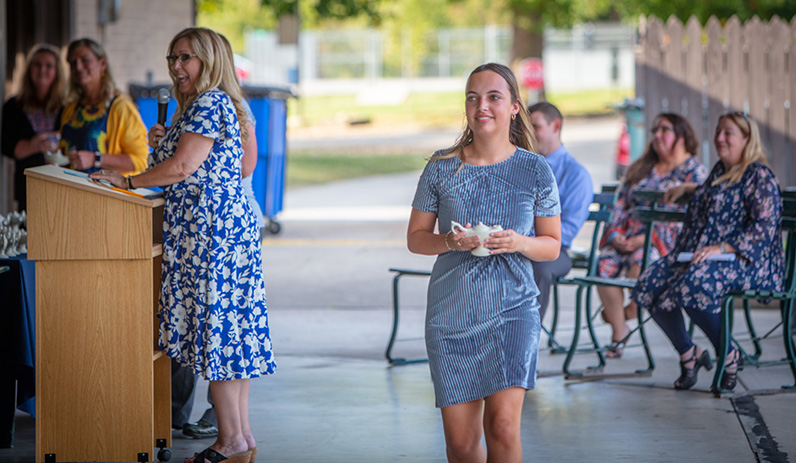 Graduate Class, Fall 2021
Rachael Croy
Rachel Larison
Rebecca McCartan
Anisha Richardson
Whitney Siltman
Raisa Zamacona Gonzalez