Millikin team takes second overall; Student Collin Budd named Most Outstanding Attorney
Millikin University student attorneys were recognized for their work at the 2022 Model Illinois Government (MIG) Moot Court Competition held March 3-6 at the Wyndham Springfield City Centre in downtown Springfield, Ill.
The MIG Moot Court competition simulates arguments at the Illinois Supreme Court level. During the competition, teams of attorneys argue their case before a panel of student justices and legal professionals. Success within the competition is determined by knowledge of the case fact, presentation skills, legal forensic skills and logical arguments. In addition to oral arguments, student attorneys have the opportunity to write a legal brief on the case fact pattern and submit them for comments by legal professionals.
The simulation helps pre-law students with preparing for professional school by helping them understand the process of legal proceedings and allowing for them to attain legal skills, including but not limited to case analysis, synthesis of cogent arguments, advocating for a client, and writing and speaking effectively.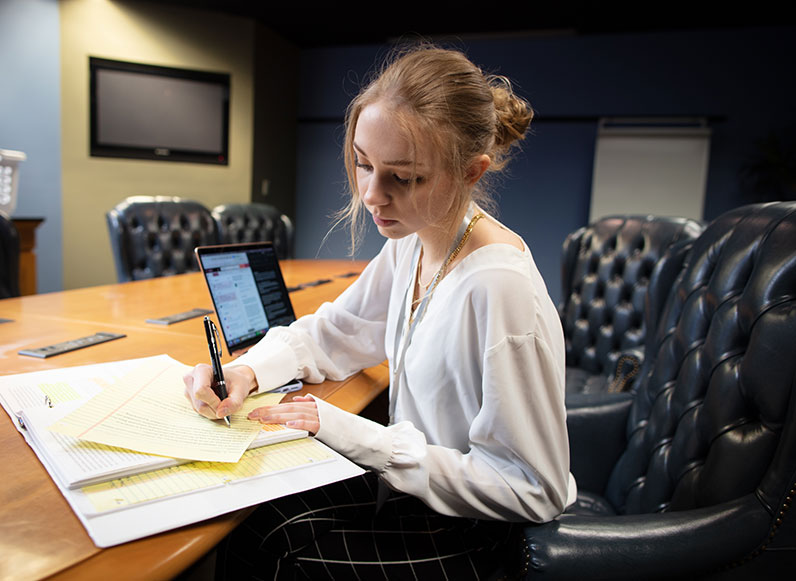 Hannah Prochnow
This year, five Millikin student attorneys participated in the annual Moot Court Competition. Gillian Beginski, a senior double majoring in philosophy (pre-law track) and political science from Mundelein, Ill., participated on a hybrid team where she was paired with a student from Eastern Illinois University. Beginski's team advanced to the semifinal round of the competition.
The team of Collin Budd, a senior majoring in philosophy (pre-law track) from Arcola, Ill., and Olivia Swords, a first-year student from Decatur, Ill., double majoring in philosophy (pre-law track) and English writing, and pursuing a French minor, also advanced to the semifinal round.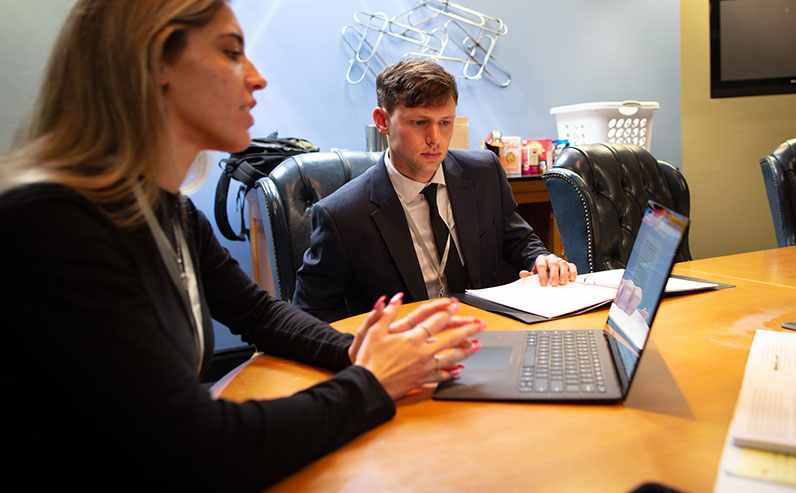 Collin Budd (right)
The team of Hannah Prochnow, a junior double majoring in philosophy (pre-law track) and environmental studies from Bloomington, Ill., and Isabella Voss, a junior majoring in management information systems and pursuing a philosophy pre-law minor from Lockport, Ill., advanced to the final round and took second place overall.
"Overall, our students worked extremely hard in advance of and during the competition to construct and deliver sophisticated legal arguments," said Dr. Robert Money, chair of the Philosophy Department, director of Pre-Law and director of Moot Court at Millikin. "The results speak for themselves. It is an honor to work with such bright motivated students."
The case file used at this year's competition involved constitutional law issues surrounding the free speech and free exercise of religious rights of public high school students in the context of school actions meant to address the COVID-19 pandemic.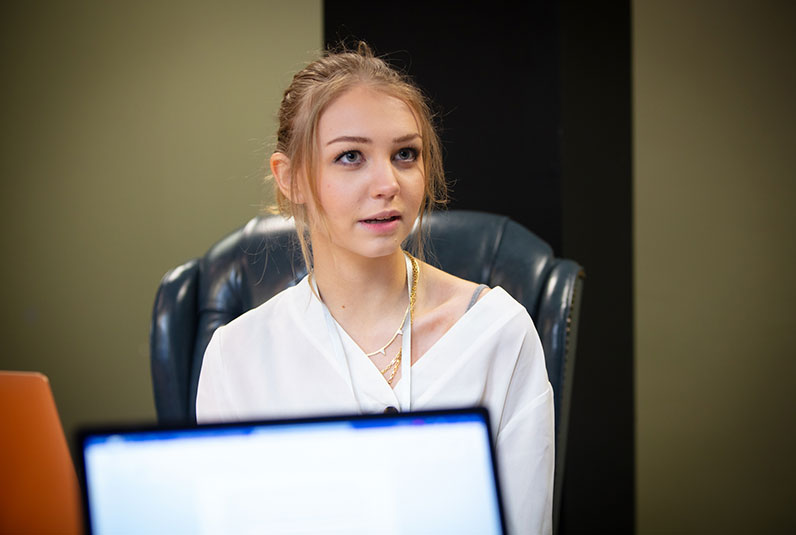 Hannah Prochnow
"Making it to the final round was incredibly exciting, especially as the competition was so well-spoken and knowledgeable of the case precedence," said Prochnow. "I plan on taking everything I learned from the competition into my future career, as preparing for the case and then presenting my own arguments expanded my logical reasoning skills, as well as my knowledge of Supreme Court rulings and legal arguing."
Isabella Voss said one of the biggest takeaways from the competition was understanding and manipulating the complexity of arguments within a court case.
"Before I had started the class in preparation for the competition, I felt that every case decision should be black and white with no exceptions. However, the nature of the case and competition allowed us to explore the depth of each argument, finding the strength of the facts while also formulating ideas based on our peers' points," Voss noted. "Overall, being able to argue with one another multiple times to defend either side of the case was a fantastic experience in that it showed us just how complicated and difficult interpretation of the law can be."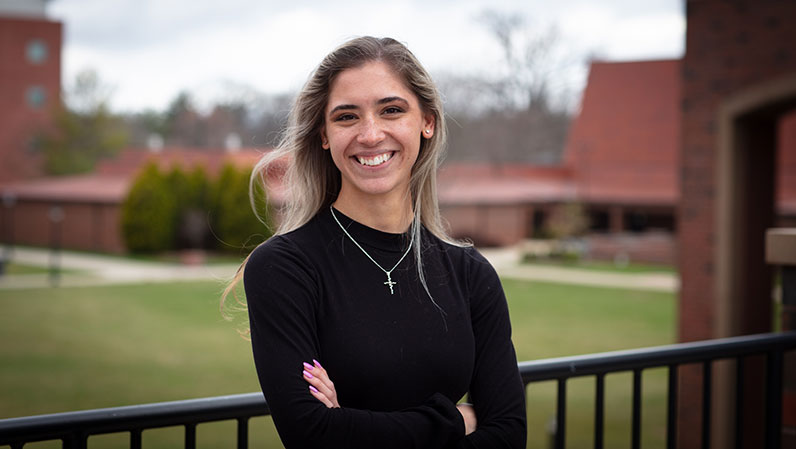 Isabella Voss
In addition to the outstanding team performances, Collin Budd was honored with the individual award for Most Outstanding Attorney. Budd was also elected to serve as Chief Justice for the 2022-23 year. In this capacity, he will provide organizational leadership for the 2023 competition.
"I just felt a sense of gratefulness and reassurance," Budd said. "The competition helped me realize that when you study and prepare for something the right way, you should be confident in what you know and it should show. When it comes to preparing for a case, the biggest takeaway for me was the importance of being able to find an overarching principle in an earlier case and applying it to your own."

Collin Budd
As an extra benefit to this year's competition, students had the opportunity to attend a talk by Illinois Supreme Court Justice David K. Overstreet. Justice Overstreet received his Bachelor of Science degree from Lipscomb University and his Juris Doctor degree from the University of Tennessee. After being appointed to the Second Judicial Circuit Court in 2007, Justice Overstreet successfully ran for election in 2008 and was retained in 2014. After being assigned to the Fifth District Appellate Court in 2017, he was elected to serve on that court in 2018. Justice Overstreet was elected to the Illinois Supreme Court from the Fifth Judicial District in 2020.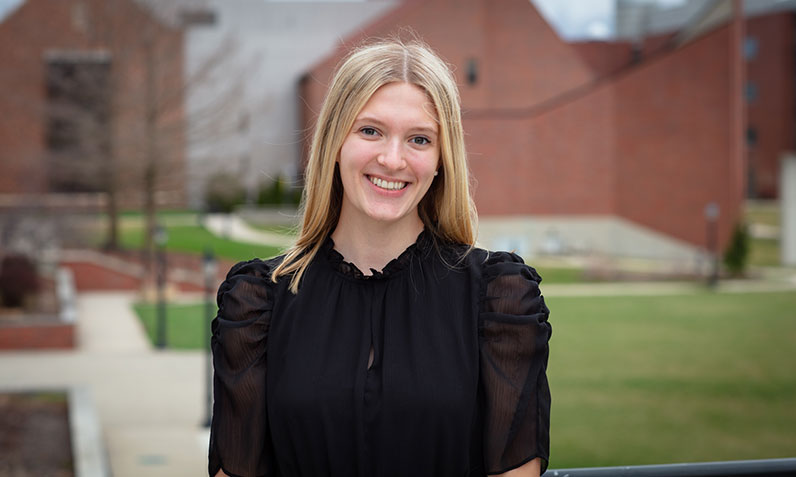 Olivia Swords
"I feel this experience has built up my confidence as well as my skills in examining case law, and this competition has given me a lot of experience and learning points which I know will benefit me greatly in law school," Isabella Voss said.