Millikin's New Musicals Workshop elevates collaboration
Collaboration is the hallmark of Millikin University's New Musicals Workshop immersion course. For more than a decade, students and faculty have had the opportunity to team up with professional writing teams to develop new musicals intended for commercial production.
This past January, Millikin musical theatre majors and faculty had the unique privilege to work alongside writers Chris Miller and Nathan Tysen to fine-tune their production of "Eric Hermannson's Soul," based on a short story by Willa Cather, and "Fugitive Songs." Tysen writes dialogue and lyrics, and Chris Miller writes music. Both visited Millikin from Jan. 3-21 during the January Immersion term.
"These people were the first to ever sing 'Soul'," Tysen said. "It's exciting, so now we have the opportunity to tinker and tweak and change things and see the show. For me, I love these kind of opportunities because it's a safe environment and it's completely under the radar."
Miller and Tysen made their Broadway debuts in 2016 with "Tuck Everlasting." The duo also wrote Off-Broadway's "The Burnt Part Boys," which premiered in 2010 and wrote "The Mysteries of Harris Burdick."
"The New Musicals Workshop has developed over the years into an exciting, collaborative learning experience for Millikin students, faculty, and for increasingly high-level professionals in the musical theatre industry," said Lori Bales, associate professor of theatre and dance, and director of the New Musicals Workshop at Millikin.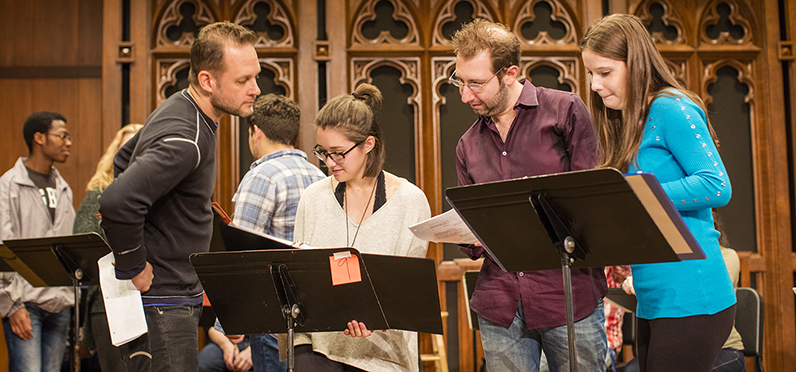 Bales says Millikin students are sometimes the first artists to read and sing the material.
"It's a distinctive and elevated teaching environment that is preparation for professional work while at the same time 'being' professional work," Bales said.
"Fugitive Songs" has been running in New York, but it was originally a six-person cast and there's been some interest in expanding it to a 12-person cast. The students helped adapt the six-character score for a 12-character score during the workshop.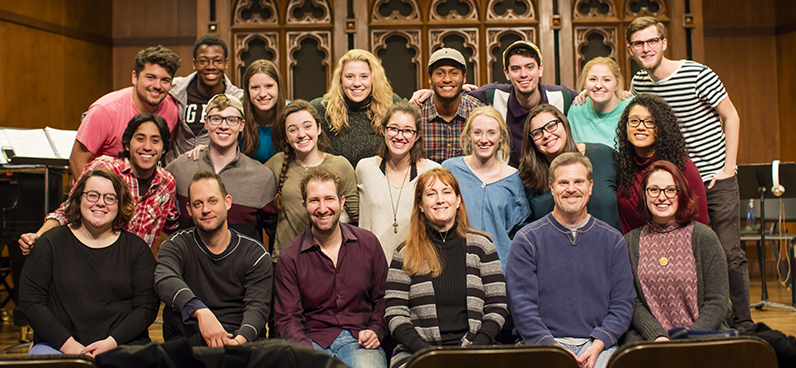 "The workshop normally ends with a performance – a staged reading," said Elizabeth Pillow, a senior stage management major from Evansville, Ind., who is a three-year veteran of the workshop. "We've had everything from people bringing in full productions to musical excerpts."
These collaborations provide students with the unique learning experience of seeing the craft of writing and composing a musical up close.
Patrick O'Keefe, a senior musical theatre major from Chicago, says the purpose of the workshop is to assist the writers with their material while the students learn valuable lessons.
"We get to learn how different composers work and what kind of environment is best for them," O'Keefe said. "I think more than anything, what I've learned is just be ready for anything, make yourself as able and willing to work on whatever the writers bring to you because the more you're able to give them the more confident they'll be in the piece."
Tysen and Miller have been working on "Eric Hermannson's Soul" since August.
"These collaborations, where professional standards apply, provide students with the unique learning experience of seeing the craft of writing and composing a musical up close while contributing and shaping the material through their artistic interactions," Bales said. "It provides the professional writers with a laboratory environment where they can use the talents, skills and resources that Millikin theatre students and faculty have to offer."
Millikin also received a residency grant from the National Alliance for Musical Theatre (NAMT) to support this year's New Musicals Workshop.
"Through the workshop, I've made some amazing connections with people from New York and I plan on moving there because of the networking opportunities," Pillow said.
O'Keefe says the workshop is his favorite time of the year because of the hands-on learning opportunities. "We get to learn about ourselves as performers," he said.
Nathan Tysen noted, "We can just work on something and it's about the work, it's about the relationships and the collaboration and then we can go back to New York and we'll have a big step forward in the development of the piece."
View Coverage