Real-world projects are an essential component of Millikin University's Performance Learning curriculum. This is especially true in the Tabor School of Business where a group of students recently worked with the government of Ecuador to develop a U.S. market entry strategy for Ecuadorian handicrafts.
The Ecuador project was the culmination of Millikin's International Business Consulting course led by Dr. J. Mark Munoz, professor of international management. The course provides an opportunity for students to take part in real life projects for companies, and sometimes governments, in various parts of the world. In an earlier course, students worked with the southern African country of Zambia to develop a microenterprise zone that would help the country's economy.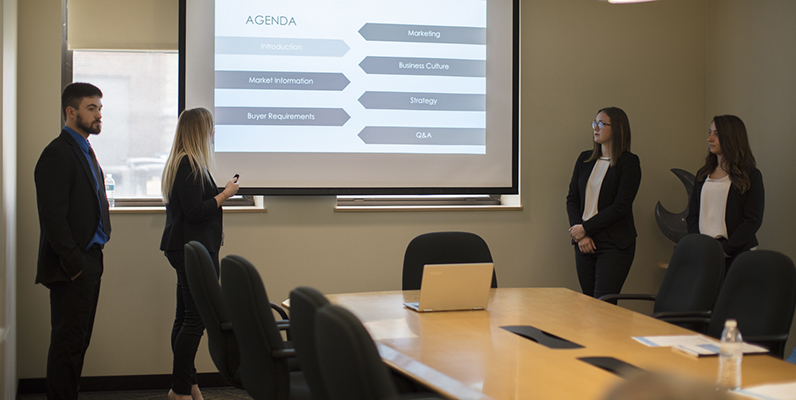 The handicraft business sector has a high economic importance for the country of Ecuador. Handicrafts contribute to the growth of the country's economy by generating foreign exchange earnings as well as direct and indirect employment.
The Pro Ecuador Institute for Promotion of Exports and Investments and the Ecuadorian government have been working together to support the handicrafts sector. Pro Ecuador is in charge of promoting the export offerings of Ecuador, ranging from traditional to non-traditional products, and identifying new markets and exporters.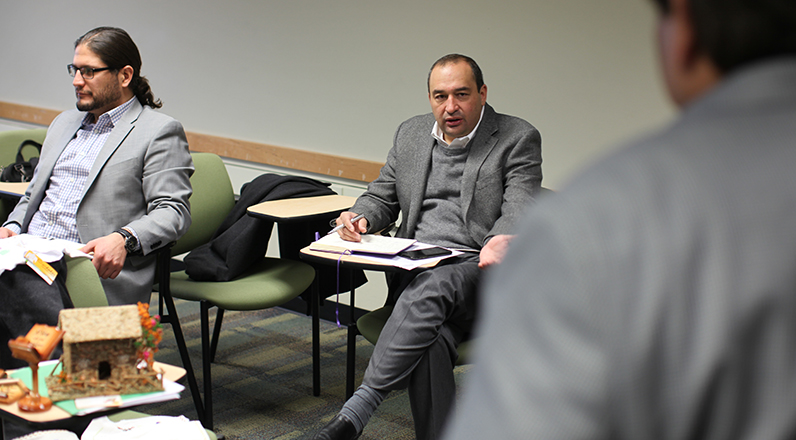 The idea for the collaboration with Millikin began after Dr. Munoz met Borys Mejia, Pro Ecuador Chicago Trade Commissioner, who was invited by Archer Daniels Midland Co. (ADM) last year to visit Decatur and learn about business development opportunities in the area. Mejia expressed the need for a U.S. market entry strategy for Ecuadorian handicrafts and Dr. Munoz saw this as a great opportunity for the Millikin students.
"At that time, we met with Professor Munoz and started to talk about a potential collaboration," said Mejia. "We wanted to expand our collaborations with other universities. Professor Munoz is a perfect partner because we are really interested in developing a microenterprise zone in the northern part of Ecuador, and the market entry strategy would be the first part of the project."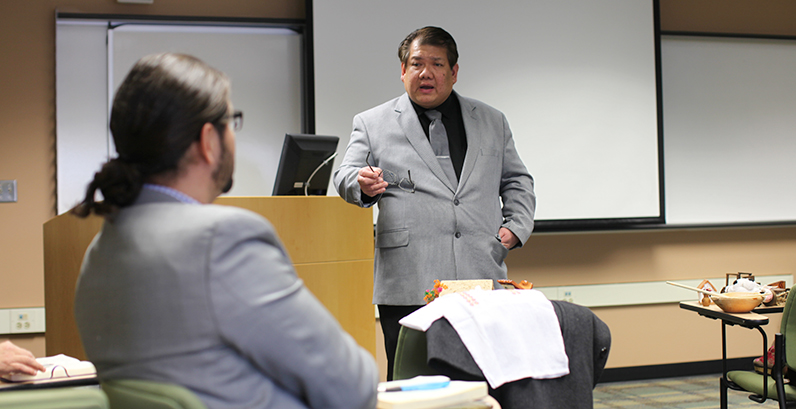 Phase one of the project was identifying marketing strategies to sell leather and wood textile handmade products from Ecuador into the U.S. market. Phase two is the creation of a microenterprise zone in Ecuador to support the manufacturing of the handicrafts. The microenterprise zone will be created in spring 2018.
"We've pioneered this course and have developed an expertise in the field," said Dr. Munoz. "Along with doing a unique project, it's something that benefits companies and countries, and provides students a unique learning experience."
Throughout much of the spring semester, the 11 students in the course gathered as much information on the handicraft industry as possible, and interviewed many experts and surveyed over 300 people.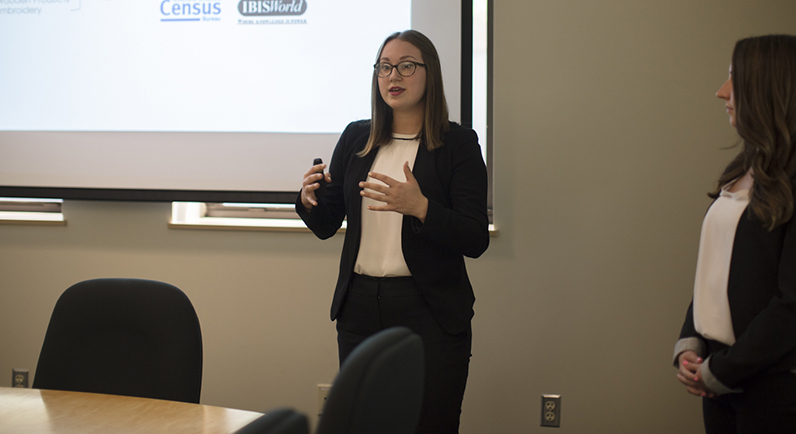 "We created a market entry strategy to bring Ecuadorian handicrafts into the United States and successfully sell them to U.S. consumers," said Haley Hogenkamp, who recently earned a Bachelor of Science in Business Management from Millikin. "The hardest part of the project was that there was no research done before on handicrafts. We had to create the information ourselves."
What we've done is new – it's never been done before. It's about creating a marketable producer for the U.S. buyers.
The students researched everything, from the U.S. market and buyer requirements, to negotiation and culture relations. They used many government-related databases to gather information and find where the imports and exports are coming in from all over the world.
"What we've done is new – it's never been done before," said Hogenkamp. "Handicrafts is a unique industry and most of it is business to business. Rather than looking at the consumer and saying we can sell this kind of handicraft to this kind of consumer, we have to look at all these distribution channels and look at how to navigate it into the United States and how to make connections with U.S. buyers. It's more about creating a marketable producer for the U.S. buyers."
With the popularity of online retail, the students also looked at capturing the online market as part of their strategy while it's still growing.
The students presented their strategy to Mejia and Humboldt De La Torre Carofilis, Pro Ecuador Export Promotion Officer, on May 24 in ADM-Scovill Hall on Millikin's campus. The students recently traveled to Ecuador, May 29-June 4, to learn more about the handicraft industry.
"They have many embroidered products, and products made out of wood, and I think those are sectors that are growing and becoming more popular," said Kiara Smail, who recently earned a Bachelor of Science in Accounting. "I think household goods and wood products would really succeed in the market."
Looking back on the experience, the students said they had to learn how to work with each other when it came to getting the job done.
"I've learned how to research when there is no research readily available online," said Smail. "I also learned how to create data and use other sources to come up with research that isn't easy to find."
In providing feedback on the students' work, Mejia said, "It's a very good report. It shows that the students worked very hard. The presentation covered all the points we were looking for. All looks great. It's a real life project and the whole idea is to improve the quality of life for the people."