Millikin Moot Court students stand out at Model Illinois Government Competition
The Moot Court program at Millikin University provides opportunities for student attorneys to engage in different aspects of the law, such as preparing oral arguments, writing legal briefs and practicing appellate advocacy. Millikin Moot Court students were put to the test at the 2018 Model Illinois Government (MIG) Moot Court Competition held in Springfield, Ill., March 1-4.
Throughout the competition, teams of attorneys argued before a panel of student justices and legal professionals and were scored on the basis of presentation and knowledge of the case fact.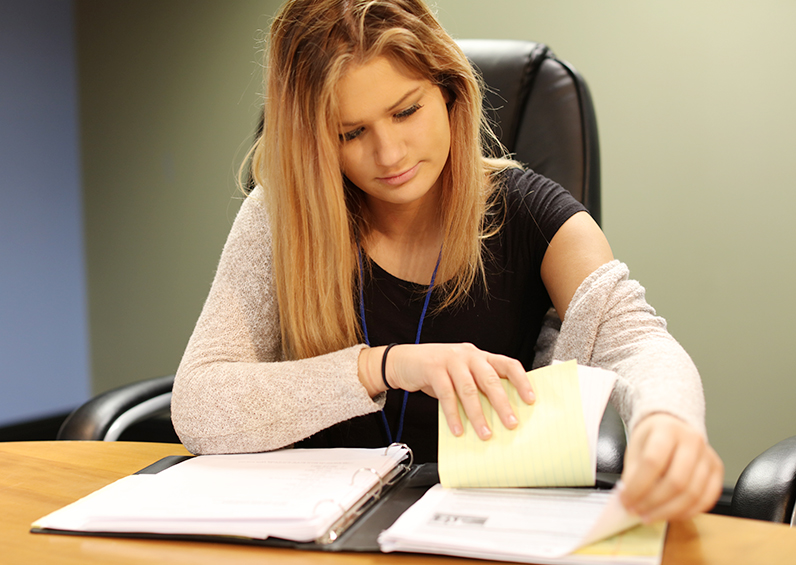 This year, four teams of Millikin students participated as attorneys at the competition:
The Teams
Madison Burress, a junior psychology major from Marseilles, Ill., and Alexander Erickson, a senior music business major from Waterford, Wis.
Brian Barker, a sophomore theatre major from Downers Grove, Ill., and Isaac Hopper, a junior history major from New Lenox, Ill.
Emily Cotner, a junior music business major from Sherman, Ill., and Lukas Myers, a senior philosophy major from Taylorville, Ill.
Reece Crawford, a junior digital media marketing major from Plainfield, Ind., and Madison Ludwick, a sophomore digital media marketing major from Decatur, Ill.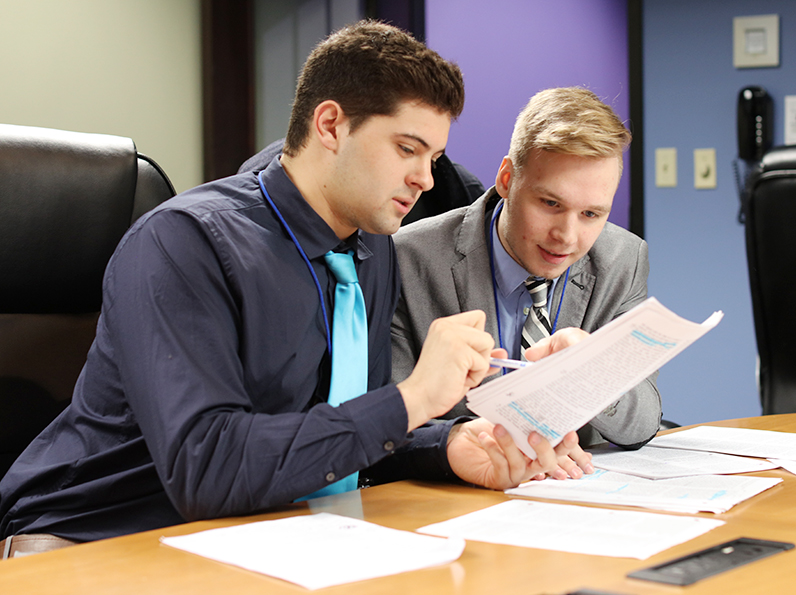 The team of Madison Burress and Alexander Erickson reached the semifinal round and finished 2nd overall at the competition.
"Our students worked extremely hard in advance of and during the competition to construct and deliver sophisticated legal arguments," said Dr. Robert Money, professor of philosophy and chair of the Philosophy Department at Millikin. "The results are impressive. It is an honor to work with such bright and motivated students."
Madison Burress received the individual award for Most Outstanding Novice Attorney. The award honors the student attorney with the highest cumulative point total over the first four rounds of competition.
"I could not have won the award without the help of my Millikin Moot Court peers, and especially not without the support of my co-counsel, Alexander Erickson," Burress said. "Moot Court gave me a glimpse of what it was like to be in law school, and gave me experience in the courtroom for my future career as a lawyer. I learned how to pour over cases, read them as closely and thoroughly as possible, interpret the cases in certain ways and draw comparisons between cases to construct effective legal arguments."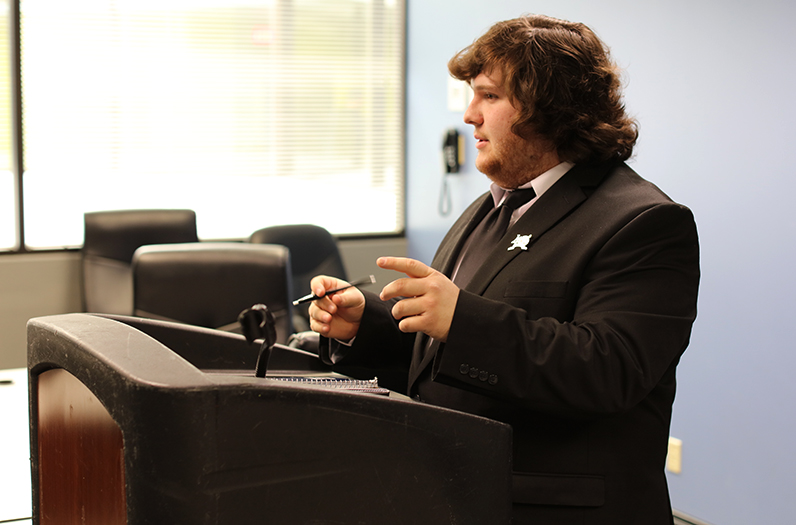 Lukas Myers was honored with the inaugural Robert Money Award for Excellence in Brief Writing. The award is given to the student attorney who submits the highest quality and most well written legal brief at the competition. The award is named in honor of Dr. Robert Money to recognize his vision of using written legal briefs to enrich student attorneys' educational experiences and improve the cogency of their legal arguments.
"Receiving the award was a huge honor. I am a much better writer than an orator and I think that is shown by the results of the competition, and speaks to the diversity of skills that the competition fosters," Myers said. "I treat the whole Moot Court experience like an in-depth strategy game in which I can try to stretch the case file to work for me."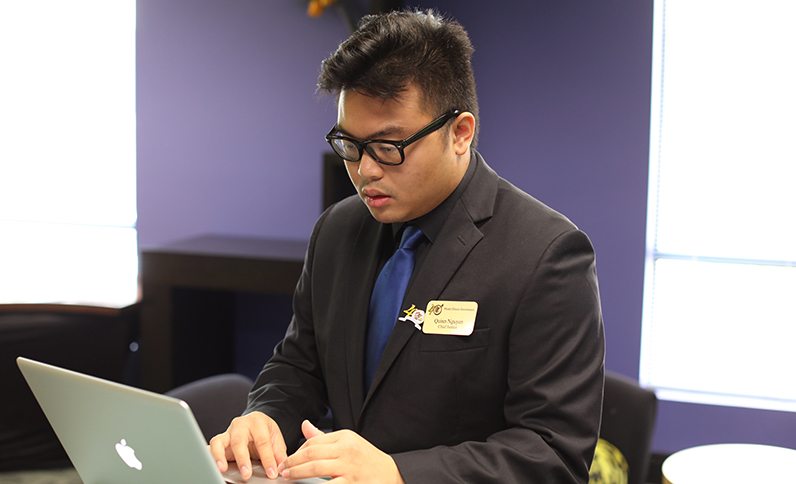 In addition to the students who participated as attorneys, Millikin student Quinn Nguyen, a senior biology major from Lincolnwood, Ill., completed his service as Chief Justice for the 2017-18 Moot Court Competition. Nguyen held numerous responsibilities including working with the case file author to generate the case problem, securing the services of professional attorneys to judge argument rounds, constructing the brackets, tabulating and announcing results and leading several informational and review sessions at the competition.
"This was an once-in-a-lifetime experience, mostly because my position allowed for me to serve students of the state of Illinois, rather than solely serving my campus," Nguyen said. "With that, I got to help design a fact pattern, learn how to plan and execute a simulation, and understand, for myself, what kind of leadership this job was going to entail. From this experience, I learned a lot of management and planning skills."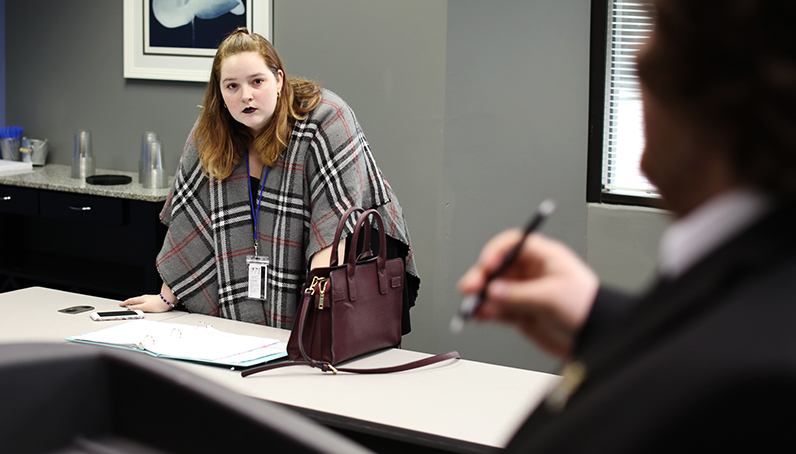 Nguyen implemented the legal brief competition at this year's Moot Court Competition to improve the competitiveness of oral advocacy.
"When competitions came around, I saw a noticeable difference in how some schools performed when they wrote one of these briefs," Nguyen said. "There were schools that did not do well in the past that did extremely well this year. With that, I am in talks with the new Chief Justice to keep the system in place."
Madison Burress noted, "From a hands-on learning perspective, this competition is unique and valuable because it allows students to be in charge of their own learning, and motivates them to do their best."
Alumni Contributions
The competition also featured contributions from the following four Millikin University graduates who served as professional justices.
Klay Baynar '11 received his J.D. from the University of Minnesota Law School in 2014. From 2015-17, Baynar served as a law clerk for Judge Susan N. Burke in Hennepin County District Court. Baynar is currently the law clerk for Justice Shirley S. Abrahamson of the Wisconsin Supreme Court.
Courtney Burress '16 worked for a year as a full-time, paid research intern for the Legislative Research Unit of the Illinois General Assembly. Currently, she works for the Fourth District Appellate Court in Springfield, Ill., where she works with law clerks and justices to edit, cite check and finalize drafts of the Appellate Court's opinions. Burress plans to attend law school in fall 2019 in the pursuit of becoming a human rights lawyer.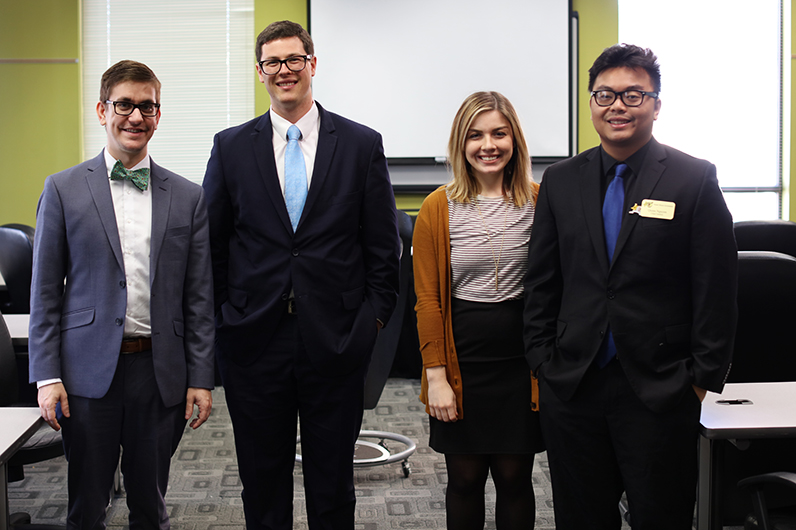 Dustin Clark '10 received his J.D. from the University of Wisconsin Law School in 2014. Clark worked at Cahill, Gordon & Reindel in New York from 2014-2016. He formed Clark & Jones in 2016 with Bob Jones in Rushville, Ill., where he currently resides and practices.
Josh Rose '15 is currently completing his third year of law school at the St. Louis University School of Law. After graduating from law school, Rose is set to begin work as an associate attorney at Danna McKitrick, P.C., in St. Louis, Mo.
Dr. Money noted, "The willingness of these alums to give back by serving as professional justices elevated the quality of the competition and, most importantly, improved the quality of the learning experiences available to all students, regardless of their institutional affiliations."