Practice interviews are important for job seekers; they help build confidence and relieve some of the stress that comes from the interviewing process. To help future educators prepare for the process, Millikin University's School of Education held its 5th annual Interview Boot Camp for students on Feb. 28.
More than 20 Millikin graduates, who are now school administrators from across Illinois, came back to campus to donate their day and interview over 30 Millikin seniors. The alumni helped the students prepare for what to expect in actual interviews.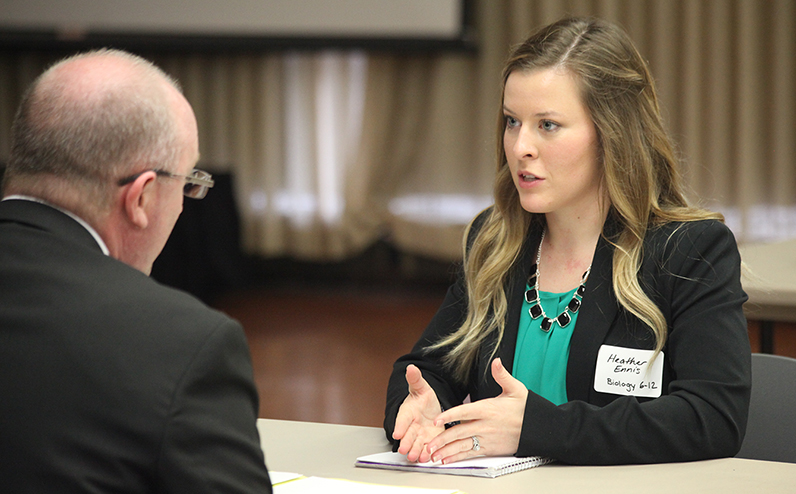 The boot camp was started by a few alumni as a way to give back in their own way to Millikin. One of the alums was Tom Mahoney '90, superintendent of CUSD #220 in Oregon, Ill.
"It's a great opportunity for alumni in the field of education to come back and meet with students, and expose them to what the interview will be like for them," said Mahoney. "We give them three or four opportunities to not only interview with a real administrator but also get immediate feedback on how they can become better and more polished as they enter the workforce."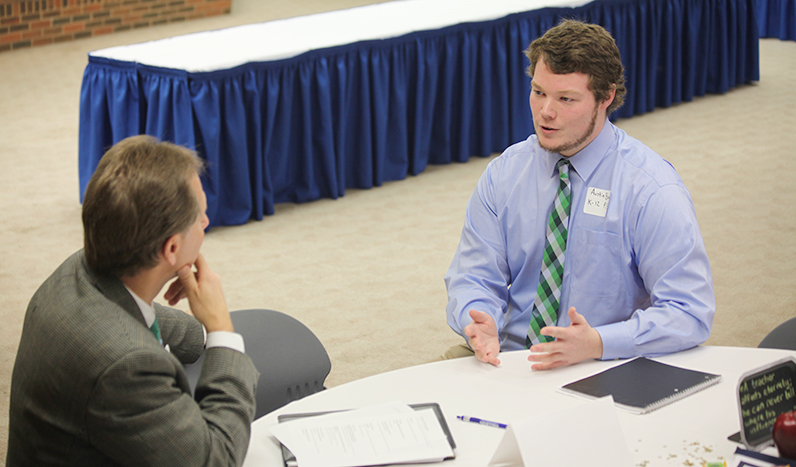 The boot camp included a panel discussion that covered topics such as what to expect as a first-year teacher and how to take advantage of networking opportunities.
I've gained valuable experiences in practicing interviews, making connections and getting feedback.
Heather Ennis, a biology secondary education major from Blue Mound, Ill., noted, "I'm hoping to teach at the middle school or high school level and this was a great introduction to the interview process. This was an opportunity to practice our answers to questions that you would normally expect in an interview."
Several Millikin students felt the event was a great confidence booster for future interviews including Matthew McCarty, a senior mathematics secondary teaching major from Belleville, Ill.
"I'm hoping to become certified as a high school math teacher," said McCarty. "What's great about the mock interviews is that I'm meeting principals, superintendents and people that are hiring in the field. I've gained valuable experiences in practicing interviews, making connections and getting feedback."
The interviews not only gave the students a chance to receive critiques about their responses, it was also an opportunity for alumni to find candidates for future positions.
"We're in the business to educate students so that they get better," said Mahoney. "I'm impressed with the direction the School of Education is going. Every year we've done the boot camp the quality of candidates has improved, and this year's group has been by far the best."