Millikin instructor leads musicians, entrepreneurs on a tour of the music industry
It's no secret that Martin Atkins has a grasp on how to make it in the music industry. A label owner, producer, successful author and drummer; you can say Atkins is the definition of entrepreneurial activity when it comes to music industry endeavors. A 40-year veteran of the industry, Atkins has been sharing his perspective with students at Millikin University as coordinator of music business – a position he's held since fall 2017.
When Atkins has an opportunity to talk about the business of music, people will listen. That's what happened Jan. 9-11, as Atkins hosted a three-day series of masterclasses, guest speakers and networking opportunities at Millikin's University Commons as well as various locations around Decatur, Ill.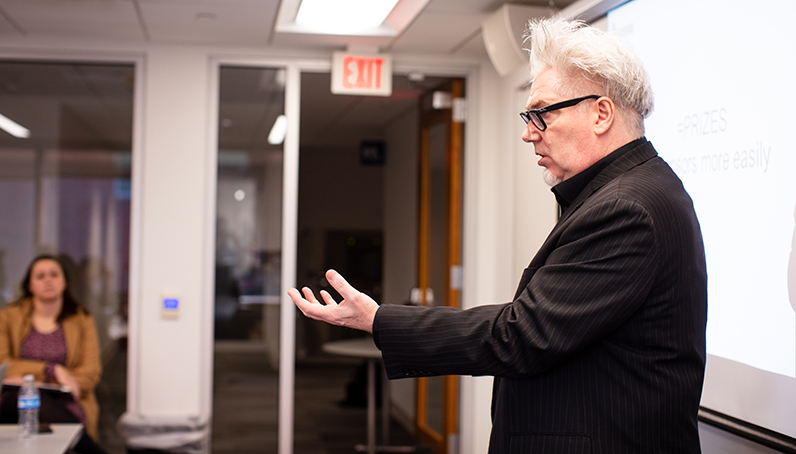 An audience of students, musicians, aspiring label owners, event planners and entrepreneurs came together for the series to engage in conversation, gain more knowledge about the industry and harvest new business ideas.
"There's this different path, and the stumbling blocks on that path are largely made by us," Atkins said to a packed classroom at the University Commons on Jan. 9. That particular day, Atkins addressed the topic of "making your show an event," one of many discussion topics throughout the series including merchandising, zero dollar marketing, packaging and distribution, touring basics and advanced ticketing strategies.
"You have to make the business work to make other things work," said Atkins. "If you fully grasp the DIY concept, and all of the building blocks that it will go through, it won't be a question of if you're going to make, it's just when."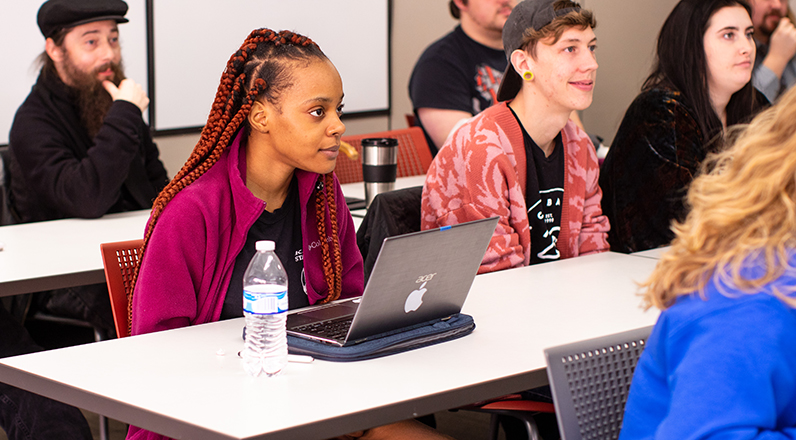 Millikin student Shawn Daniels, who plans to work in the entertainment industry under dance and music, took part in the masterclass to learn how to get her career started, not just financially, but when it comes to building relationships and connections to better adapt or grow as an individual in diverse communities.
"I wanted to learn from my peers' experiences and to be able to have conversations I never had, to ask questions I need clarity on or answers to," said Daniels, a senior entrepreneurship major from Chicago. "Martin's wisdom has stood out to me. He is not afraid to discuss his failures, his process of learning and his ability to keep going. Martin stated, 'There is no direct path and to let the path create itself.' My path has the possibility to shift, turn upside down, or just go a direction I never thought of. I have all the knowledge to do many things with, but it does not necessarily mean my painted picture will be as perfect."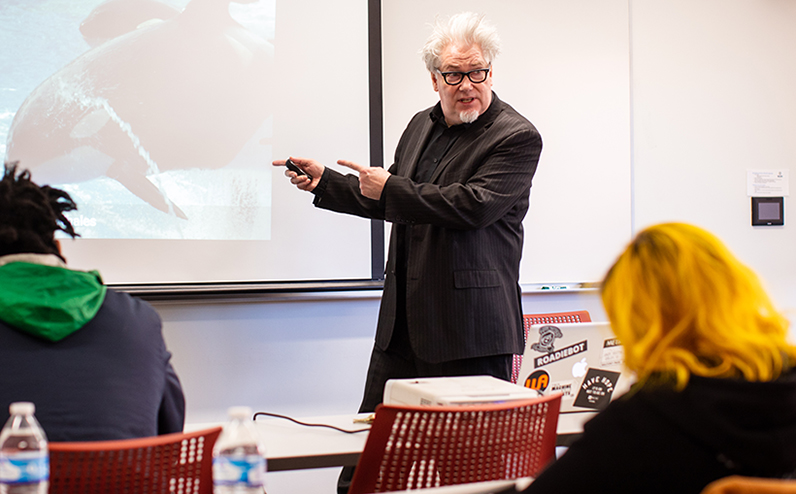 Networking opportunities and afternoon sessions where held at Decatur businesses such as BLDD Architects - home to Millikin's Idea-to-Incubator hub, Linda's Music Store, Blue Brew – Millikin's student-run coffee shop, Speakeasy Records and The River Coffee Company.
While at The River Coffee Company, Atkins, along with Eddie Sanders, founder of Chicago-based Freshly Baked Records and a practicing attorney with a focus on entertainment law, led a talk on copyright basics. Sanders' experience with both the creative and business side of the music industry offered a unique outlook on the issues concerning copyright laws in music.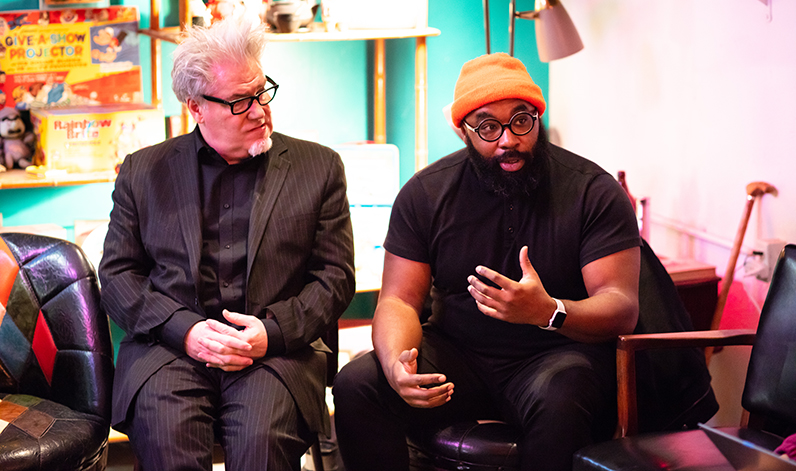 "Why are we doing any of this and what do we think success is?" said Atkins. "We can define success as what makes us happy. It wasn't until I realized what somebody else's idea was for me, that I realized it wasn't success."
Also in attendance was Millikin student Becca Husar, a junior commercial music major from Yorkville, Ill. Husar, a cellist studying at Millikin's School of Music, previously worked with Atkins during an informal internship where she went to South by Southwest as well as conventions in Tennessee and Georgia this past fall.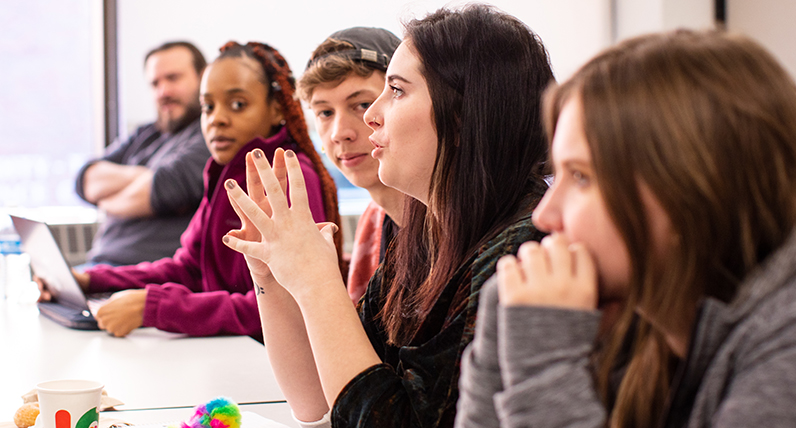 "I love being able to be a part of the class and ask deeper questions," said Husar. "I'm considering law school and I want to be able to understand how people, who have experience in the industry, can mesh creativity and business into one."
Husar said she never took into account the intricacy of the music business, and the amount of jobs and people that are involved. "It opens my eyes to the opportunities that I can have and it helps me see that if I'm not set on one goal right now, there are so many other aspects that I could go towards. That excites me because I love collaboration."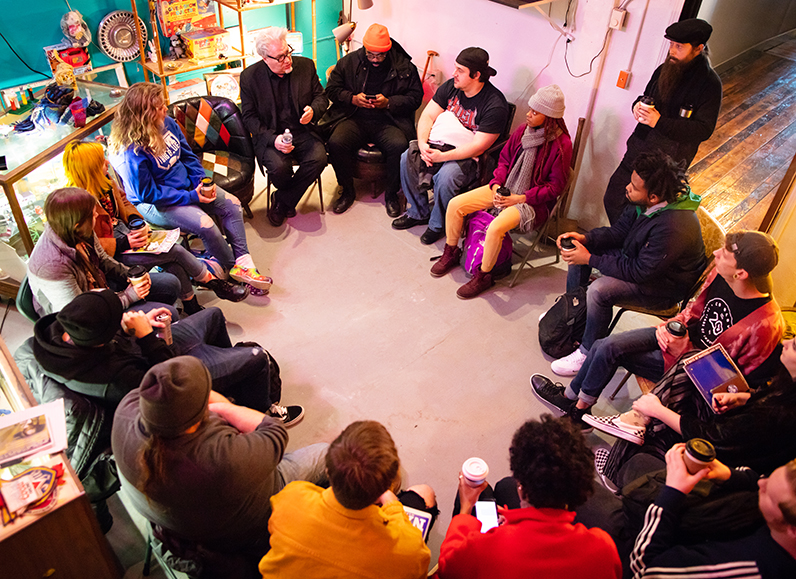 Shawn Daniels said she enjoys learning from people like Atkins who teach from experience. "He engages in conversation to assure people like myself not only understand, but pass on life messages that others may need."
Martin Atkins
Atkins' four decades in the music business spans across many genres, borders and industries. His experience in nearly every aspect of record production and promotion has given him a unique perspective not only on where the music industry is currently, but where it is going in the future.
Recently, Atkins was on the road sharing his expertise, first on Sept. 11, 2018, in New York City, where he talked about his five years in the group Public Image Ltd. (PiL), a band formed nearly 40 years ago by Sex Pistols front man, Johnny Rotten.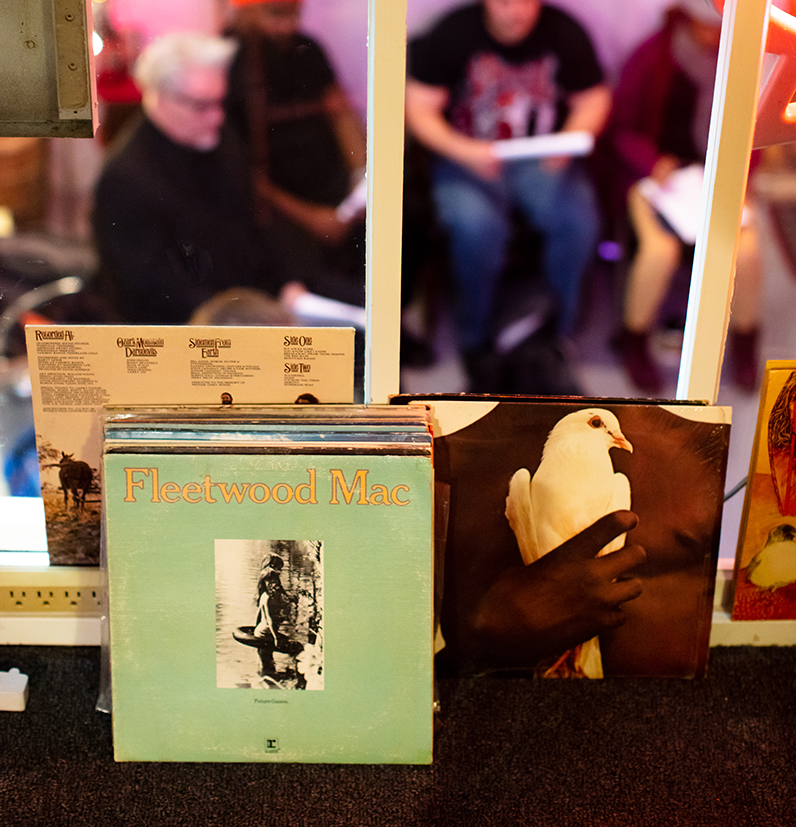 After touring the world with PiL and contributing to several more studio albums, Atkins left Public Image Ltd. in 1985. Over the next five years, he played with and managed Killing Joke and toured with Ministry. He also worked with Nine Inch Nails, performing on the Grammy Award-winning "Wish" and appearing in the "Head like a Hole" video.
Atkins began working on the business side of music in 1988 when he formed Invisible Records and then Mattress Factory Studios in 1996. Over two decades Invisible Records released over 350 albums.
In 2007, Atkins authored the book "Tour:Smart," a comprehensive guide that addresses the nitty-gritty of touring with instructions on how to secure venues and publicity, how to stay healthy on the road, and how to keep within a budget.