MU student and professor team up for research study on art therapy
Art therapy is a unique expression of creativity that can foster healing and well-being. Whether you are creating art or viewing other people's art, it can boost self-esteem, develop social skills, cope with stress and help explore emotions, but how effective is it?
Millikin University student and Presidential Scholar Kaitlynn Haskell, a senior art therapy major from Beach Park, Ill., has teamed up with Assistant Professor of Art Jonathan Haag, as part of the University's Undergraduate Research Fellowship Program, to explore if art therapy, done with incarcerated individuals, can be a viable therapeutic approach.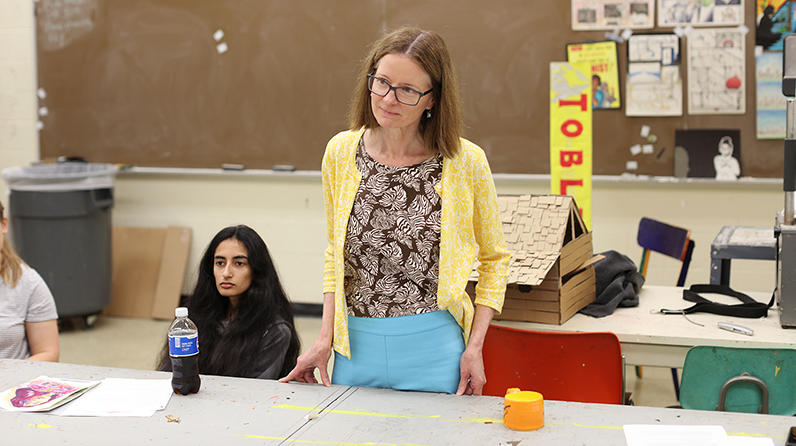 Kaitlynn Haskell
As part of the research process, Haskell is working with individuals at the Decatur Correctional Center in Decatur, Ill., with two basic objectives: to apply research to an actual group of 12 to 15 offenders, and to have the correctional center be more open to having art therapy students work with offenders in the future.
Currently, the research process is at a bit of a standstill because of the COVID-19 pandemic and the correctional center not allowing visitors this fall. However, Haskell worked with incarcerated individuals at the center back in spring 2019 as part of a 12-week art therapy internship program.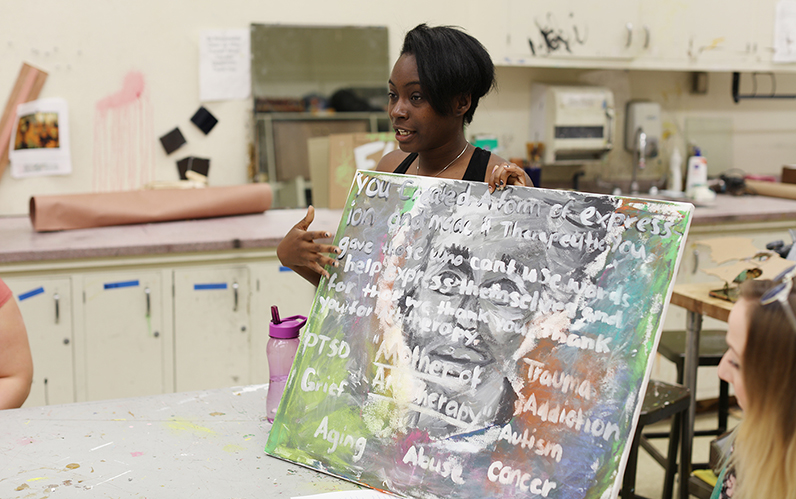 "Kaitlynn (Haskell) has been in the facility before and she was the best applicant by far in terms of conducting the research and applying some of the things she has found," Haag said.
Haskell noted, "I really wanted to do this project because I want it to be a viable site. It's providing me experience for what I want to do in the future and that's to work in these types of facilities."
Art therapy involves using creative techniques such as drawing, painting, coloring or sculpting to help people express themselves artistically and examine the psychological and emotional undertones in their art. Haskell sees herself becoming an art therapist who can help individuals better understand their feelings and behaviors through artistic expression.
"I was never satisfied with just doing art, I wanted to connect with people and do something where I actually help other people," Haskell said. "When I was looking at colleges, I didn't realize that art therapy was an option and now it's perfect because I get both sides of the spectrum."
Each year, Millikin's Undergraduate Research Fellowship Program pairs a student with a faculty member to perform in-depth research – one of the many graduate level opportunities students experience at Millikin. Working alongside Haag has been a unique learning opportunity for Haskell because of Haag's expertise in the field.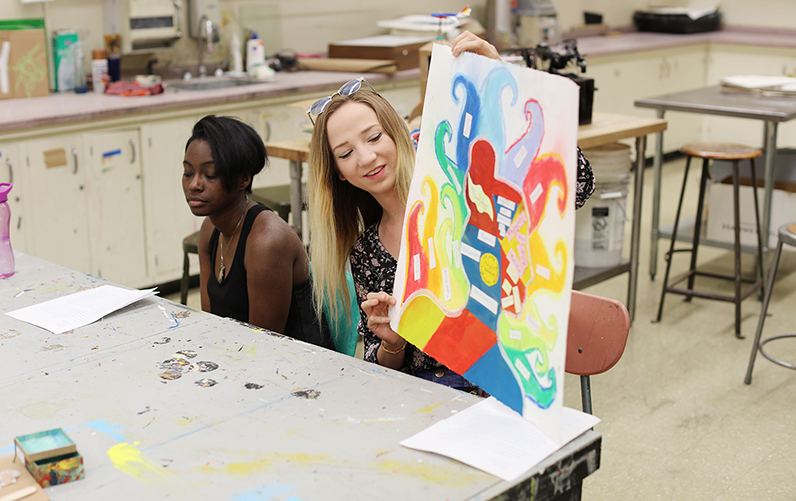 "It's nice because we get to bounce ideas off of each other," Haskell said. "It's great to have someone reassure that the projects I am doing would work. There is still so much I am learning about art therapy and I can go to him with any questions."
One of the projects Haskell is considering trying with the inmates is a "smural." Haskell came up with the idea based on actual murals after seeing previous research that shows how effective it can be with the incarcerated population.
"It's a bridge not only between them and the outside world, but it's also something concrete that they can say they've done that's productive," Haskell said. "We can make it a way where they can create separate pieces that are put together."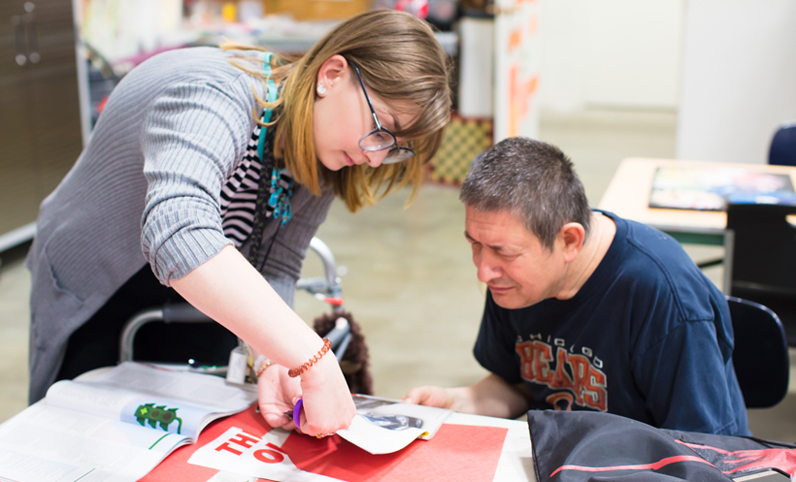 As an artist, Haag describes Haskell as versatile. "She's done sophisticated ceramic work and sculpture pieces. She's fluent in terms of painting and drawing. She's a very well-rounded artist in that regard."
Looking ahead in terms of the research study, Haag says they plan to create a 12-week group where Haskell will develop art activities. "The hope is that we can do the group activities in spring 2021 as part of an internship site."
Haag added, "Art therapy is a graduate-level profession, it's very much like counseling. The activities we are doing with Kaitlynn as an undergrad are intended to be life-enhancing, but not 'therapy.' I think it's a great fit for us to work with the facility on this research."