Millikin researchers study 3D-Printing Technology
3D-printing technology is paving the way for the low-cost design and fabrication of items. The technology is growing in many fields of research, including electrochemistry. As this scientific area continues to trend upwards, a pair of Millikin Leighty Scholars are researching how 3D-printing can be used to create electrochemical devices.
Under the guidance of Dr. Kyle Knust, Millikin assistant professor of chemistry, students Lyndsay Chapman, a junior chemistry major from Peoria, Ill., and Adam Peters, a junior chemistry major from Decatur, Ill., have spent the summer learning 3D-printing, understanding the properties and creating their own devices. The project is new to Millikin's scientific research offerings.
"Our long-term goal is to integrate electrodes into our 3D-printed devices for the analysis of harmful chemicals in tap water," Chapman said.
The students experimented with four different 3D-printing software programs, but they came to the conclusion that Autodesk Inventor was the best user-friendly program. The software is a computer-aided design application for creating 3D digital prototypes used in the design, visualization and simulation of products.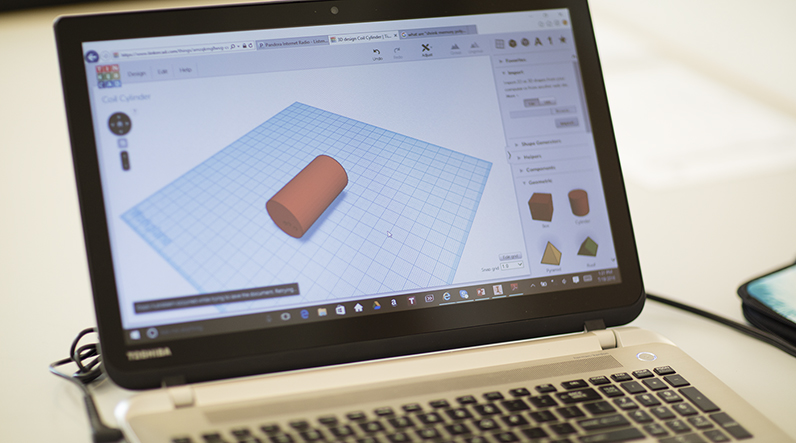 "When it comes to making really detailed electrodes and prototypes, Autodesk Inventor has been our best bet," Chapman said.
"We've really come a long way since we started," Peters said. "It's been interesting that we've gone from developing a cube to developing a device that has spirals. We've gone from creating basic structures to more detailed devices. It's been a good experience."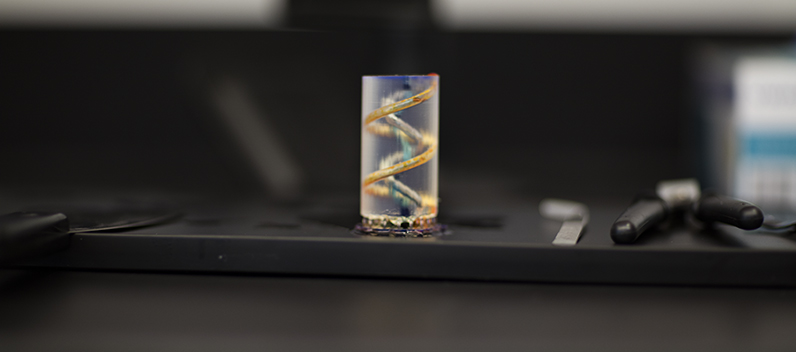 Dr. Knust noted, "The students have made quite a bit of progress and they're doing something that right now is considered cutting-edge. There are not a lot of people trying to integrate 3D-printing and electrochemistry."
We've gone from creating basic structures to more detailed devices. It's been a good experience.
Dr. Knust says the integration of 3D-printing with electrochemistry is becoming a field on the rise as printing technologies continue to advance.
"If the day comes where we can print metals and plastics on the same device, the field will rapidly advance," Dr. Knust said. "Strides toward this goal are already being made with technologies currently capable of printing conductive ink and plastic on the same device. Right now we're using a single material polymer printer which allows us to print the device, but requires subsequent manual integration of electrodes."
The students say the process of taking an idea and developing it into a physical device on the printer takes quite a bit of time.
"A knowledge of computer-aided design and 3D-printing or additive manufacturing are highly transferrable skills that are valuable to chemists with the interdisciplinary nature of science," Dr. Knust said.
In addition to the stereolithography (SLA) printer Chapman and Peters are currently using, Millikin's Chemistry Department will be adding a fused deposition modeling (FDM) desktop printer in the near future to help with the research.
"The reason I picked this project was to expand my horizons in chemistry," Chapman said. "A lot of the chemistry I've done has been very chemical-based and this will give me experience in engineering."
Each summer, Millikin University's Leighty Science Scholarship Program provides opportunities for students in the natural sciences to work on graduate-level research projects. Leighty Scholarships are awarded to first-year science majors and include a $3,000 stipend for science research conducted between their sophomore and junior years.
The John and Ula Leighty Science Scholarship honors Dr. John Leighty, a 1931 Millikin graduate, for his contributions to science. Leighty is best known for his achievements while working at the Eli Lilly Company, where he collaborated with the research team that first produced penicillin.