Blue Review All Access: Long-Vanderburg Scholar on pace to become international physician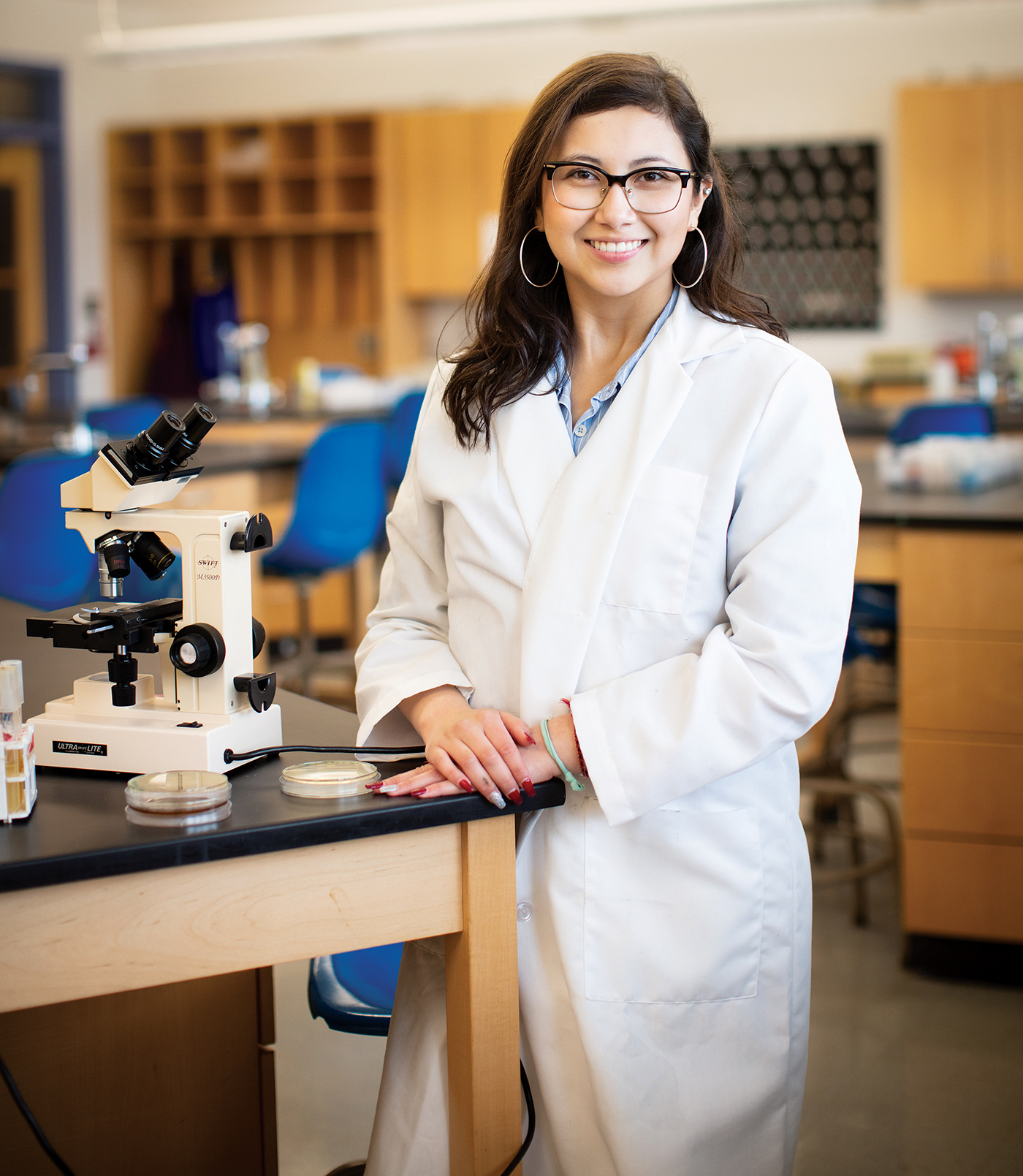 It's a Friday morning in the University Commons at Millikin University as Rubi Rodriguez enters the building after taking an exam in the Leighty-Tabor Science Center – a spot she's grown accustomed to as a senior pre-med biology major. You could say Rodriguez has found her "place" in the Biology Department, as well as with a variety of programs at Millikin University.
Rodriguez is a Long-Vanderburg (LV) Scholar, but it doesn't stop there. She is a Long-Vanderburg Mentor, Leighty Science Scholar, a member of the Beta Beta Beta (TriBeta) National Biological Honor Society and Alpha Lambda Honor Society, the secretary of TriBeta, and the president of the Latin American Student Organization (LASO).
The Long-Vanderburg Scholars program was founded in the name of Millikin's first two African-American graduates, Fred Long and Marian Vanderburg. It is a signature program for underrepresented students who are interested in having foundational conversations about social justice, diversity and inclusion. It's being an LV Scholar that has helped Rodriguez find her identity.
"I'm finding my own sense of leadership and ways to not only help myself in general ways of life, but also help others advance by being an LV Mentor – I can help others find those identities and either come to terms with them or accept them," she says. "All of your different identities make up who you are."
Tonya Hines, assistant director of inclusion and student engagement at Millikin, says experiences from the LV program have helped Rodriquez grow in confidence. "Her involvement in many programs has contributed to her growth. She's using all of her experiences in class and working closely with me behind-the-scenes to see the work we do with the different LV students, and using those skills as a mentor. She is feeling liberated and free to be who she's wanted to be."
Born in Mexico, Rodriguez grew up in Wauconda, Ill., after moving there when she was six years old. She chose Millikin for its heavy concentration in pre-professional studies with hands-on practices to prepare for medical school, including preparing for the Medical College Admission Test (MCAT).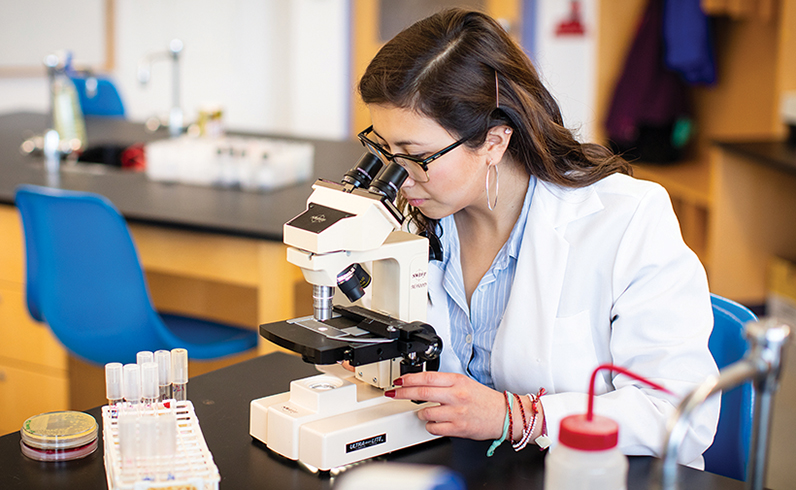 As a Leighty Science Scholar, Rodriguez is part of an elite group of Millikin science students who have the opportunity to do graduate-level research. Rodriguez took advantage of this opportunity by engaging in a research project at the University of Illinois at Urbana-Champaign. Rodriguez's work focuses on genomic research, which involves the sequencing of fungal genomes. Her research is contributing to an ongoing study through the National Institute of Health (NIH).
"It's a hot topic because by looking at the genomes, we'll be able to see what distinguishes them in their characteristics, and in doing so, that could be the foundation for further research down the line at either our lab or other labs," said Rodriguez. "It's an opportunity for the scientific community to find anti-fungal medications or targets that may be most prominent to those fungal species."
Because of Millikin's emphasis on Performance Learning, students at Millikin are able to get out into the field and gain experience right away – something Rodriguez says is incredibly important especially in the area of science. "You're able to see what branches you like. For instance, if I realized I didn't like medicine I might like research better because I've had the opportunity and because of the genuine interactions I've had with the professors," she said.
Rodriguez added, "Being such a small school and having a focus on Performance Learning gives students the ability to learn what we like. It allows us to find our passion."
After graduation, Rodriguez plans to pursue medical school to become an international physician through programs such as Doctors Without Borders, an organization that provides lifesaving medical humanitarian care to people in need around the world. The LV program also played an integral part of this decision because of the opportunities she was given to travel broad and interact with other cultures.
Recently, Rodriguez went to Peru for medical volunteering through a program called Foundation for International Medial Relief of Children (FIMRC).
"We did a lot of community outreach, and through that, I was able to realize that this is what I want do – this is the type of interaction I want to pursue and these are the type of people I want to have that genuine exchange with," said Rodriguez. "I want to give them access to the health care they deserve."
For international medicine, there are several branches. Licensed physicians can work on their own or they could work with volunteers and organizations like Doctors Without Borders. It's up in the air as to whether Rodriguez wants to do international medicine long term, but at the moment, she's looking at all the possible branches.
"Whether it's Doctors Without Borders, volunteer methods or non-profit organizations, I can still contribute positively," she said. "After having the exposure abroad, I do think practicing medicine internationally and providing that aid is what I was meant to do."