Student-run film company brings together creative and business elements
When it comes to Millikin University's hallmark learning model of Performance Learning, there is perhaps no better embodiment than its numerous student-run ventures. One such venture on campus is video production company, 1901 Productions. Instructed by Johnny Power, instructor of arts technology and administration at Millikin, 1901 Productions effectively marries the creative and business elements of running a business in the arts industry.
1901 Productions is one of the newer student-run ventures on Millikin's campus. The idea for the venture was introduced in 2019 with 2020 graduate Justin Taylor's capstone project and his interest in creating a film company. Taylor, along with Power, worked an entire semester to lay the groundwork for 1901 Productions, deciding together on what they wanted the business to be and how they wanted it to run.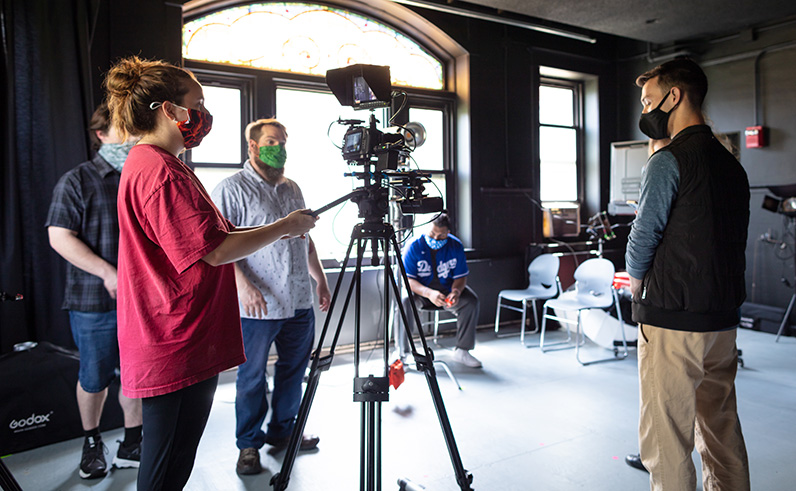 "We looked at a lot of different models on campus, particularly Pipe Dreams Studio Theatre," said Power. "We wanted to make our own autonomous narratives. So we decided on having a creative side and a business side." Students participating in the venture are encouraged to both find a role that fits their strengths or to try a new role or skill to broaden their experience.
Power said that the creative side handles details such as finding talent, obtaining screenplays and scouting locations, while the business side deals with contracts, money, advertising and marketing. These distinct sections of the business work together to make decisions to benefit the venture, and true to the Performance Learning model, Power chose to take a step back and let the students solve problems amongst themselves.
"That was the biggest challenge for me," Power said while discussing his involvement as an instructor in the student-run venture. "They are supposed to make the decisions and they are supposed to succeed or fail on their own merits. How much influence do I have to get us a good product without telling them what to do and really taking away the point of a student-run venture?"
Students participating in 1901 Productions are exposed to a wide variety of skills and knowledge to set them up for future career success, even if that career is not in the arts. "The important lessons that students learn in this class are time management, organization and working within a group, and those are imperative no matter what you do," said Power. "It doesn't matter if someone is a nursing major or an arts tech major; these skills translate."
The time spent in this venture also allows students to boost their professional résumés and portfolios before graduation. Giving students the opportunity to be part of projects that are more than just assignments provides them with the experience they need to hit the ground running with their careers following graduation.
"This class is incredibly valuable for anyone in art tech, art or even business. There are so many opportunities from writing contracts to starring in projects that our students can use to build their résumés," said Power. "Even though this is a class, I see it as a venture first, so the things we work on are real-world experience."
Since 1901 Productions began, the venture has worked with other disciplines and student-run ventures within the University, including Dr. Jeremy Brunk's percussion ensemble and Dr. Cory Seapy's wind ensemble. Along with these collaborations, they are working on their own film projects, keeping in line with the original mission of creating autonomous narratives.
"We have done one sizzle reel ourselves and want to eventually move on to doing a feature film," said Power. He went on to explain the next school year's project, which consists of four short films, around 45-60 minutes in length, with a common "through" element, such as a theme, location or subject. The class plans to film two productions in the fall semester and two in the spring semester.
While working to create its own films, 1901 Productions provides Millikin students with the chance to participate in all parts of the filmmaking process, from compensating actors to learning camera and lighting. More than just that, however, the student-run venture helps set students up for success in careers, in the arts and beyond.