Summer Project exposes Millikin student to graduate-level research
During the summer months, most students say that time flies. Elexis Richardson, a Millikin University junior from Carbondale, Ill., has a different take on that popular phrase as she performs her summer research project for the Leighty Science Scholars Program.
Richardson's project, which examines the effect of female/male ratios on female life spans in Drosophilia melanogaster, more commonly known as fruit flies, is exposing her to graduate-level research well before her planned graduation in 2023.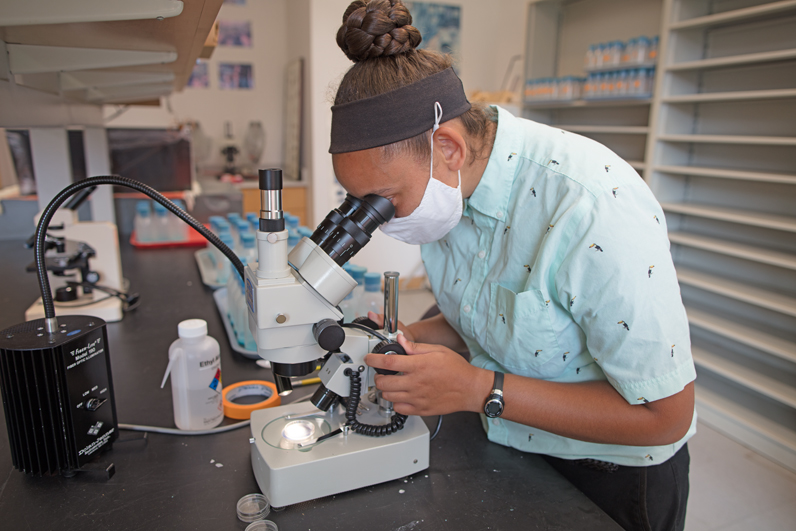 Elexis explained that the original idea for her project came during her animal behavior class. While discussing maintenance, growth and repopulation of organisms, she asked the question that became the basis for her research: "Is there a tradeoff between maintenance and reproduction?" Under the guidance of her adviser, Dr. Marianne Robertson, professor of biology, advice from other professors within Millikin's Biology Department such as Dr. Travis Wilcoxen, associate professor of physiological ecology, and with the support of a $3,000 stipend to fund her research, Elexis started researching the answer to her question.
Initially, Elexis had not planned to spend her summer with a vast collection of fruit flies. "I wanted to do my project with spiders at first, but Dr. Robertson told me that was going to take a long time, so we decided on flies instead."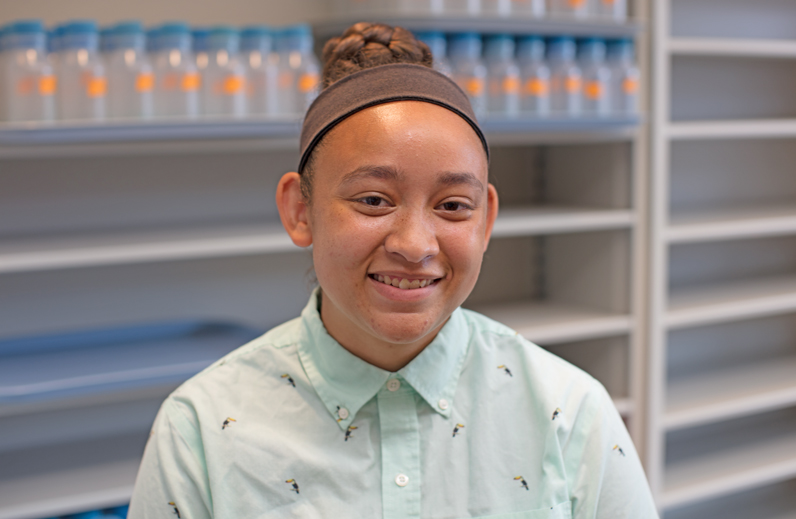 Since starting her research, Elexis says that she has learned a lot of valuable lessons, both about the fruit flies and skills she needs to succeed in the future. "I had to learn a lot of patience and I also learned that the idea of the flies' sex ratio being fifty-fifty is not true," Elexis said. "My skills with the microscope have really improved and I've learned strategies about how to research things effectively."
Once she uncovered the answer to the question that inspired her research, Elexis continued to expand upon her work by experimenting with different ratios and collecting flies to track female/male ratios and measure lifespans. Once her research is complete, Elexis' work will continue to benefit Millikin students since the Biology Department has purchased an incubator to facilitate future research projects involving flies.
While discussing the overall experience of her summer research, Elexis stated that the opportunity to perform in-depth research during her undergraduate career is unique and one that she is grateful that Millikin offers.
"It's really cool to be able to say that I've done graduate-level research," Elexis said. "I'm glad I've gotten to go through the whole process and I'm going to be a lot more confident when I get to vet school and need to do a research project."
As a biology major with a minor in gender studies, Elexis is preparing to attend veterinary school after graduating from Millikin. She plans to be a zoo veterinarian and credits Millikin's support for preparing her for the next step toward her career.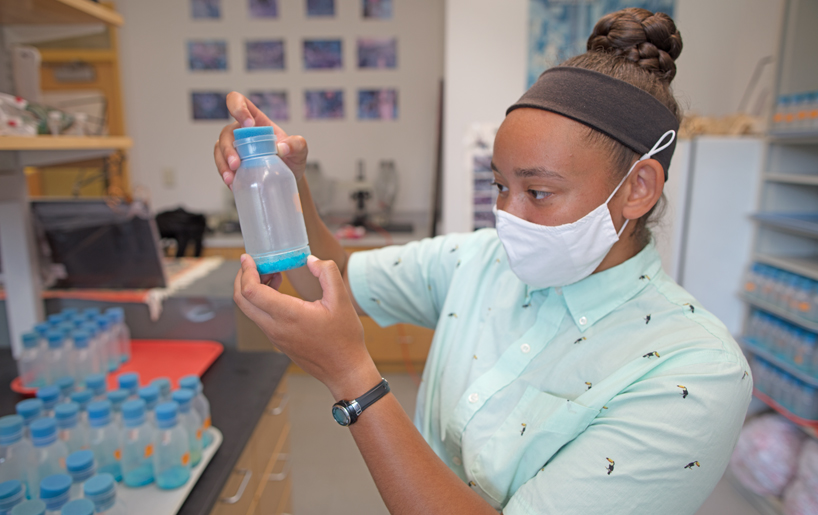 "Millikin has done a really great job of supporting my research," Elexis commented, discussing how she has benefited from being a Leighty Science Scholar. "My professors are so enthusiastic and supportive through it all. Having professors like that really makes a difference."
The Leighty Science Scholars Program awards high-achieving biology, chemistry, physics and pre-engineering students with graduate-level research opportunities and a stipend to perform summer research between sophomore and junior years at Millikin. For more information, visit millikin.edu/leighty-science-scholars-program.