Millikin students build global branding strategy for Ecuador tourism
The words "biggest consulting project" may seem intimidating, especially for a group of college students asked to conduct a real-life project for not just a company, but a government.
Over the past few years, Dr. J. Mark Munoz's International Business Consulting course at Millikin University has been providing students with many unique learning experiences. For example, students from a previous course worked with the African country of Zambia to develop a microenterprise zone to help the country's economy.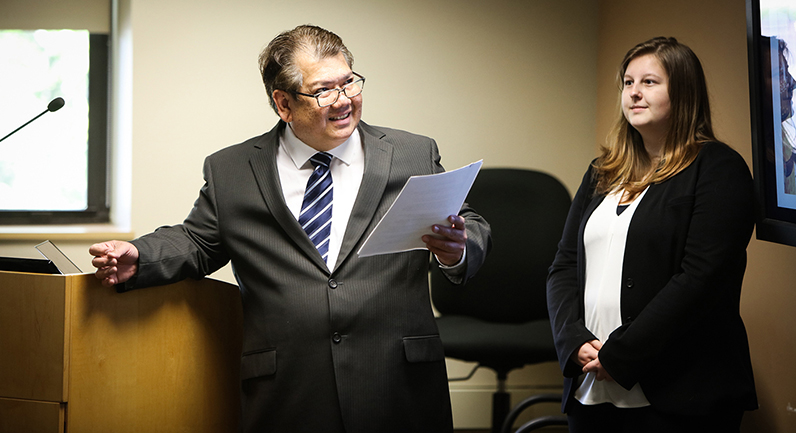 Two years ago, the class worked with the government of Ecuador to develop a U.S. market entry strategy for Ecuadorian handicrafts. Flash forward to 2019 – the government of Ecuador once again approached Dr. Munoz to have his class take on a branding strategy project for the Ecuadorian province of Imbabura to help boost tourism.
But as conversations about the project went on with Borys Mejia, trade commissioner of Ecuador, the project evolved into something more.
"Borys informed us that the head of tourism for the country of Ecuador got wind of the Imbabura project and asked us - How would you guys like to do the branding strategy for the whole country instead?" said Munoz, professor of management. "The tourism director was interested in what we've done in the past and they wanted to elevate the project from a province to the whole country. We decided to go for it – it's the most ambitious project ever in terms of our consulting work at Millikin."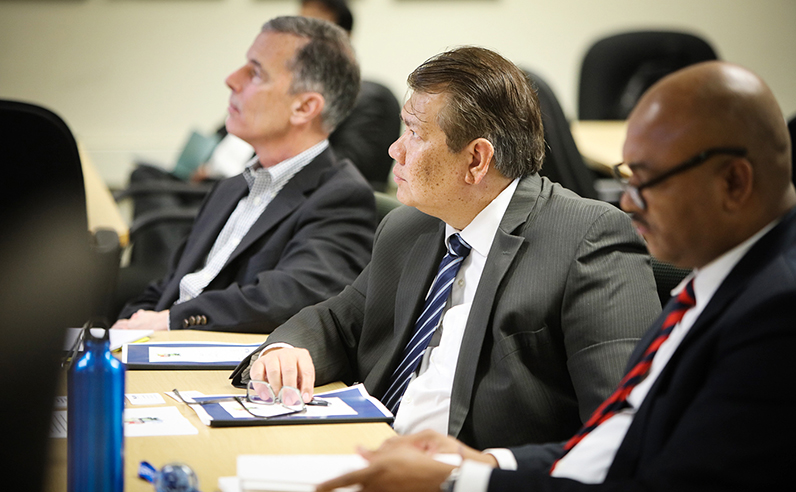 In 2010, Ecuador's Ministry of Tourism launched a campaign called "Ecuador Love Life" to promote the nation as a destination for tourists. The campaign highlighted Ecuador as a place with four worlds where visitors could have different experiences and "love life." The promotion results were successful.
Since then, "Ecuador Love Life" has been the slogan to promote exports and tourism, and attract investments. This year, however, the Ecuadorian government decided to modify the country brand in order to refresh the image of the nation – enter Dr. Munoz's International Business Consulting class.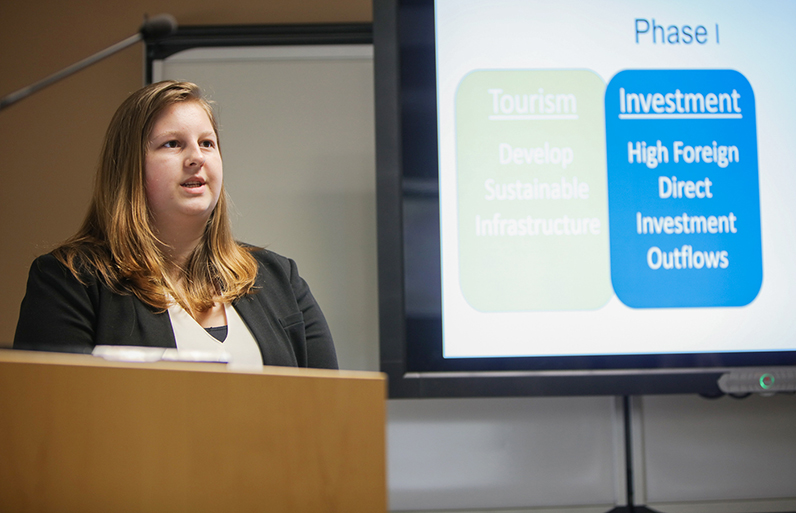 Tasked with the project, the class, consisting of eight students, began working on the new brand strategy in January.
"The students did a lot of primary research. In the past, we relied a lot on secondary research to get our work done. This project offered a little more value because we did the research ourselves," said Munoz.
During the semester, the students conducted a focus group discussion for U.S. consumers and a focus group discussion for frequent travelers and high level executives to get their perspectives on Ecuador. They also conducted a survey covering the entire U.S. with over 100 respondents, as well as an online survey for Ecuador with help from the Ministry of Tourism.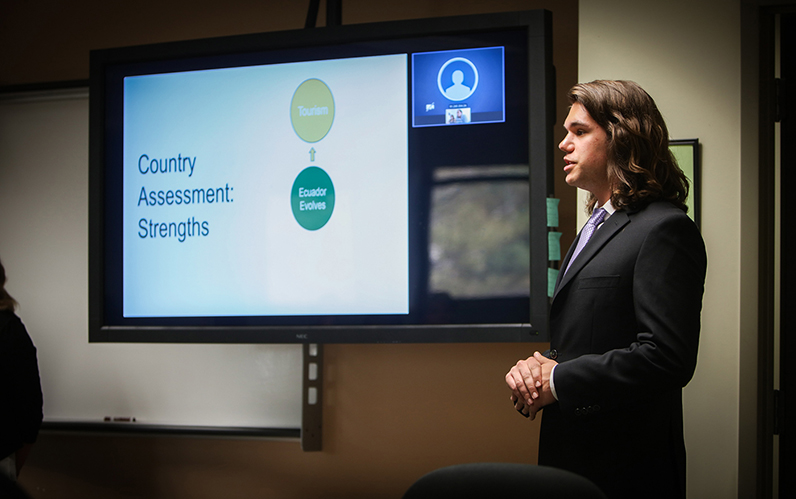 "We covered a lot of data points, but we also interviewed many branding experts from around the world such as Spain and London. These were CEOs who have created branding strategies for other countries," said Munoz. "We also interviewed diplomats and investors."
The objective of the project was threefold: to help the country export more products; to improve tourism; and attract investments.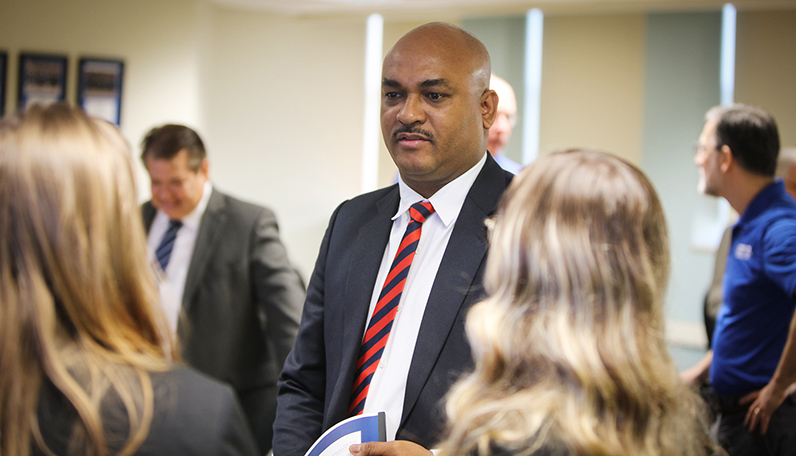 After months of research and preparation, four students from the class presented the branding strategy on May 22 in ADM-Scovill Hall on Millikin's campus. Millikin business faculty members, including Ecuador Government official Nel Mosquera, vice consul general, were in attendance as well as other Ecuadorian Government officials who joined via Skype and by phone.
The Millikin students who presented were Olivia Brewer, a senior entrepreneurship major from Moweaqua, Ill.; Loren Agee, a senior business management major from Maroa, Ill.; Luka Lubecki, a senior accounting major from Janesville, Wis.; and Michael Covelli, who recently graduated with a Bachelor of Science in Management, from Lockport, Ill.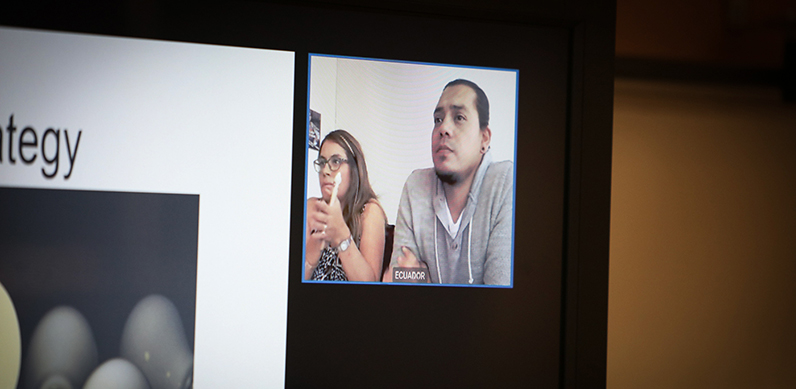 "From the beginning, our goal has been to showcase how Ecuador can transform its global positioning through tourism, investment and trade," Brewer said during the presentation. "We firmly believe that Ecuador has a huge opportunity to enhance its global position and we hope you leave here today excited to turn this vision into a reality."
The end result of the students' work was a strategy called "Ecuador Evolves: A Global Branding Vision."
"Ecuador has evolved in recent history. From the interconnectedness that results from tourism, to dollarizing the economy in response to globalization, Ecuador has made positive changes," said Brewer. "However, in order to maintain a competitive global position, Ecuador must continue its forward progress."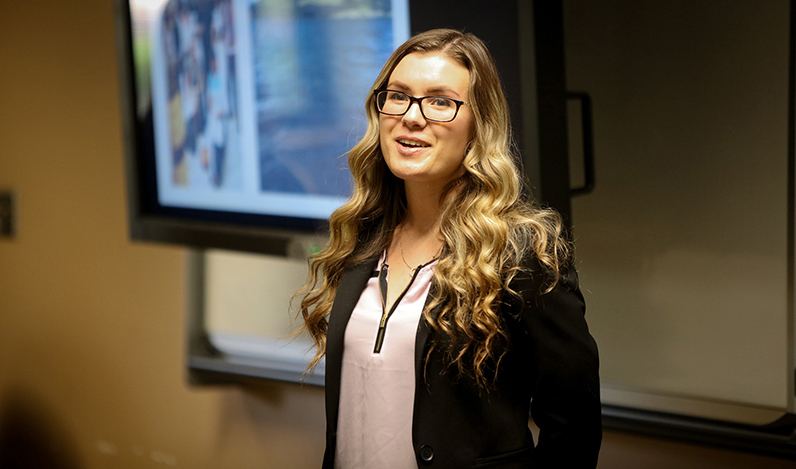 Throughout the presentation, the students provided an assessment of the country – looking at international market demands, primary research, investments and impact. The students found four key assets to include in the "Ecuador Evolve" brand. Among those assets was Ecuador being an ideal ecotourism destination due to its diverse culture.
In an interview with the Herald & Review, Loren Agee says she enrolled in the class because she thought it would be a good resume builder and an exciting opportunity. "It did a lot for my confidence in being able to produce a report that size," she said. "It developed my presentation skills to create something for an entity as large as the Ecuadorian government."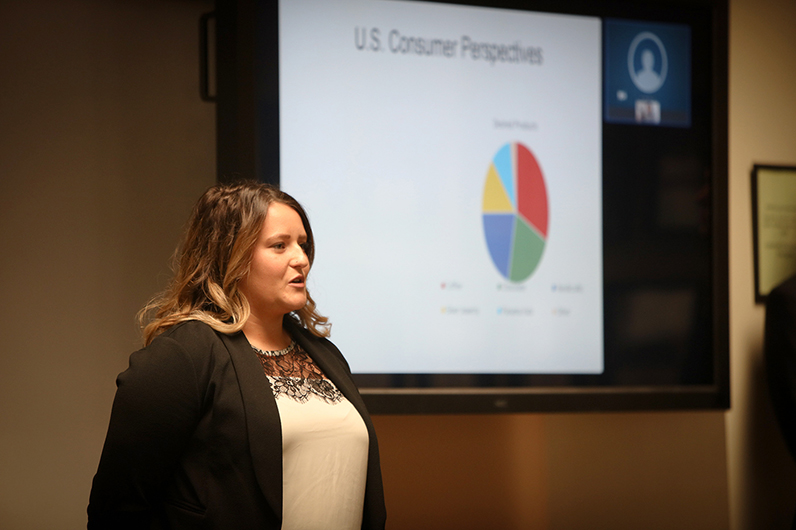 Olivia Brewer said the group put in countless hours of work leading up to the presentation.
"We believed in the project and the fact that it was a bigger project than most undergraduates have the privilege to do, that kept us going," she said.
The feedback from the government officials was positive, noting that the strategy could be used as a framework to build a branding campaign.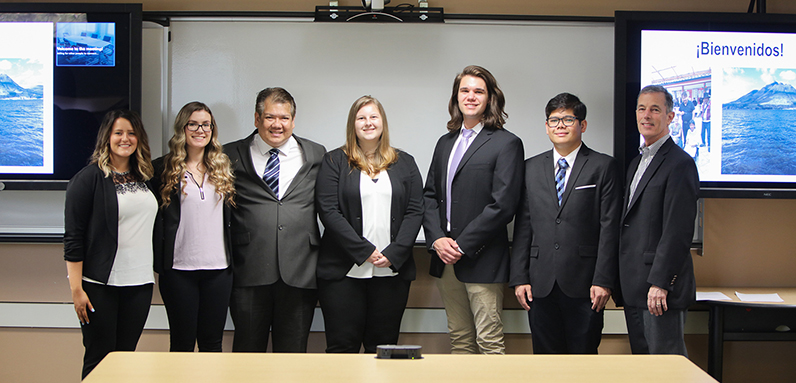 "The Tabor School of Business allows for this type of project to happen and not many schools have these type of opportunities," said Munoz. "The report was timely in the sense that they're trying to come up with their own branding company and wanted to know what are the things we should be thinking about? It's a unique experience for the students."
Olivia Brewer added, "This was an experience where we were completely submerged in the process for the very first time. I've always enjoyed consulting and taking a lot of information, finding the key points, and transforming that into a vision. This was a large-scale way to test that out."