It's not often that theatre students collaborate with a professional playwriting team to develop a new musical production. The New Musicals Workshop, through Millikin University's School of Theatre and Dance, takes that process of collaboration to the next step, a step where students get insider access to writing and finessing works for the musical stage.
Celebrating its 10th anniversary in 2017, Millikin's New Musicals Workshop provides different experiences, styles, approaches, experiments and people with which to collaborate every year. This year is no exception as Millikin students worked with the playwriting team of Sam Carner and Derek Gregor.
"We know from alums that the relationships developed in the workshops carry over into opportunities in their professional careers," said Lori Bales, associate professor of theatre and dance at Millikin. "Students are often called by our writing partners to help further develop material because of the partnership experiences garnered through the New Musicals Workshop."
The workshop provides professional writers with a laboratory environment where they can use the talents, skills and resources that Millikin theatre students and faculty have to offer. Millikin students have the opportunity to serves as actors, production managers, stage managers, directors, accompanists, coaches and apprentice playwrights.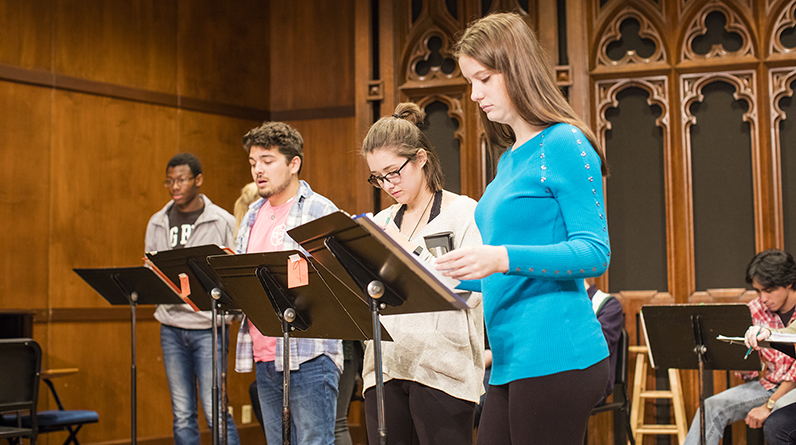 This year's cohort workshopped Carner and Gregor's "Unlock'd" and "Island Song." "Unlock'd" was presented in a public showing on Jan. 23, in Kaeuper Hall on Millikin's campus. "Island Song" garnered five MAC-nominated songs and was being workshopped for licensing. "Unlock'd" was produced off-Broadway at the Duke Theater in summer 2013 and was being workshopped for a large production in Houston, Texas, in early 2018.
"The format of the workshop meets all professional standards and expectations in the development of new musicals," Bales said. "In this workshop the students put into practice all curricular objectives. The theory and technique get 'real-life' practice in a room with professional third party stake holders. The end result is a symbiotic relationship; artists collaborating with artists to develop new art."
The New Musicals Workshop was first developed and piloted by Lori Bales with musical direction by Kevin Long, artist-in-residence at Millikin, in 2007 after Bales attended the National Alliance for Musical Theatre's (NAMT) annual conference. NAMT is a service organization whose mission is to support the development of new musicals; Millikin has been a member since 2004.
"Working with professionals provides students with a stronger sense of confidence and assurance that Millikin has prepared them for professional success," Long said. "This impacts their technique in that they have a greater understanding of the relationship between the music and the written text with a deeper, more sophisticated perspective."
It's a process that's always changing and it keeps you on your toes. The opportunities are limitless, and that's exciting.
To celebrate the 10th anniversary, this year's cohort hosted a "Silver and Gold Cabaret" on Jan. 22 in Kaeuper Hall. The cabaret featured material from Carner and Gregor's "Island Song" and student writers as well as honored the collected works of Michael Kooman and Chris Dimond. Kooman and Dimond are the first solo writing team to develop a new musical with the workshop, and received the first developmental production on Millikin's School of Theatre and Dance mainstage production season.
Seventeen students took part in this year's New Musicals Workshop, 15 were cast members and two were stage managers/production assistants.
"I like to refer to the workshop as a living thing; the show is constantly evolving and changing," said Allison Atkenson, a senior musical theatre major from Palos Park, Ill. "Having the opportunity to collaborate with these writers that are so open to seeing their work change is eye-opening. To potentially be part of a show that might go to Broadway is incredible."
Jake Wagner, a senior theatre major from Dallas, Texas, says the New Musicals Workshop is a stepping stone to bigger things. "We get to come in everyday and give a hundred percent for someone else's work, and it's more rewarding work ethic wise. It forces us to live in adaptability and it falls back on Millikin's overall statement of Performance Learning," Wagner said.
As a stage manager, Elizabeth Pillow, a junior theatre major from Evansville, Ind., says the workshop is more rigorous than any other production she has worked on. "It brings a whole new realm of challenges. It's a process that's always changing and it keeps you on your toes. The opportunities are limitless, and that's exciting," Pillow said.
Previous workshop collaborations over the past 10 years include: "An Evening with Andrew Lippa" in January 2014, "String" by Adam Gwon and Sarah Hammond in November 2013, "Getting There" by Ben Morss and Les Hunter in January 2011, and "Golden Gate" by Michael Kooman and Christopher Dimond in spring 2011.
"We are so honored to make the acquaintance of Sam Carner and Derek Gregor," Bales said. "We've been hoping to work with them for years as well as have the opportunity to bring back Michael Kooman and Chris Dimond. Our professional partners have been extraordinary artists and we feel so blessed to have worked with them all."
Sam Carner noted, "It's always a wonderful thing, as a writer, when you are given the opportunity to develop a production, and Millikin has been so generous to offer us that chance."
View Coverage