Millikin annual event puts student work in spotlight
Millikin University's Celebrations of Scholarship can be summed up in two words, academic achievement. Each year, Celebrations of Scholarship gives students a day to present a years' worth of research, scholarship and creative efforts to the campus community. This year's event, held April 27, featured a variety of presentations in the areas of fine arts, science, business, nursing and more.
Multiple sessions were held across campus including freshmen focus panels, original research efforts from honors scholars and scene work presented by theatre students.
"Celebrations of Scholarship is an annual event that gives us a chance to really showcase the work that students do. We are committed to Performance Learning, and that means every student is expected to be involved actively in the doing of their discipline," said Millikin Provost Dr. Jeff Aper. "The students are going to be involved in the field in doing the real work that professionals do. We believe that students have the best opportunities to learn and develop their skills when they do the work."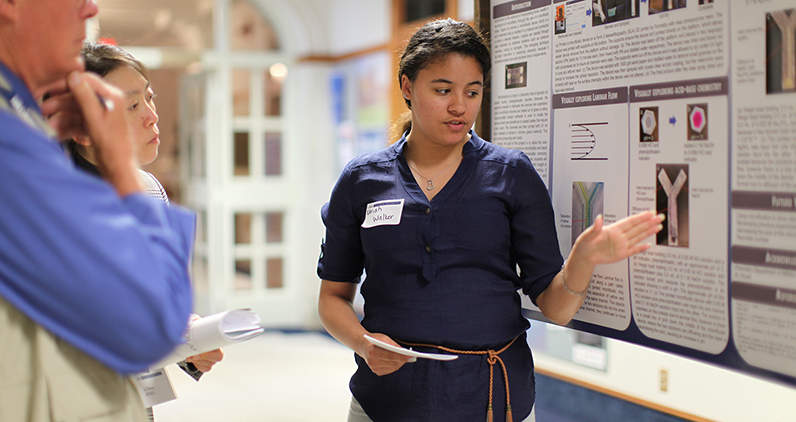 Among the morning sessions on April 27 included student Diamond Turner, a senior psychology major from Decatur, Ill., who shared an informative presentation on the "Stroop Effect" and how our brain's reaction time is inhibited when introduced to conflicting information.
Amber Marler, a junior early childhood education major from St. Louis, Mo., and six of her classmates, presented their findings from child case studies they completed during their course, Child Development. The students highlighted the milestones that their child achieved in each of the major domains of development.
In reference to what she learned, Marler said, "Now I can see a child in the classroom and ask what is the possible reason this child is acting like this."
Dr. Aper added, "Every major has opportunities for students to be engaged in the work of their discipline. If you spent the whole day going from session to session, what you would find is students talking about their active involvement in the life of their study. I think the students are amazingly articulate as far as their ability to talk about what they've done and why it matters."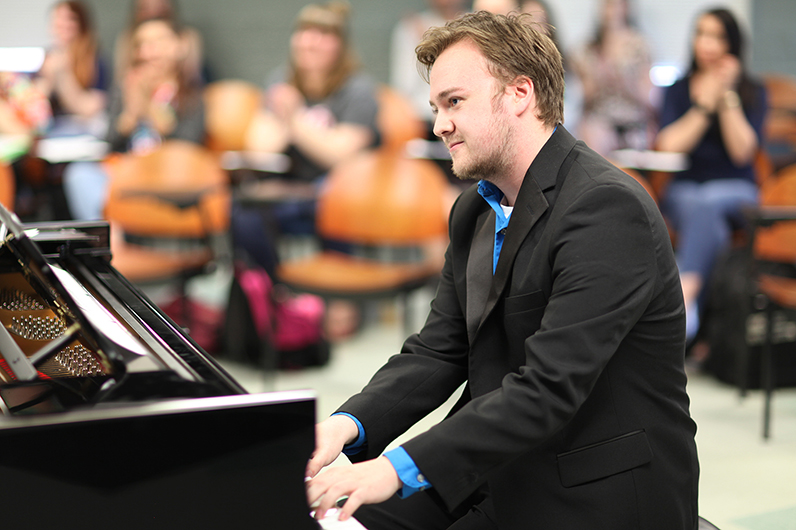 In the field of fine arts, students Leah Wier, a senior music education – vocal major from Lacon, Ill., and Michael Duling, a sophomore music major from Paxton, Ill., presented piano lecture-recitals at the Perkinson Music Center.
Wier's presentation took an inside look at Maurice Ravel's "Jeux d'eau" and its historical influence on piano technique. The work has become a landmark in piano literature due to its chromatic harmonies and pianistic demands. Duling presented on one of the most innovative composers of the 20th century, Igor Stravinksy.
"Ravel's inspiration was the sound of water and the music of fountains, cascades and streams," said Wier. "The lightness and clarity allows 'Jeux d'eau' to not simply be inspired by water, but to mimic the sound of water."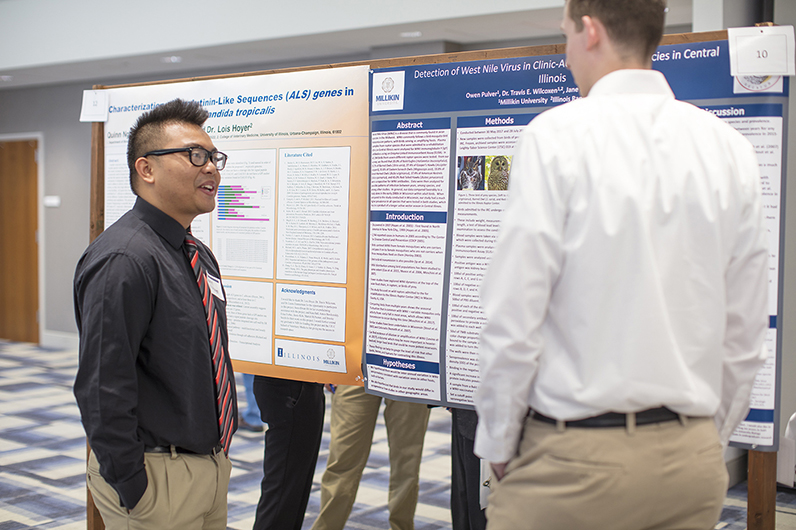 Millikin's Celebrations of Scholarship also featured the 25th Annual Research Poster Symposium in honor of Judith and Dr. G. Richard Locke. Held in the Bob and Debi Johnston Banquet Room of the University Commons, the symposium provided students with an opportunity to share their scholarly activities and practice communication skills essential for professional success. The event has also become an excellent means of encouraging students to explore and participate in research opportunities at Millikin.
Judy and G. Richard Locke, M.D. began providing financial support in 1994 for the Poster Symposium prizes awarded to the top-rated student presentations. Judy Locke continues to support undergraduate research at Millikin University, not only financially, but also of her time returning to campus annually to serve as a Poster Symposium judge.
Dr. Aper noted, "You can see the excitement in the students when they present. They aren't just going through the motions, they're invested in this. We want students to own their own learning and their own development so that it grows out of their commitments and values."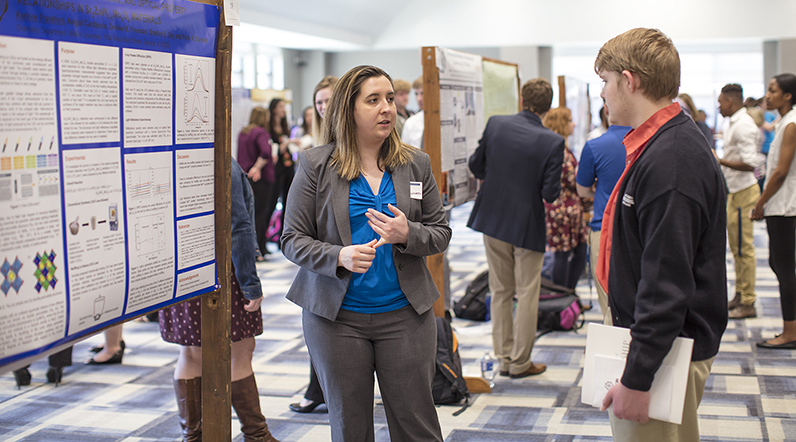 2018 Celebrations of Scholarship Poster Symposium Award Winners
1st Place Awards
Haylie Lading and Dr. Travis Wilcoxen
"The Effects of Diet and Predator Induced Stress on Tadpole, Pseudacris Triseriata, Development and Tail Morphology"
Madison Boeglin and Dr. Jennifer Schroeder
"Effects of Herbal Tea Potency on MCF-7 Human Breast Cancer Cells"
Tyler Trzcinski and Dr. Sam Galewsky
"Identification of Antibiotic Resistant Bacteria from Decatur Sewer Treatment Water"
A'kya Adams and Dr. Mary Jane Linton
"Music Therapy as an Intervention to Reduce Psychological Cancer-Related Symptoms in Adult Cancer Patients: An Integrative Literature Review"
Katie McGill and Rhonda Gee, DNSC, CRNA
"Improving CRNA Recognition and Intervention in the Rare Obstetric Emergency of Amniotic Fluid Embolism"
Sierra Birdsell, Samantha Siltman and Julie Kennedy, MSN
"What are the Barriers in Communication between Autism Spectrum Disorder Patients and Healthcare Professionals?"
2nd Place Awards
Elyse Schnabel and Dr. Travis Wilcoxen
"The Effects of Ammonium Sulfate on Stress Physiology and Innate Immunity of Western Mosquito Fish"
Erica Forbes and Dr. Laura Zimmerman
"Characterization and Variability within Candida Parapsilosis Agglutinin-Like Sequence (ALS) Genes"
Whitney Gray and Dr. Laura Zimmerman
"Relationship between Salmonella Prevalence and LPS-Binding Antibodies in Red-Eared Slider Turtles"
Shelby Ulrich and Dr. Travis Wilcoxen
"Antioxidant and Innate Immune Costs of Simulated Predator Avoidance in Cuban Tree frogs"
Brooke Smith and Dr. Laura Zimmerman
"Locating and Characterizing Agglutinin-Like Sequence (ALS) Genes in Candida Metapsilosis"
Matthew Vangunten, Dalton Glasco, Uriah Walker and Dr. Kyle Knust
"Introducing Microfluidics to Undergraduate Students using 3-D Printing"
Elizabeth Schweitzer and Dr. Tim Guasco
"Lysis of Liposome and Gold Nanoparticle Complexes by Laser for Release of an Anti-Cancerous Drug"

3rd Place Awards
Aundrea Marsh and Dr. Marianne Robertson
"Aggregation and Sheltering Behavior of Armadillidium Nasatum and Armadillidium Vulgare exposed to Fluorescent, UV and Infrared Light"
Mary Tapocik and Dr. George Bennett
"Synthesis of a Cantharidin Derivative for the Maximum Therapeutic Effects via Diels-Alder Methods"
Olivia Brewer, Hunter Somers, Connor Sphar, Andrea West, Takunda Jakachira, Blaine Traylor, Adam Peters and Dr. Casey Watson
"The Production of Ethanol from Sequestered or Captured Carbon Dioxide"
Phi Kappa Phi Award
Brittany Jeffery and Amy Yeates, DNP
"Improving Provider Knowledge and Management of Substance Abusing Parturients"
View Coverage