New Musicals Workshop: A True Experience – Take 1
Musical theatre majors who decide to embark on their academic journeys to Millikin University are immersed in a variety of hands-on learning opportunities once they arrive on campus, from performances to behind-the-scenes work. Among those opportunities that take place in the early goings of the spring semester is an innovative program that often leads to "real-world" outcomes called the New Musicals Workshop.
Established in 2007, the New Musicals Workshop is exactly how it sounds … it's a workshop for musicals. But it's more than that – it's a collaborative experience. Students work with actual professional writing teams to develop new musicals intended for commercial production.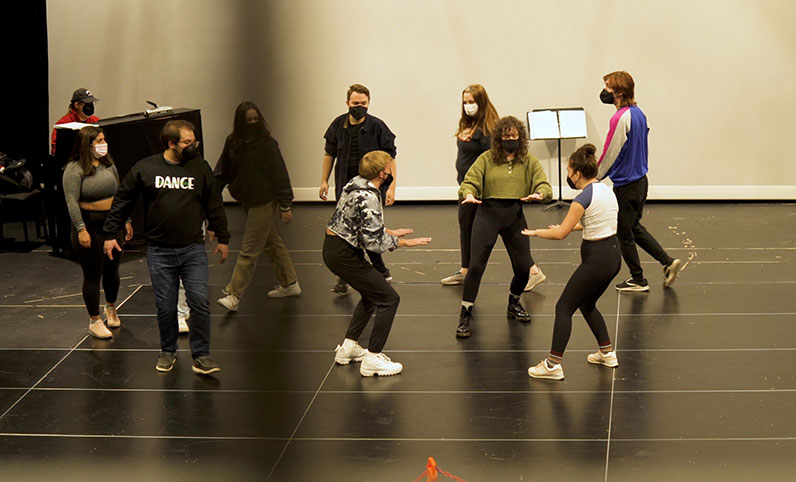 Millikin's School of Theatre & Dance is one of only a few institutions around the country to have a program such as this, and it's become no secret. The program has been recognized by the Broadway community as an opportunity for established writers to develop new musicals destined for Broadway and beyond.
Over the years, we've recapped some of the latest workshops to get an idea of what the program is all about. However, this past January (2022), we took a new approach to tell the New Musicals Workshop story with a series of "takes" from the faculty, the writers and the students as they see it.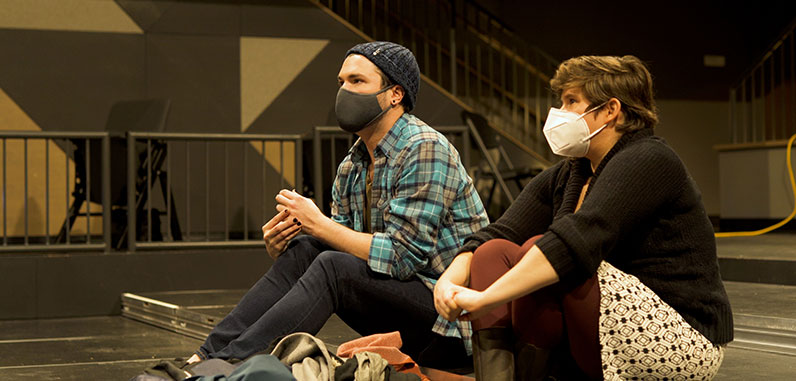 This January, New York writers Brandon James Gwinn, EllaRose Chary, Taylor Ferrera and Matthew Webster were welcomed to campus to work with students on their new musical concepts.
Take 1: The Faculty
Lori Bales, professor in the School of Theatre & Dance, and Kevin Long, artist-in-residence in the School of Music and School of Theatre & Dance, have slowly built the New Musicals Workshop program since 2007 by introducing up-and-coming playwrights to the talented Millikin students.
"What this gives students is a truly professional experience. This isn't an undergraduate experience, they are working on a professional level with professionals," Bales said. "They are asked to bring their skills immediately and right now … they don't have a lot of time to practice."
According to Bales, the students sometimes have to learn songs overnight. "The professional training doesn't get better than this," she added.
Long says several Millikin alumni who went through the program, even those who are currently in New York, are the first to be called by the conductors they met during New Musicals if they need voiceover work or recordings to be done.
"It's a really great professional development for life-long relationships between the students and the artists," Long said. "Several alumni have told us that it was one of the best experiences in terms of launching their professional career."
Take 2 of New Musicals Workshop: A True Experience coming soon.