Millikin Magazine All Access
Our newest issue of Millikin Magazine serves as a retrospective of all that President Patrick E. White and his wife, Chris, have done to strengthen our beloved University as we continue to move boldly into the future.
To see more articles, like the one below, from the spring 2020 issue of Millikin Magazine visit millikin.edu/magazine.
It is 8:59 a.m. on Friday. It's a holiday for many high school students, but Millikin is in session. The banquet room in the University Commons is filled with the low rumble of parents and students, many of whom got up early, driving hours in the dim morning light to attend Campus Visit Day.
After a brief introduction, Millikin's 15th president walks into the room, sporting his signature Millikin blue ball cap and tie. He steps to the microphone, looks out upon all of the students in the room and declares with sincere conviction, "I know one thing about each and every one of you."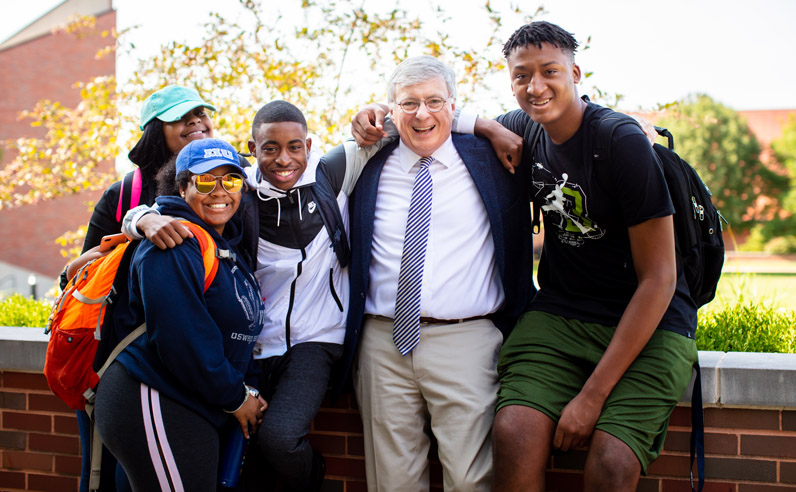 "Wait. What?" Students glance nervously at their parents. "What did you tell them?" they wonder. "What does he know?"
President Patrick White pauses, leans forward and says, "You have no idea how good you are." And again, quietly, "You have no idea how good you are."
Parents look at President White as he says this. Finally, someone else is telling their student what they have been trying to get their child to recognize for years. Elbows nudge ribs. Heads nod in agreement. "See, I told you!" says one parent.
Students exhale, relieved that the conversation starts from a place of, "Yes, you can. Yes, why not? Yes, we will teach you. You can grow here at Millikin and do amazing things, because you have no idea how good you are." President White reassures them. "Don't worry. Don't be nervous. We can help," he says. "At Millikin, you will learn how to try, to imagine, to reach for your dreams and, most importantly, to have courage. It's what we do here, and we're really good at it."
Watching this exchange, it is easy to miss the subtlety and importance of what has occurred. Repeatedly, President White manages to accomplish what so many great teachers aim to do, but miss. He grabs students' attention and gets their brains buzzing. He holds up a mirror for students to see themselves and all of their potential. The idea of college, which often can seem scary or daunting, is now curious, titillating and full of possibilities.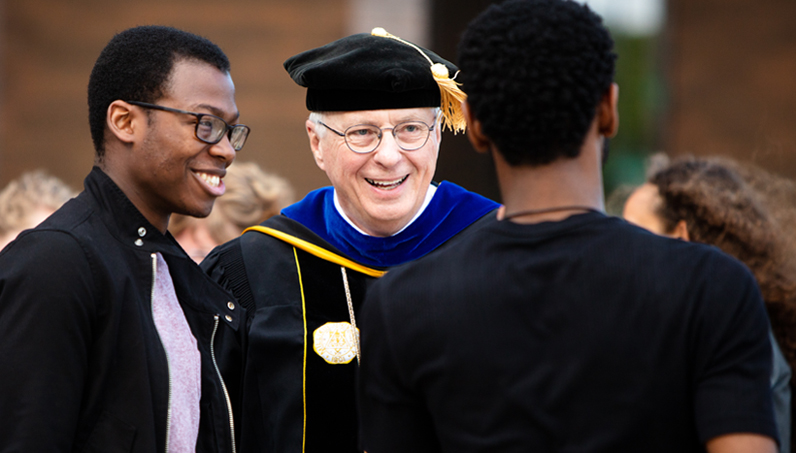 "I'm an English teacher by trade," he often says before drawing from a literary reference to help explain a thought in conversation. At times, he uses this same phrase to qualify an observation well outside the literary realm. Comparisons to poignant passages in literature and film began the moment President White stepped on campus.
Not long after he arrived, he began having many conversations with students, faculty, staff and alumni, trying to get a sense of how each saw Millikin. He became a student of the University, of sorts, learning its rhythm and personality. Often referring to Millikin as a "spiky institution," he learned that Millikin is neither singular nor particularly linear. It is collaborative, cross-disciplinary and entrepreneurial. It is strong in theatre and science, business and mathematics, music and nursing. Its students come from around the globe and across the street. Its faculty are tenured professors and emerging young educators.
In his study of the University, its programs and people, President White came to understand what connected all things Millikin. In true English teacher fashion, he identified it by referencing a scene from one of his favorite movies: "Hook." In the scene, Peter Pan is searching for his children in Neverland and has forgotten who he is. He returns to the Lost Boys, who question his identity as well. Rufio, the leader of the Lost Boys, exclaims, "He ain't no Pan! He can't fly! He can't fight! He ain't no Pan!" A deflated Peter lowers his head in defeat, until one of the Lost Boys approaches, looks at him closely and stretches back his cheeks to reveal the likeness of a once younger and braver Peter Pan. "Ah, there you are, Peter!" he says.
Just like the Lost Boy who stretches Peter's face to reveal the brave leader he once knew, President White takes time to note the magical moments at Millikin when courage shines through by giving what has become his highest compliment: "Ah, there you are, Millikin!" The entire Millikin community has come to know this phrase and identify it with our best selves, our brave efforts, our courageous accomplishments. Typically, President White merely begins with the "Ah," before all join in to complete the phrase. It has become our community anthem, and students gleam with delight in the moments they are recognized with its honor.
This, more than anything else, is President White's legacy. With a single phrase, he has called us to stretch our wrinkles and embody our brave and courageous roles as students, faculty, staff and alumni. He has pushed us — all of us — to "own" what it is to be Millikin. President White often remembers with pride the day he asked a group of students who were on the balcony of the new University Commons building what they were doing up there. "You look like you own the place," he quipped. Without missing a beat, they replied, "We do!" The students' quick response was, to President White, a reflection of their investment and ownership in Millikin. More than just observers passing through for a degree, students have outwardly become more and more invested in Millikin, its academic programs, athletic programs, cocurricular and cross-disciplinary programs and yes, even its buildings.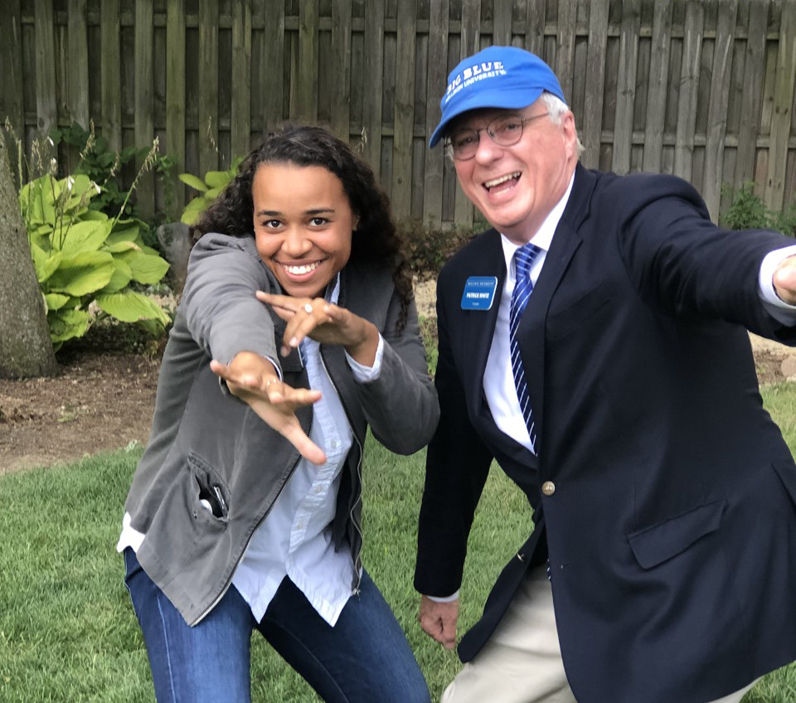 During President White's tenure, evidence of the ownership of Millikin has taken physical shape in the form of new or renovated facilities, including the University Commons, the Exercise Science and Sport Pavilion, the Workman Family Softball Field, the Workman Family Baseball Field and the Center for Theatre & Dance, opening this fall. Students have further personified that ownership by winning numerous academic and para-professional awards, becoming CCIW champions and starting new clubs and performance groups. Faculty have created new academic programs in finance, cybersecurity, data science, computer science, environmental studies, ethics, exercise science, arts technology, arts administration, dual-degree engineering programs and more.
President White personally established the President's Commission on Inclusive Excellence to advance the University's conversations surrounding race, equality and social justice issues. He was also the first Millikin president in nearly 20 years to speak at the Decatur Community Leaders Breakfast, a city-wide event drawing hundreds of area leaders. There, President White defined what it means to be "Decatur's University" and reminded us all to take ownership of our community, noting that Millikin's success is Decatur's success. He encouraged the Decatur community to be nimble and flexible, courageous and collaborative in order to draw from the strengths of the central Illinois communities around it.
Yes, the spirit of Millikin certainly has been impacted by our 15th president. We are reminded by his blue ball cap to "be Millikin" for the University today and for the Big Blue students yet to come. We are encouraged by his presence at nearly every Millikin event, including every Vespers performance in seven years, sans one. We are inspired by his dedication to his work and the way he spends countless hours carefully constructing every one of his speeches, tailored to each audience, always self-effacing and full of respect for the accomplishments of others. And we are grateful for his endless energy and passion for Millikin.
Thank you, President White. As your presidency comes to an end, now we are called to continue your good work. Millikin has always been a great institution, but it has become an even greater institution because you were here.
Ah, there you are, Millikin.