Big Blue athletes, alumni, family, friends and fans come together for celebration
On May 13-14, Big Blue athletes, alumni, family, friends and fans joined together on campus for a weekend celebrating the momentous occasion of 50 Years of Women in Athletics at Millikin University. Delayed for two years due to COVID-19, the celebration was initially planned for 2020, 50 years following the dawn of a varsity women's basketball team at Millikin, which occurred thanks to the efforts and perseverance of Coach Harriett Crannell. Taking place in 2022, the weekend aligned just one month shy of the 50th anniversary of Title IX's passage.
The celebration weekend was full of events that allowed women who "wore the blue" to reunite, reminisce and honor the trailblazing efforts of those who made their experiences possible. Events kicked off on Friday, May 13, with a screening of "The Last Gold," a film telling the story of the 1978 U.S. Olympic women's swim team, of which Marcia Morey, Class of 1978 was a member. That same evening, a social hour was also held for reunion attendees to meet fellow athletes, both old and new.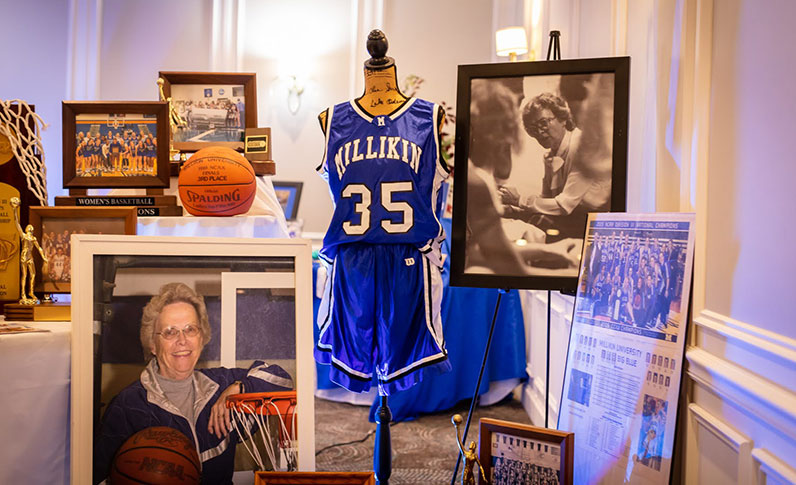 On Saturday, May 14, each of Millikin's 10 women's athletic teams hosted reunion events to celebrate the coaches and athletes of past and present. A special lettering luncheon was held in the University Commons to honor alumni who participated in sports before Title IX and women's varsity sports. Coach Lori Kerans, Class of 1985, said the event was truly powerful, with several alumni in attendance. "Presenting varsity Ms to those who had the athletic passion and prowess, but did not have the opportunities to compete was so empowering."
The weekend's main event took place on Saturday evening at the Decatur Conference Center & Hotel and featured a social hour, silent auction, athletics museum, and Women in Athletics Gala Celebration. Attendees gathered to view the 2005 NCAA Division III Women's Basketball Championship trophy, along with exhibits of historic memorabilia, photos, uniforms and much more dedicated to each of Millikin's women's athletic programs. "Walking through the museum was like journeying through history," said Lori Kerans. A timeline of notable events in Millikin's history served as the museum's backdrop.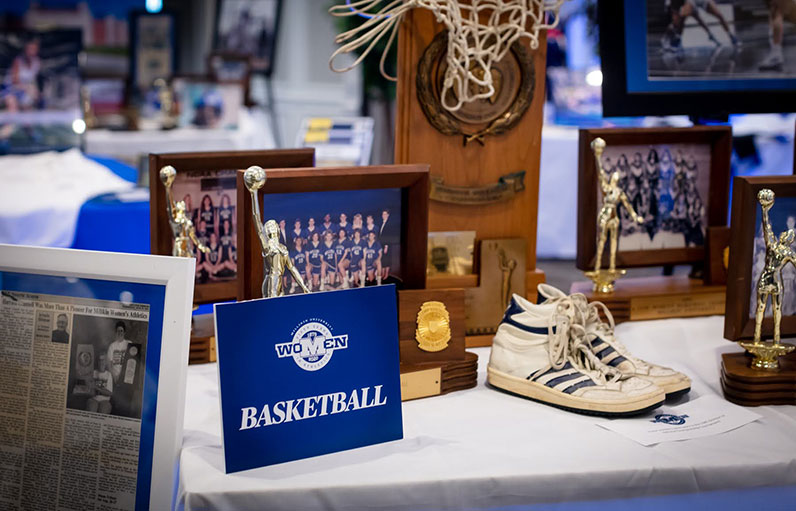 In attendance were more than 250 Millikin University alumni, athletes, family and friends. Millikin President Dr. Jim Reynolds and his wife, Sue, along with Millikin President Emeritus (2013-2020), Dr. Patrick White also attended the evening's celebration and was impressed by the event's success. "You should all be so proud of how you represented our best vision of what Millikin University has accomplished and our best imagination of what Millikin can become," he remarked.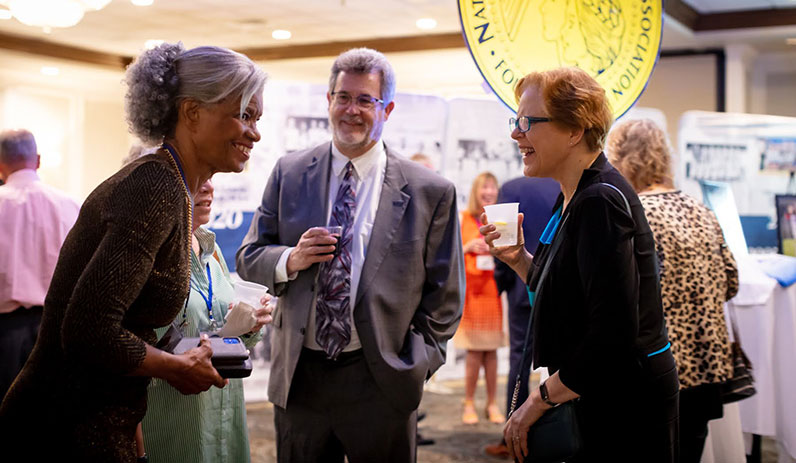 The Gala Celebration kicked off with a welcome from Gina Bianchi, Class of 1993, vice president of Alumni & Development and former softball player, and an invocation by Pastor Marge Overlot. Throughout the evening, a decorated lineup of extraordinary women addressed the audience, including Dr. Elaine Miller, Class of 1959 and former Women's Athletic Association (WAA) Girl of the Year, and Ariel Robinson, Class of 2013, record-holding track and field athlete and Millikin University admission counselor.
Other acclaimed speakers were Angela Beck, Class of 1979 and former basketball standout, Julie Roe Lach, Class of 1997, and former coach Linda Slagell. Student speakers included Brigid Duesterhaus, Class of 2022 (triathlon and swimming) and Aubrey Staton, Class of 2022 (basketball). The documentary "50 Years Worth Celebrating" was featured during the Gala, recounting the first 50 years of women's athletics at Millikin. The documentary was created by Richard Ndembe, Millikin University content producer.
Former Big Blue athletes enjoyed reuniting with old teammates and connecting with other women over the shared spirit of Millikin and sports.
"Seeing some of my volleyball and basketball teammates who I haven't seen in 40 years was priceless," said Terry Jones Kawczynski, Class of 1985.
The evening's events culminated with the reveal of a well-kept secret as Linda Slagell announced to Coach Lori Kerans that the basketball court inside Griswold Physical Education Center would be named the "Lori Kerans Court," in her honor. The dedication is meant to signify and commemorate the exceptional legacy that Coach Kerans has created at Millikin, as well as her illustrious career that has spanned more than 40 years. For more details on Coach Kerans's career, see the official commemorative program for 50 Years of Women in Athletics at Millikin University. To contribute toward the Lori Kerans Court and support women's athletic initiatives at Millikin, click here.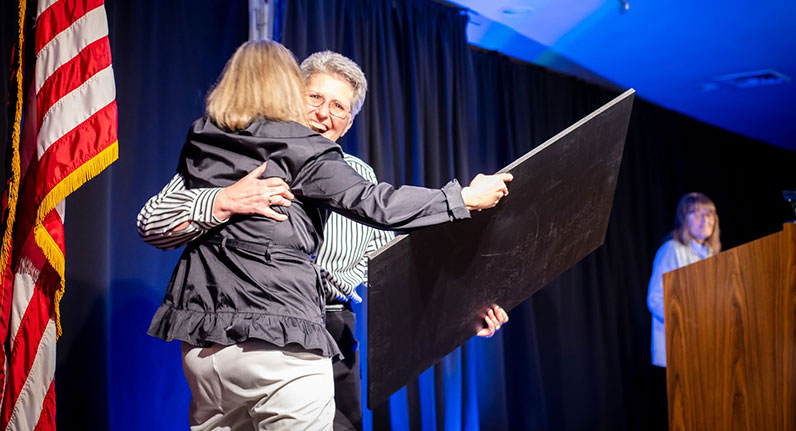 A silent auction, which showcased the creative talents of Millikin alumni and friends, was held in conjunction with the evening's event and raised more than $3,500 to benefit the Women in Athletics fund, which supports and promotes equity for present and future Big Blue student-athletes.
Coach Kerans was overcome by the once-in-a-lifetime celebration and wanted to thank all of the Millikin University staff, alumni, friends and family who were involved in organizing the event and who attended. "The celebration focused on honoring pioneering, trailblazing spirit and encouraging attendees to connect and reconnect around shared Millikin experiences of the first 50 years of Women in Athletics!"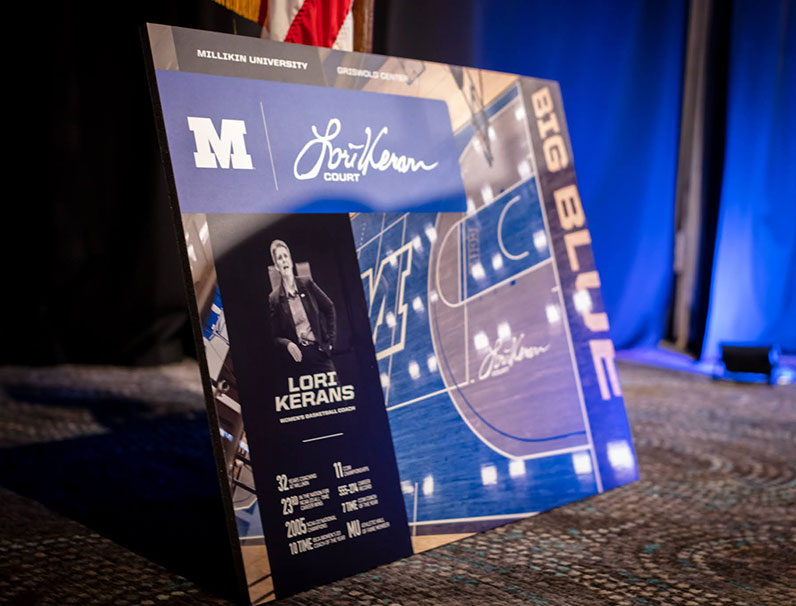 "I truly cannot wait to see what women who 'wear the blue' will do in the next 50 years!"
Onto the next 50 years!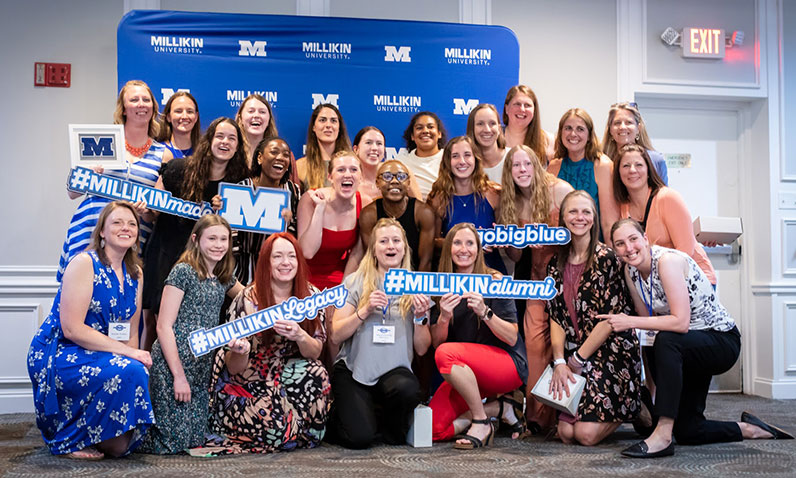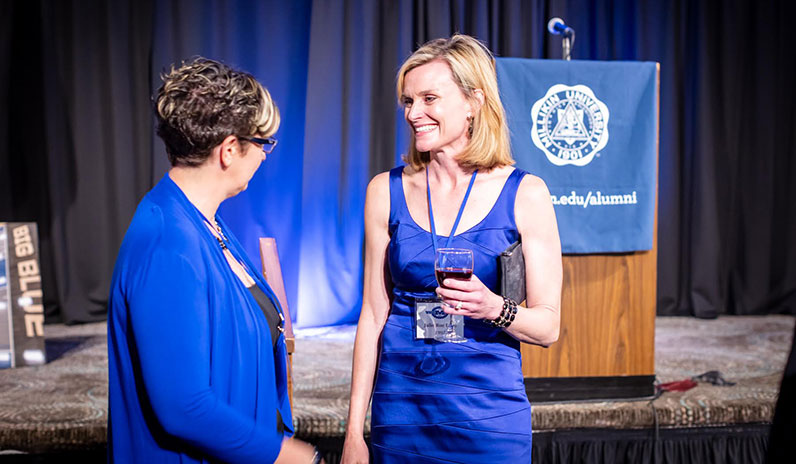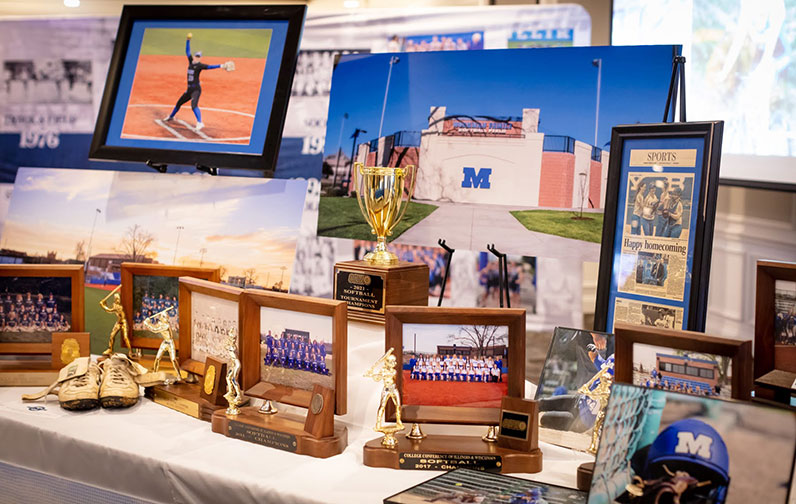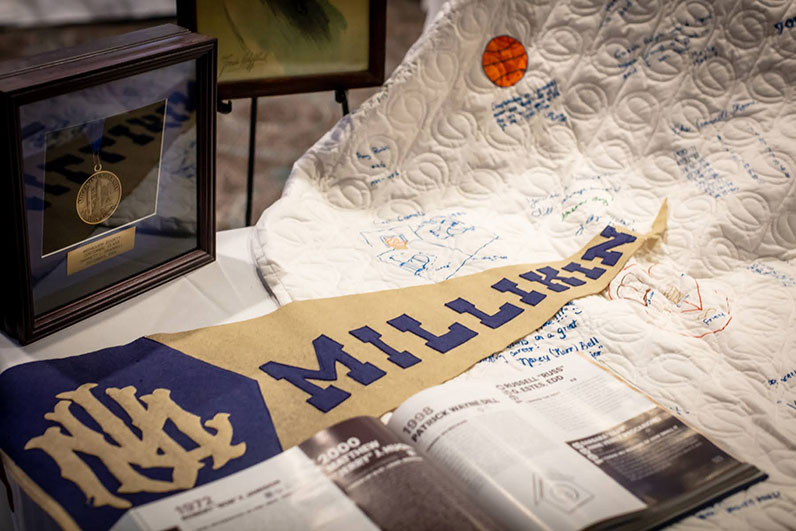 Commemorative Program